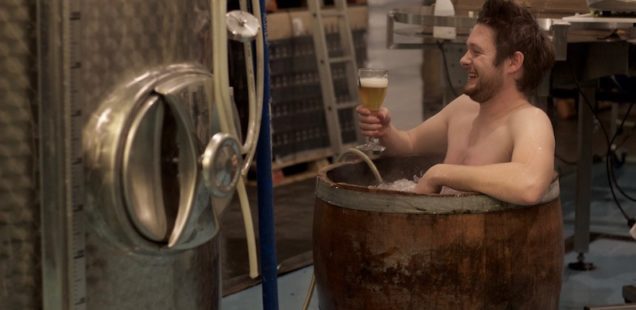 Triple Mash & Hot Tub | The 'Phi³' Alvinne / Boundary Collaboration
Jorre Vanhemmens plunges into a bath in an open barrel hot tub.
Earlier in the day he's mashed grain inside it, using the leaves and branches of spruce trees as a natural filter. It's the end of a long brew day at Brouwerij Alvinne in Moen, Belgium where Jorre and his colleagues are hosting Matthew Dick of Irish brewery, Boundary Brewing to create a three-mash high gravity sour collaboration beer called 'Phi ³'.
The reason these two breweries have come together is for Belgian Smaak's 3rd anniversary, an occasion which comes with a party, #SMAAKDOWN17, just as it did last year for their second anniversary. There's beer involved.
The event will feature 8 different beers, 2 of which are special brews for the event available to taste in an intimate setting in Damme, near Bruges. The theme of the collab beer is simple. "It's 'Three' for 3 years of blogging on Belgian Smaak," says Breandán Kearney of the beer and chocolate blog. "The breweries are free to experiment and fill in the gaps as they wish."
Tickets are available for #SMAAKDOWN17 now:
When it comes to experimenting with beer, Alvinne has 'been there and done that'. The small West Flemish brewery – a creation of Davy Spiessens and Glenn Castelein – isn't afraid to try out new ideas. From their first commercial beers in 2004, brewed in a wooden garden shed, to their current 20 hectolitre brewhouse in Moen, they've gained a lot of respect in Belgium and from further afield for what they do.
Over the years their program has shifted from a mix of regular beers and experiments to a more barrel oriented approach. Their house yeast 'Morpheus', cultivated during home-brew by their third partner, 'the Yeast Whisperer' Marc De Keukeleire, certainly plays a part. It's composed of 2 saccharomyces strains of yeast and a lactobacillus strain of bacteria.
'Morpheus' is a unique and potent yeast, capable of fermenting sugars to a high degree and in a high alcoholic environment. It's sure to leave its mark on this collaboration beer.
PHI³
Glenn Castelein, the Alvinne barrel master, proposes the idea for the collaboration beer.
"Let's not just do the obvious 3 hops, 3 malts, 3 yeasts thing but let's do a triple mash," says Glenn. "We'll do a first mash and use that wort to infuse the second mash. Like that we have enough sugars to aim for a high ABV sour beer. The third mash will be a separate infusion mash in a wooden barrel on a bed of white spruce branches. We mix everything together, throw in our house yeast 'Morpheus' and barrel age it. The target ABV should be around 11-12%."
Sounds interesting enough? It sure does for Matthew Dick, the brewer at Boundary Brewing in Belfast.
"VIOLENT AND ORIGINAL"
Northern Ireland's beer scene is different from that of Belgium. "There hasn't been a lot of good or at least interesting beer to be found in Northern Ireland until recently," says Matthew. "It's mostly the classic ales, milds and stouts on the menus of local bars."
Not the type of beer that shakes Matthew's world. His influences are classic Belgian styles and the no boundaries beers from the US craft scene. Five years of living in the USA left an impression on him and when he returned to Ireland and couldn't find the beers that he wanted to drink, he started brewing them himself.
That influence from the USA is quite noticeable when Matthew opens one of his IPAs to share during the brew day. 'Push & Pull' is a bold fruity IPA whose hop aroma erupts from the glass, filled to the brim with exotic fruit and centred around a firm, lingering bitterness.
Boundary were named by Ratebeer as both the Best New Brewery and the Best Overall Brewery in Northern Ireland in 2015. Their 7% Export Stout was awarded Best Beer in Northern Ireland.
While they're certainly breaking down boundaries in beer with their two-man operated cooperative brewery, the name comes from a less obvious reference.
"The name Boundary comes from a quote by French writer Gustave Flaubert," says Matthew. "He says you should be regular and orderly in your life, so that you may be violent and original in your work. There's a couple of breweries now in Northern Ireland that try to do things differently. But there's still a lot of work to be done."
BARRELS OF FUN
As the brewers shovel out each batch of spent grains from the kettle, samples are passed around of some of the fine beers Alvinne produce, showing how certain barrels can make a beer more elegant and fruity.
When Matthew gets asked what it means to brew together with another brewery he says that the exchange of knowledge and expertise is important to him. "It's not because we do something a certain way that we can't learn from the approach of a colleague," he says. "It's great to have the opportunity to come to Belgium and do something like this with Alvinne."
Jorre finishes the day of collaborating on the beer with a wooden barrel jacuzzi and a beer while Glenn, Davy and Matthew watch on. There's only one hot tub available so three would be a crowd here.
Phi³ will be served for the first time at #SMAAKDOWN17 on Friday 3 February 2017. Tickets are available to purchase now.