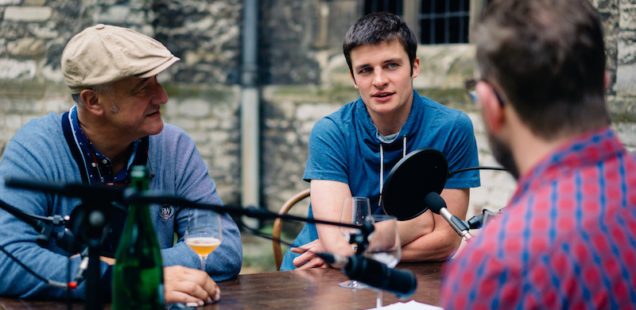 EP003 | Armand Debelder and Michaël Blancquaert of Drie Fonteinen | The Belgian Smaak Podcast
In 2009, a faulty thermostat in a brewery conditioning room caused 13,000 bottles of beer to explode and a further 67,000 to be ruined.
The beer was Oud Geuze, a blend of one, two and three year old lambics which couldn't just be reproduced overnight. The impact on the brewery was almost fatal. They were pushed to the brink of bankruptcy and forced to sell their brewing installation to pay the bills. They survived by distilling and selling what was left of the beer and putting some special vintage bottles from their cellar on the market.
That same brewery – Brouwerij Drie Fonteinen in Beersel in Belgium's Payottenland – was named in 2015 by Ratebeer as the Best Brewery in Belgium and the Third Best Brewery in the World.
My guests for this podcast are Armand Debelder and Michaël Blancquaert of Drie Fonteinen.
In the beautiful central courtyard of Sint Pieter's Abbey in Ghent, we discuss the difficulties they have overcome, the challenges of producing one of the most unique beer styles in the world and the succession strategy of their new team for a beer style which requires planning years in advance.
In particular Michaël talks about what it's like to take over the brewing of one of the most revered beers on the planet and Armand touches on his relationship with his father and his obsession with preserving a tradition which many still do not understand.
Sit back, listen and enjoy Armand and Michaël of Drie Fonteinen….
Podcast: Play in new window | Download
Subscribe to the Belgian Smaak podcast: Apple Podcasts | Android | RSS