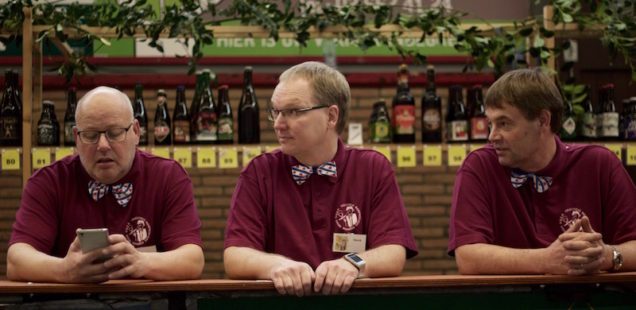 Beer Festival Belgium 2017 | 30 Belgian Beer Festivals Worth The Trip
Beer Festival Belgium 2017. Where do you start?
We've listed below what we consider to be 30 of the best Belgian beer festivals taking place in 2017.
Our list includes a mix of internationally recognised fairs as well as more local, niche and sometimes family orientated events that we believe are worth a visit.
You can keep up to date with all our resources and stories by signing up for our free updates (no spam – we promise)!
While we have close relationships with many of those people and organisations that run the various Belgian beer festivals (and have mostly sourced our information here directly with our contacts in each festival), it goes without saying that you should check with the organisers yourself before making arrangements to travel. There would be nothing worse than arriving in the wrong place or on the wrong weekend.
BEER FESTIVAL BELGIUM 2017
1. #SMAAKDOWN17
Friday 3 February 2017
Our own mini-festival, we're throwing a party to celebrate the third birthday of Belgian Smaak in February 2017. We've brought four breweries together – two from Belgium and two from Ireland – to create 2 special collaboration beers in the theme of 'Three'. There will be 8 beers on offer in total and it all takes place in a cosy historic family restaurant in Damme, the Siphon.
Location: Siphon, Damme
Festival Website: http://www.belgiansmaak.com/smaakdown17/
2. BRUGES BEER FESTIVAL
Saturday 4 – Sunday 5 February 2017
The tenth edition of Bruges Beer Festival sees it move back to its original location in the stadshal but with an additional tent erected in the grote markt to deal with the growing foot traffic. 2017 boasts 458 beers from 90 breweries in a festival which provides a broad offering of what is being brewed in Belgium and attracts a large and internationally diverse crowd. The BAB or Brugse Autonome Bierproevers (the Bruges Autonomous Beer tasters) run a tight ship in the huge Beurshal and even divide their stalls into provincial streets: for example, De Halve Maan are located in 'West-Vlaanderen straat'.
Location: Stadshal & Belfort, Bruges
Festival Website: http://www.brugsbierfestival.be
3. SOHIER WEEKEND OF SPECIAL BEERS
Friday 24 – Sunday 26 February 2017
This is a small and quirky festival which takes place in the sleepy Ardennes village of Sohier. Festival organiser, Jean Leonet and his friends travelled from the countryside to the university at Louvain-La-Neuve twenty-two years ago and were inspired by the students there who were running their very own artisanal beer festival on campus. They brought the idea back to the tiny village of Sohier and it was enjoyed in its first few years by a handful of local brewers and friends. It has grown every year since then – largely by word of mouth – and its appearance on the internet has resulted in an increasingly international vibe. It's free to attend and they estimate numbers by counting the amount of empty bottles out the back when the festival is over.
Location: Sohier village, Wellin
Festival Website: http://www.sohier-village.be/le-week-end-bieres-speciales
4. ACBF2017 / ALVINNE CRAFT BEER FESTIVAL
Friday 3 – Saturday 4 March 2017
The bi-annual festival of Brouwerij Alvinne in Moen claims to showcase '130 creative & innovative beers by some of the best breweries in the world'. Breweries attending include Struise, Beavertown, Kees, De Molen, Tilquin, Verzet and Hair of the Dog. It's a two day affair involving food from highly regarded Brussels beer restaurant Nuetnigenough.
Location: Bierhalle Deconinck Vichte, Bosstraat 37a, 8570 Vichte
Festival Website: https://acbf.be/acbf-2017/
5. LA CITE DE LA BIERE
7 – 9 April 2017
It's the fourth edition of 'City of Beer' in 2017 which sets out to celebrate and promote microbreweries in the province of Liège. They also have a winter edition in December and run workshops about beer. They work closely with partners from the city to make it all about Liège, including 'restauration 100% liégeoise'. 10 microbreweries from the province of Liège are put centre-stage (Lienne, Leopold 7, Warsage, Sainte Nitouche, Boterresse, Val-Dieu, Curtius, Grain d'orge, Elfique, La Gleize) with 4 guest breweries from Belgium, France and Spain.
Location: Cours des Mineurs, Liège 4000
Festival Website: http://www.lacitedelabiere.net
If you'd like to find our more about Belgian breweries and beer festival Belgium, sign up for our free updates (no spam – we promise)!
6. ZYTHOS BEER FESTIVAL
Saturday 22 April – Sunday 23 April 2017
This is an absolute beast of a festival with 100 breweries and beer firms pouring 500 beers and more than 16,000 people attending at Leuven's Brabanthal. Zythos run this festival with clockwork precision, from the layout and toilet arrangements to the changing colour of t-shirts each year. Because of its sheer size and reputation, a real party atmosphere develops as the days go on and it is the perfect festival for groups of friends and for tasting a huge variety of Belgian beers in one room. It's even spilled across borders. In 2016 the first ever Italian edition of Zythos took place in Treviso. We suggest you start with Leuven.
Location: Brabanthal, Leuven
Festival Website: http://www.zbf.be
7. TOER DE GEUZE
Saturday 6 May – Sunday 7 May 2017
This bi-annual celebration of spontaneously fermented beer in Belgium sees lambic breweries and geuze blenderies open their doors to thousands of beer enthusiasts. This is the first time that it will take place over two days, making the trip to Belgium even more worthwhile and ensuring you can visit more of your favourites.
Location: Various lambic breweries & blenderies
Festival Website: http://www.horal.be/en/toer-de-geuze
8. THE 25th WEEKEND OF SPONTANEOUS FERMENTATION
27 – 28 May 2017
The Opstalse Bierpallieters organise a unique weekend of over 100 beers of spontaneous fermentation from all of the brewers and blenders of the Payottenland and Brussels. For the 25th edition, they're organising a special event called 'the most spontaneous table' which brings together some legends of the style to discuss the historic, present and future challenges of the lambic world. Confirmed attendees include Frank Boon (Boon), Gert Christiaens (Oud Beersel), Armand Debelder (3 Fonteinen), Dirk Lindemans (Lindemans), Jean-Pierre Van Roy (Cantillon), Pierre Tilquin (Tilquin), Willem Van Herreweghen (Timmermans), Leo Imai (OWA) and Tim Webb (Good Beer Guide Belgium).
Location: Tapperij Beukenhof, Broekstraat 18, Buggenhout.
Festival Website: http://en.bierpallieters.be/weekend
9. LEUVEN INNOVATION BEER FESTIVAL
Sunday 4 – Monday 5 June 2017
The roof of the Hof Ten Dormaal brewery was destroyed by a fire in January 2015. By May they had created the inaugural Leuven Innovation Beer Festival. The beauty of this festival is its unique location at De Hoorn, the old brewing hall where Stella Artois was first created, as well as the diverse range of breweries from Europe and America who come to pour and celebrate innovation in brewing. In 2017, look out for some interesting names from Sweden, the US and the UK.
Location: De Hoorn, Sluisstraat 79, Leuven
Festival Website: http://www.leuveninnovationbeerfestival.com
10. BIERPASSIE WEEKEND
23 – 25 June 2017
Conceived by beer sommelier Ben Vinken as the festival to go alongside his beer magazine of the same name, the Bierpassie Weekend moves into its 18th edition in 2017. Around 50 breweries gather in the Groenplaats in Antwerp against the backdrop of the city's cathedral to pour 170 different beers to the soundtrack of brass band concerts and live Dixieland jazz bands.
Location: Groenplaats, Antwerp
Festival Website: http://www.bierpassieweekend.be
If you'd like to find our more about Belgian breweries and Beer Festival Belgium, sign up for our free updates (no spam – we promise)!
11. VILLAGGIO DELLA BIRRA / BELGIAN EDITION
24 – 25 June, 2017
After 10 years of organizing a famous beer festival in Italy, 2017 will be the second edition of the Belgian installment of this event. Backed by the Italian embassy in Brussels and promoted through the design and artwork of Jean Goovaerts of De La Senne, more than 10 breweries from Belgium and 5 from Italy head to the beautiful courtyard farm of Brouwerij Kerkom in Kerkom-bij-Sint-Truiden to engage in workshops and homebrewing competitions and to enjoy the best of Tuscan cuisine and music.
Location: Kerkom
Festival Website: http://www.villaggiodellabirra.com/eng/
12. NAMUR – THE CAPITAL CITY OF BEER
7 – 9 July 2017
40 breweries and beer firms pouring 150 different beers team up with producers of local delicacies to deliver the main beer festival in Namur over three days in July. It's a family affair with children's games and a variety of concerts. They also run a 'Namur Beer Tour' and host 'Old School' cinema nights. Entrance is €1. The same organisers also organise a winter beer festival (6 – 7 January 2017) and a 'Saison/Farmhouse festival' (31 March – 1 April 2017).
Location: Namur
Festival Website: http://www.namurcapitaledelabiere.be
13. THE GATHERING OF BELGIAN LUXEMBOURG BREWERIES
16 July 2017
The Luxembourg province – which borders the country of the same name – is not only one of the most picturesque parts of Belgium, but it's got some of its most well known breweries (think Orval, Bastogne and Fantôme) as well as some really interesting ones which don't get much coverage outside of the region. Keep an eye out for the breweries attending ithe fifteenth edition in 2017 as they come together in Hotton for a series of beer tastings, explanations of different brewing methods, music, raffles and street entertainment.
Location: sur l'île de l'Oneux
Festival Website: http://www.hotton.be/events/rencontre-des-brasseries-du-luxembourg-belge
14. LA GRAND CHOUFFERIE: THE BIG CHOUFFE PARTY IN WIBRIN
12 – 14 August 2017
If you're interested in gnomes, party bands or trying to break the world beer crate climbing record (the current record stands at 28 crates), then head to Wibrin in the Ardennes where this festival has been running since 1985. In the meantime, production of La Chouffe has been taken over by the Duvel Moortgat brewing dynasty, but largely because of the character of the village in which the concept was born, the festival maintains the charm (and quirkiness) that it has always had. There'll be concerts, cheese-pairing and Chouffe.
Location: Brasserie d'Achouffe, Rue du Village 32, 6666 Wibrin (Houffalize)
Festival Website: http://www.belgique-tourisme.be/informations/evenements-wibrin-la-grande-choufferie-evenement-brassicole-a-wibrin/fr/E/56187.html
15. HET INTERNATIONAL STREEKBIERENFESTIVAL ZWEVEGEM
14 – 15 August 2017
If you're looking for one of the better regional Belgian beer festivals, the Internationaal Streekbierenfestival in Zwevegem offers a good bet. They list 35 breweries and beer firms and 165 local beers on their publicity and bill themselves as a family festival. There's a 'children's village' with carnival rides, a supervised 'Funbus' and they close out the festival with a large firework display.
Location: Theophiel Toyeplein, Zwevegem, Belgium
Festival Website: www.flanderseventsvzw.be/
16. FESTIVAL OF 100 BEERS
18– 20 August 2017
La Fête aux 100 Bières took root in its current format in 1985 in Anvaing. There's a family bike ride in the surrounds of the village, a flea market and farmer's market showcasing local produce, tasting challenges and a range of children's entertainment including a bouncy castle and face painting. Can you guess how many beers are on offer at the festival?
Location: Anvaing
Festival Website: https://www.facebook.com/100bieres/
17. GENTS BIERFESTIVAL
Saturday 19 August 2017
The Ghent Beer Festival – organised by the Gentse Biervereniging (Ghent Beer Association) – takes place in the tree-lined garden at the back of the VIP School on Martelaarslaan. It's an extremely relaxed festival which offers plenty of options for both casual beer drinker and full-out beer geek and every year they put a 'guest' country in the spotlight.
Location: VIP-school, Martelaarslaan 13-15, 9000 Ghent
Festival Website: http://gentsbierfestival.be
18. NORTH SEA BEER FESTIVAL
25th – 27th August 2017
If you do like to be beside the seaside, then head for Ostend's Leopoldpark to taste beers at a festival right opposite De Grote Post cultural centre and just a few hundred metres from the beach. There are over 20 Belgian breweries and beer firms showcasing more than 150 beers as well as several chefs from top local restaurants cooking on site. Check out the beer cocktails, live music performances and cheese.
Location: Ostend
Festival Website: http://www.northseabeerfestival.com/
19. BXL BEER FEST: THE CROSSROADS OF BEER AND FRIENDS
26 – 27 August 2017
A new festival debuting in 2017 with a focus on promoting Brussels and celebrating gastronomy. The profile and know how of its organizing team mean its worth checking it out in its first year: Jean Hummer of the Moeder Lambic bars in Brussels, Kevin Desmet of the Belgian Beer Geek blog, Olivier Desmet who owns beer restaurant Nüetnigenough and beer reporter, Vincent Callut.
Location: Brussels, Belgium
Festival Website: http://www.bxlbeerfest.com
If you'd like to find our more about Belgian breweries or beer festival Belgium, sign up for our free updates (no spam – we promise)!
20. ARCH'EN BIERES
26 – 27 August 2017
The town of Grez-Doiceau lights up at the end of August for Arch'en Bières, described by festival organisers as the 'beer tasting festival of Walloon Brabant'. It's now into its 12th year and together with a fairly solid range of pouring breweries, it boasts a unique location in Maison Coullemont, a large house which borders a park and gives the festival a relaxed rural vibe. There's usually around 1,300 visitors getting through 2,250 litres of beer. You can help out again in 2017.
Location: Maison Coullemont, Rue des Moulins 10, 1390 Archennes
Festival Website: http://www.archenbieres.be
21. DE BIERWEEKEND
26 – 27 August 2017
The Lambikstoempers Beerweekend takes place in the Bezoekerscentrum 'De Lambiek', the Lambic Visitor Centre in Beersel. Not only do they already have an incredible selection of lambic beers at their year-round bar, but they've got staff here who understand the brewing heritage of the region and know their stuff on spontaneous fermentation. There's a good mix of local lambic lovers and international beer geeks in attendance, enjoying the sun on the terrace in front of the bar area or checking out the exhibits in the open museum section of the Visitor Centre at the back. Around 520 people come to the festival over the weekend.
Location: Bezoekerscentrum 'De Lambiek', Beersel.
Festival Website: http://www.lambikstoempers.be/nl/bierweekend-2017/
22. HOP-PICKING & ORGANIC BEER FESTIVAL
Sunday 27 August 2017
Joris Cambie, hop farmer and brewer, will be hosting a hop-picking demonstration with a small picking machine behind the De Plukker brewery, just outside Poperinge. There will be a few stands from organic breweries as well, but they're keen to point out that it won't be a 'real international beer festival'. At least, not until August 2018.
Location: De Plukker hop farm brewery
Festival Website: http://www.plukker.be/en/
23. BELGIAN BEER WEEKEND
1 – 3 September 2017
The Belgian Beer Weekend is one of the biggest Belgian beer festivals and it takes place against the stunning backdrop of Brussels' historic main square. Around 50 Belgian breweries serve up around 350 different Belgian beers, mostly from larger specialty beer breweries and commercial concerns.
Location: Grand Place, Brussels
Festival Website: http://www.belgianbrewers.be/en/
24. DURBUY BEER, BREAD AND CHEESE FESTIVAL
9 – 10 September 2017
It's all in the title of the festival, really. A celebration of regional beers, breads and cheeses (locally, it's called la Fête de la Bière, du Pain et du Fromage). Durbuy is often used as a platform by visitors to explore the surrounding areas of Barvaux, Bomal and Wéris so prices can get touristy for accommodation and eating. But the city is worth a visit for a pleasant walk through the old town's narrow and winding cobblestone streets and its beautiful 17th century houses. Did we mention there's beer, bread and cheese?
Location: Place aux Foires 25, 6940 Durbuy
Festival Website: http://www.durbuyinfo.be
If you'd like to find our more about Belgian breweries and beer festival Belgium, sign up for our free updates (no spam – we promise)!
25. POPERINGE HOP AND BEER FESTIVAL
Friday 15 to Sunday 17 September 2017
A three day extravaganza of beer tasting, music festivities and fancy dress parades which takes place once every three years. It's a celebration of its extensive brewing tradition, its gastronomic culture, its proud hop growing history and its the friendliness of the locals. The people of Poperinge call their home the 'Capital of the Good Life' and they consider this festival an opportunity for them to show it off. The massive brass band concert in the city centre and the archaic beauty queen battle throughout the weekend are noticeable hallmarks of this festival.
Location: Poperinge, Market Square
Festival Website: http://www.hoppefeesten.be/en
26. MODESTE BEER FESTIVAL
30 September – 1 October 2017
The Modeste Beer Festival – named as a mark of respect to Modeste Van den Bogaert who lead the De Koninck brewery in Antwerp for more than 50 years – is a relatively new beer festival (2017 will be its 7th edition) organised by the beer club (and not school), the Antwerps biercollege. The festival organisers say that 'Modeste' also means 'modest' and so only small Belgian breweries are invited. Look out for beer and cheese pairings lead by the famous De Tricht cheese shop in the city.
Location: Antwerp
Festival Website: http://www.antwerpsbiercollege.be/ModesteBierFestival/
If you'd like to find our more about Belgian breweries or beer festival Belgium, sign up for our free updates (no spam – we promise)!
27. BLES 'BIERHAPPENING' BIERFESTIVAL
14 October 2017
BLES organises the Bierhappening in Zottegem each year and is one of the oldest of the 45 beer clubs in Flanders – it started 21 years ago in 1993 – and it is the second largest beer club in Belgium. Their festival attracts more than 1,700 visitors and is growing every year. Around 24 breweries and beer firms are expected to offer over 100 different beers, with half of those on draught and half from the bottle. BLES brew their own beer for the festival each year.
Location: Bevegemse Vijvers, Zwembadstraat, Zottegem
Festival Website: http://www.bles.be/
28. INTERNATIONAL FESTIVAL OF SMALL BREWERIES
21 – 22 October 2017
Spearheaded originally by Grégory Verhelst of Brasserie Artisanale de Rulles, this is a festival which has grown in reputation in each of its previous 16 editions. At the heart of its success is the considered line-up of interesting breweries, attracting Flemish stars like De Ranke and De La Senne as well as respected Walloon operations such as De Cazeau and De Blaugies. They've also handpicked some foreign breweries from Italy, Spain, Norway and the UK. Expect an exciting line-up again in 2017.
Location: Brassigaume: Site du Bois des Isles, Rue des Sports 16, 6724 Rulles (Habay, Marbehan)
Festival Website: http://www.brassigaume.be
29. VINI, BIRRE, RIBELLI
TBC (expected: end of November 2017).
The fourth edition is yet to be announced, but it's expected that this festival, which prides itself on exhibiting 'exclusively craft, sustainable, organic and mostly natural products' will bring the alternative beer and wine worlds together again in Brussels with food that is 'good, clean and fair'. In the region of 4,000 visitors come along to enjoy samples from 160 winemakers, 25 brewers, 13 slow food restaurants and other ethical producers of food.
Location: TBC: (expected Museum of Contemporary Art – Citroën Yser Garage)
Festival Website: http://www.vinibirreribelli.net/
30. KERSTBIERFESTIVAL
Saturday 16 December – Sunday 17 December 2017
Such is the growing popularity of this festival that the organisers have introduced a ticket system in 2015 to reduce numbers from the usual 3,000 people per weekend to a manageable 1,000 people a day. This means a more comfortable atmosphere in which to enjoy the 170 Belgian Christmas and Winter beers in the Heuvelhal in Essen, but it does also mean you'll have to book your ticket months in advance. The Objective Beer tasters Essen Region (O.B.E.R.) do a great job of collating a beer list which in recent years has returned from novelty and special editions to authentic Christmas and Winter beers. And don't be the odd one out. Wear a santa hat. It's totally unique and a lot of fun.
Location: Heuvelhal, Kapelstraat 7, 2910 Essen
Festival Website: http://www.kerstbierfestival.be/
OTHER USEFUL RESOURCES / BEER FESTIVAL BELGIUM
If you can't make it to one of these 30 Belgian beer festivals in 2017 but are looking for other beer related activities in Belgium or info on Beer Festival Belgium, some of the below resources may be of help.
→ Zythos are the beer consumer's group and publish up-to-date listings of breweries, geuzestekerijen and beer firms in Belgium on a regular basis. Check out their website here for information on Beer Festival Belgium: http://www.zythos.be
→ Bièrebel put together a regularly updated and reliable 'Agenda' with listings of events going on around Beer Festival Belgium every month: http://www.bierebel.com/agenda-brassicole
→ Visit Flanders have several useful documents for exploring beer culture in Belgium, none more so than the 'Belgian Beer Experiences in Flanders and Brussels' document which lists out the breweries offering guided tours for groups, beer museums, pubs and restaurants, beer events and some interesting facts and figures: http://www.visitflanders.com/en/binaries/belgian_beer_experiences_tcm13-7788.pdf
→ Tourisme Wallonie also update an events list on Beer Festival Belgium with contact information: http://www.wallonietourisme.be/contenus/beer-agenda/en/224.html#menu
→ If you're looking for the best guide book for beer lovers travelling to Belgium, then pick up a copy of the Good Beer Guide Belgium by Tim Webb and Joe Stange. It's structured for easy use and it's incredibly comprehensive.
→ Belgian Beer and Food Magazine – a glossy 64 page magazine in English – offers the best window into beer culture in Beer Festival Belgium with stories about brewers, suggestions on beer and food pairings and tips on beer tours and city breaks.