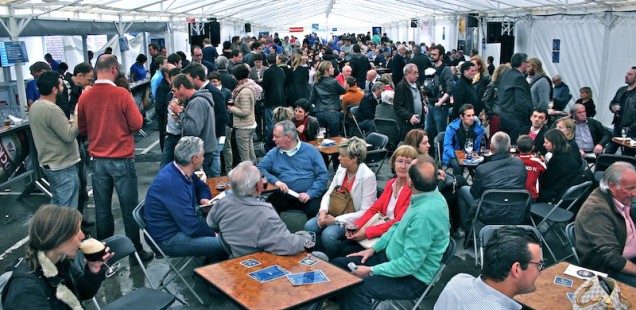 Belgian Beer Festivals 2015 | 10 Beer Festivals in Belgium Not to Miss
This post is about Belgian beer festivals in 2015. If you'd like to read about Belgian beer festivals in 2016, please click here.
Belgium enjoys at least one beer festival on almost every weekend of the year.
But that's to be expected, I guess. Belgium has one of the most rich and diverse beer cultures in the world. You can read more about why that is the case here: Three reasons why Belgian beer is so good.
The beer festivals we have listed below include a mix of internationally recognised beer festivals in Belgium as well as more local, niche and sometimes family orientated Belgian beer festivals that we believe are worth a visit. There are many other festivals we have been to that might also warrant inclusion, but we've decided to limit our suggestions so that they remain a useful resource rather than an unwieldy list.
We attend Belgian beer festivals on a very regular basis and so these are very much our personal recommendations. We have written detailed blog posts about each of the festivals listed below so feel free to have a browse through our adventures to find out which Belgian beer festivals you might enjoy in 2015.
You can keep up to date with beer festivals in Belgium and all our beer festival resources by signing up for our free updates (no spam)!
BELGIAN BEER FESTIVALS 2015
While we have close relationships with many of those people and bodies that run the various beer festivals in Belgium (and have sourced our information here directly with our contacts in each festival), it goes without saying that you should check with the organisers yourself before making arrangements to travel. There would be nothing worse than arriving in the wrong place or on the wrong weekend.
One thing is for sure. With the wide range of fantastic beer festivals being hosted in Belgium during 2015, there's no shortage of choice. The following list is compiled in order of date rather than merit and is set out as a useful reference for those looking for inspiration or for more information on some wonderful beer festivals in Belgium in 2015:
1. BRUGES BEER FESTIVAL
2015 will see the eighth edition of the Bruges Beer Festival at which 80 breweries pour 370 beers. The festival provides a broad offering of what is being brewed in Belgium and attracts a large and internationally diverse crowd. The BAB or Brugse Autonome Bierproevers (the Bruges Autonomous Beer tasters) run a tight ship in the huge Beurshal and even divide their stalls into provincial streets: for example, De Halve Maan were located in 'West Vlaanderen straat'.
Date: 7 – 8 February 2015
Location: The Beurshal, Hauwerstraat 3, 8000 Bruges
Festival Website: http://www.brugsbierfestival.be
Read More: [Video] Bruges Beer Festival
2. WEEKEND OF SPECIAL BEERS
This is a small and quirky festival which takes place in the sleepy Ardennes village of Sohier. Festival organiser, Jean Leonet and his friends in the industry travelled from rural Wallonia to the university at Louvain-La-Neuve twenty-two years ago and were inspired by the students there who were running their very own artisanal beer festival on campus. They brought the idea back to the tiny village of Sohier to be enjoyed in its first few years by a handful of local brewers and friends. It has grown every year since then – largely by word of mouth – and its appearance on the internet has resulted in an increasingly international vibe. It's free to attend and they estimate attendance by counting the amount of empty bottles out the back.
Date: 20 – 22 February 2015
Location: Sohier village
Festival Website: http://www.sohier-village.be/le-week-end-bieres-speciales
Read More: [Video] Sohier Weekend of Special Beers
3. ALVINNE CRAFT BEER FESTIVAL
Alvinne are hosting another one of their Rock 'n' Roll craft brewing extravaganzas with stellar brewing guests from Spain, the UK, Italy, the Netherlands and Norway and this might just be the Belgian beer festival that we are most looking forward to in 2015. The line-up is a mouthwatering 'who's who' of the most exciting breweries in Europe: De Molen, De Struise Brouwers, Naparbier, The Kernel, De Dochter Van De Korenaar, Laugar, Brouwerij Kees, Toccalmatto, Red Church, Beavertown, Alpha State and Haandbryggeriet.
Date: 6 – 7 March 2015
Location: Bierhalle Deconinck, Vichte
Festival Website: https://www.facebook.com/acbf2015
Read More: A Belgian Bottle Shop and its Beer Festivals: Bierhalle Deconinck AND 'Zombination': A Beer Brewed at De Struise Brouwers by 9 of Europe's Most Exciting Breweries
4. ZYTHOS BEER FESTIVAL
This is an absolute beast of a festival with 100 breweries pouring 500 beers and more than 16,000 people attending at Leuven's Brabanthal. Zythos run this festival with clockwork precision, from the layout and toilet arrangements to the changing colour of t-shirts each year. Because of its sheer size and reputation, a real party atmosphere develops as the days go on and it is the perfect festival for groups of friends and for tasting a huge variety of Belgian beers in one room.
Date: 25 – 26 April 2015
Location: The Brabanthal, Leuven
Festival Website: http://www.zbf.be/
Read More: [Video] Zythos Beer Festival in Leuven, Belgium: Three things you need to know
5. BELGIAN BEER WEEKEND
The Belgian Beer Weekend is one of the biggest and most exciting beer festivals not only in Belgium, but in Europe, and it takes place against the stunning backdrop of Brussels' medieval main square. In 2014, there were 47 Belgian breweries serving up around 350 different Belgian beers, so expect something similar in 2015.
Date: 4 – 6 September 2015
Location: Grand Place, Brussels
Festival Website: http://www.belgianbrewers.be/en/
Read More: 7 Great Ways to Maximise your 'Belgian Beer Weekend' Beer Festival Experience
6. BLES BIERHAPPENING
BLES organises the Bierhappening in Zottegem each year and is one of the oldest of the 45 beer clubs in Flanders – it started 21 years ago in 1993 – and it is the second largest beer club in Belgium. Their festival attracts more than 1,700 visitors and is growing every year. For the 2015 edition, around 20 breweries are expected to offer over 100 different beers, with half of those coming from the tap and half coming from the bottle. And BLES brew their own beer for the festival each year. So you'll have to try it.
Date: 10 October 2015
Location: Bevegemse Vijvers, Zwembadstraat, Zottegem
Festival Website: http://www.bles.be
Read More: Brewing for a Beer Festival: How the BLES Beer Club created a beer for the Zottegem Bierhappening
7. POPERINGE BEER FESTIVAL
The 2015 instalment of the Poperinge Beer Festival will be a special one as it's their 20th Jubilee Special Edition. Expect more than the 1,700 visitors who travelled from Belgium, France, the UK, the Netherlands, Sweden, Denmark and even from China to this festival last year and soak up the atmosphere while trying as many of the 100 beers poured by 20 breweries.
Date: 24 – 25 October 2015
Location: Maeke Blyde, Doornstraat 43, Poperinge
Festival Website: http://www.poperingebierfestival.be/en/home/
Read More: (The following post is about a different festival in the same town, but it gives some information on how great Poperinge is as a beer festival venue): [Video] 7 Compelling Reasons not to miss 'Bier- en Hoppefeesten': The Poperinge Beer and Hop Festival
8. FESTIBIÈRE
The third edition of the Festibière beer festival will take place in October 2015 in the city of Gembloux. It is a relatively new festival on the Belgian beer festival calendar which has been created and organised by the 'Slow Beer Club', a young beer club established in 2013 in the Walloon province of Namur whose goal is to champion craft breweries and beers. There's a mix of micro-breweries and gypsy brewers and guest brewers from other European countries. It's also very much a family festival with a 'Kids Zone' supervised by local scouts and a range of games for the whole family laid on, including Halloween DIY and the 'mijole' game, a classic wooden game played in Belgian 'estaminets' or small cafés decades ago.
Date: 24 – 25 October 2015
Location: Foyer Communal de Gembloux, Place Arthur Lacroix, Gembloux
Festival Website: http://www.festibiere.be/
Read More: 'Festibière' Belgian Beer Festival: An Interview with the 'Slow Beer Club'
9. WINTERS BIERFESTIVAL
The third 'Winters Bierfestival' organised by the 'Waregemse Bierfanaten' (Waregem Beer Fans) and Bierhalle Deconinck takes place on Saturday 28 November 2015 in this huge beer shop on Vichte's Bosstraat. Of the 13 breweries that poured at this year's 'Winters Bierfestival', 12 of them were doing so for the first time here and you can expect a whole new line-up of different breweries next year: the Waregemse Bierfanaten and Bierhalle Deconinck have taken a decision to change things as much as they can every year. They also ask every brewery pouring at the festival to bring along a 'Winter' beer. Makes sense given the name, right?
Date: 28 November 2015
Location: Bierhalle Deconinck, Vichte
Festival Website: http://waregemsebierfanaten.be/
Read More: 10 Photos of the 'Winters Bierfestival' in Bierhalle Deconinck
10. KERSTBIERFESTIVAL
Photo by Stacey Clinton / CC BY
This is a unique beer festival which celebrates Christmas and Winter beers. Over the course of two days, you can taste about 170 Belgian Christmas and Winter beers in the Heuvelhal in Essen. It's organised by the Objective Beer tasters Essen Region (O.B.E.R.) and enjoys an attendance of around 3,000 thirsty beer lovers.
Date: 19 – 20 December 2015
Location: Heuvelhal, Kapelstraat 7, 2910 Essen
Festival Website: http://www.kerstbierfestival.be/
BELGIAN BEER FESTIVALS 2015
You're going to have a busy year in 2015 getting your way through all of these beer festivals.
Keep up to date with news and resources relating to Belgian beer festivals by signing up for our updates (no spam, we promise).
And don't forget to double-check the exact details with the organisers of each of the festivals and to enjoy those beer festivals in Belgium in 2015!
Feel free to mention other great Belgian beer festivals in 2015 in the comments section below as a resource for others and so that we can check them out too!