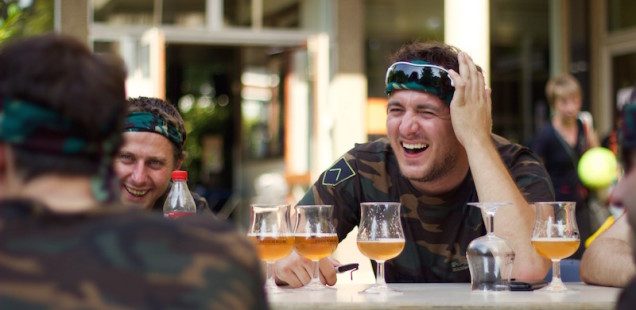 Belgian Beer Festivals 2016 | 30 Best Beer Festivals in Belgium
So, you're thinking about going along to one of the hundreds of Belgian beer festivals in 2016?
Great stuff. You should. Attending one of the many beer festivals in Belgium gives you the opportunity to experience the places, the people and the products that make this small country so famous for its beer culture.
But where do you start? To help you make your mind up, we've listed below what we consider to be 30 of the best Belgian beer festivals taking place in 2016. Our list includes a mix of internationally recognised fairs as well as more local, niche and sometimes family orientated events that we believe are worth a visit.
You can keep up to date with all our resources and stories by signing up for our free updates (no spam – we promise)!
While we have close relationships with many of those people and organisations that run the various Belgian beer festivals (and have mostly sourced our information here directly with our contacts in each festival), it goes without saying that you should check with the organisers yourself before making arrangements to travel. There would be nothing worse than arriving in the wrong place or on the wrong weekend.
There's no shortage of choice. Here are 30 to try in 2016:
1. #SMAAKDOWN16
This one is our own mini-festival. We're throwing a party to celebrate the second birthday of Belgian Smaak in February 2016. We've got 9 beers to taste from 3 great Belgian breweries. Two of these beers have been brewed especially for the occasion: 'Rocky Farm', a beer based on our recipe for Rocky Road chocolate brewed in collaboration with Brouwerij Hof Ten Dormaal; and 'Such A Pittem', a big oyster stout brewed in collaboration with Brouwerij Maenhout. Brouwerij De Ryck will also be pouring some classics. We'll be serving 3 of our most popular handmade Belgian chocolate treats as well: Chocolate Brownie, Chocolate Truffles and Rocky Road. And it will all go down in the beautiful courtyard of Het Huis Van Alijn in the historic centre of Ghent.
Date: 5 February 2016
Location: Het Huis Van Alijn, Ghent
Festival Website: http://www.belgiansmaak.com/smaakdown16/
2. BRUGES BEER FESTIVAL
2016 will see the ninth edition of the Bruges Beer Festival at which 82 breweries and beer firms are expected to pour more than 300 different beers. The festival provides a broad offering of what is being brewed in Belgium and attracts a large and internationally diverse crowd. The BAB or Brugse Autonome Bierproevers (the Bruges Autonomous Beer tasters) run a tight ship in the huge Beurshal and even divide their stalls into provincial streets: for example, De Halve Maan are located in 'West-Vlaanderen straat'.
Date: 6 – 7 February 2016
Location: The Beurshal, Hauwerstraat 3, 8000 Bruges
Festival Website: http://www.brugsbierfestival.be
See More: Video of Bruges Beer Festival
3. WEEKEND OF SPECIAL BEERS
This is a small and quirky festival which takes place in the sleepy Ardennes village of Sohier. Festival organiser, Jean Leonet and his friends travelled from the countryside to the university at Louvain-La-Neuve twenty-two years ago and were inspired by the students there who were running their very own artisanal beer festival on campus. They brought the idea back to the tiny village of Sohier and it was enjoyed in its first few years by a handful of local brewers and friends. It has grown every year since then – largely by word of mouth – and its appearance on the internet has resulted in an increasingly international vibe. It's free to attend and they estimate numbers by counting the amount of empty bottles out the back when the festival is over.
Date: 26 – 28 February 2016
Location: Sohier village, Wellin
Festival Website: http://www.sohier-village.be/le-week-end-bieres-speciales
Read More: Sohier Weekend of Special Beers – Belgian Beer Festivals
4. THE NIGHT OF GREAT THIRST
Established to promote the spontaneously fermented beers of the Payottenland and Senne Valley at a time when they were at risk of extinction, this festival – also known as the International Geuze & Kriek Festival Payottenland – is organised only once every two years. Most lambic breweries and blenders from Belgium attend this event and the last edition even saw Allagash Brewing Company from Portland, Maine invited to pour their 'Coolship'. It's free to attend and Het Geuze Genootschap (the Geuze Society) have changed the venue this year to Itterbeek (from the village square of Eizerengen for previous editions). Detailed information on how to get there can be found on their website.
Date: 22 April 2016
Location: Itterbeek (Dilbeek)
Festival Website: http://www.geuzegenootschap.be/en/the-night-of-great-thirst
Read More: 5 Important Facts About the 'Nacht Van De Grote Dorst'
5. ZYTHOS BEER FESTIVAL
This is an absolute beast of a festival with 100 breweries and beer firms pouring 500 beers and more than 16,000 people attending at Leuven's Brabanthal. Zythos run this festival with clockwork precision, from the layout and toilet arrangements to the changing colour of t-shirts each year. Because of its sheer size and reputation, a real party atmosphere develops as the days go on and it is the perfect festival for groups of friends and for tasting a huge variety of Belgian beers in one room. It's even spilled across borders. Last year saw the first ever Italian edition of Zythos in Treviso. We suggest you start with Leuven.
Date: 23 – 24 April 2016
Location: Brabanthal, Leuven
Festival Website: http://www.zbf.be/
Read More: Zythos Beer Festival in Leuven, Belgium: Three things you need to know AND 12 Honest Opinions About Zythos Beer Festival (Audio Interviews with the Organisers, Brewers, Government and Media)
Keep up to date with news and resources relating to Belgian beer festivals by signing up for our updates (no spam, we promise).
6. RONDJE ROODBRUIN
This 'tour' takes place on one day every two years during which the public are invited to come along to participating breweries – Omer Vander Ghinste (formerly Bockor) in Bellegem, De Brabandere (formerly Bavik) in Bavikhove, Rodenbach in Roeselare and Verhaeghe in Vichte – for a free visit and beer to celebrate the unique nature of Flemish Red-Brown Ale. The breweries lay on entertainment including guided tours, jazz bands, bespoke sour blending and visits to special brewery rooms. The local tourism authority, Toerisme Leiestreek get in on the action with a specific bicycle route for those feeling like a challenge as well as setting up a shuttle bus service between the breweries. Restaurants in the area put on special dishes on their menus just for the day, each of which is prepared with Flemish red-brown ale.
Date: Sunday 24 April 2016
Location: Four breweries in South West Flanders: Omer Vander Ghinste (formerly Bockor) in Bellegem; De Brabandere (formerly Bavik) in Bavikhove; Rodenbach in Roeselare; and Verhaeghe in Vichte
Festival Website: http://www.toerisme-leiestreek.be/nl/rondjeroodbruin
Read More: Rondje Roodbruin | Brewery Tour of Flemish Red-Brown Ale
7. CANTILLON'S QUINTESSENCE
Quintessence takes place every two years as an open day at Cantillon where the public are invited on a tasting tour of the brewery on foot to try their special beers and to learn about the collaborations on which the brewery has been working. In 2014, Quintessence involved a collaboration with two breweries from the U.S. producing spontaneously fermented beer. In 2016, Cantillon are teaming up with Birrificio Del Borgo from Italy and Masia Agullons from Catalonia. Both are blending one of their regular beers with Cantillon lambic to create two new specials: 'Duchessic for Del Borgo' and the 'Setembre'. Expect to see a huge range of beers from each of the three participating breweries on offer, all accompanied with culinary specialties.
Date: Thursday 5 May 2016
Location: Cantillon Brewery, Brussels
Festival Website: http://cantillon.be/br/3_18
Read More: 3 Reasons Not to Miss Quintessence in Cantillon
8. LEUVEN INNOVATION BEER FESTIVAL
The roof of the Hof Ten Dormaal brewery was destroyed by a fire in January 2015. By May they had created the inaugural Leuven Innovation Beer Festival. The beauty of this festival is its unique location at De Hoorn, the old brewing hall where Stella Artois was first created, as well as the diverse range of breweries from Europe and America who come to pour and celebrate innovation in brewing. Last year New Belgium and Goose Island came from the States. Keep an eye out for the breweries invited in 2016.
Date: 15 – 16 May 2016
Location: De Hoorn, Leuven
Festival Website: http://leuveninnovationbeerfestival.com/index.html
Read More: Leuven Innovation Beer Festival
9. BIERPASSIE WEEKEND
Conceived by beer sommelier Ben Vinken as the festival to go alongside his beer magazine of the same name, the Bierpassie Weekend moves into its 17th edition in 2016. Around 50 breweries gather in the Groenplaats in Antwerp against the backdrop of the city's cathedral to pour 170 different beers to the soundtrack of brass band concerts and live Dixieland jazz bands.
Date: 24 – 26 June 2016
Location: Groenplaats, Antwerp
Festival Website: http://www.beerpassion.com
10. THE GATHERING OF BELGIAN LUXEMBOURG BREWERIES
The Luxembourg province – which borders the country of the same name – is not only one of the most picturesque parts of Belgium, but it's got some of its most well known breweries (think Orval, Bastogne and Fantôme) as well as some really interesting ones which don't get much coverage outside of the region. Last year's 'Rencontre des Brasseries du Luxembourg Belge' featured Brasserie Demanez and Brasserie Oxymore among others, and the festival organisers invited several guest breweries from other provinces in Belgium to come along and pour too. Keep an eye out for the breweries attending in 2016 as they come together in Hotton for a series of beer tastings, explanations of different brewing methods, music, raffles and street entertainment.
Date: Sunday 17 July 2016
Location: Hotton, Luxembourg, Belgium
Festival Website: http://www.hotton.be/tourisme/mes-evenements/rencontre-des-brasseries-du-luxembourg-belge-1
11. NAMUR: THE CAPITAL CITY OF BEER
40 breweries and beer firms pouring 150 different beers team up with producers of local delicacies to deliver the main beer festival in Namur over three days in July. It's a family affair with children's games and a variety of concerts. They also run a 'Namur Beer Tour' and host 'Old School' cinema nights. Entrance is €1.
Date: 8 – 10 July 2016
Location: Place Grognon, Namur
Festival Website: http://www.namurcapitaledelabiere.be/en
12. BIERFESTIVAL ANDERS: THE DIFFERENT BEER FESTIVAL
Anders means 'Different' in Flemish. The host brewery of this festival – Brouwerij Anders – are certainly that. They've got a reputation for contract brewing as well as producing some accomplished beers of their own. More than 10,000 beer lovers turned up over two days to their last festival in the centre of Tongeren. Expect a collection of 30 or so small breweries with 100 beers and a range of new releases. "Bij ons geen grote brouwerijen waar de verkoopcijfers primeren," they say: "We don't have big breweries where sales figures are the most important."
Date: 6 – 7 August 2016
Location: Grote Markt, Tongeren
Festival Website: http://www.bieranders.be
13. LA GRANDE CHOUFFERIE: THE BIG CHOUFFE PARTY IN WIBRIN
If you're interested in gnomes, party bands or trying to break the world beer crate climbing record (the current record stands at 28 crates), then head to Wibrin in the Ardennes where this festival has been running since 1985. In the meantime, production of La Chouffe has been taken over by the Duvel Moortgat brewing dynasty, but largely because of the character of the village in which the concept was born, the festival maintains the charm (and quirkiness) that it has always had. Oh, and La Chouffe beers aren't bad either.
Date: 12 – 14 August 2016
Location: Brasserie d'Achouffe, Rue du Village 32, 6666 Wibrin (Houffalize)
Festival Website: http://www.belgie-toerisme.be/informations/evenementen-wibrin-la-grande-choufferie-bierevenement-in-wibrin/nl/E/56187.html
14. FESTIVAL OF 100 BEERS
La Fête aux 100 Bières took root in its current format in 1985 in Anvaing. There's a family bike ride in the surrounds of the village, a flea market and farmer's market showcasing local produce, tasting challenges and a range of children's entertainment including a bouncy castle and face painting. Can you guess how many beers are on offer at the festival?
Date: 19 – 21 August 2016
Location: Anvaing
Festival Website: http://www.gayolle.net/100bieres/
15. HET INTERNATIONAAL STREEKBIERENFESTIVAL
If you're looking for one of the better regional Belgian beer festivals, the Internationaal Streekbierenfestival in Zwevegem offers a good bet. They list 35 breweries and beer firms and 165 local beers on their publicity and bill themselves as a family festival. There's a 'children's village' with carnival rides, a supervised 'Funbus' and they close out the festival with a large firework display.
Date: 14 – 15 August 2016
Location: Toyeplein, Zwevegem
Festival Website: http://flanderseventsvzw.be
Keep up to date with news and resources relating to Belgian beer festivals by signing up for our updates (no spam, we promise).
16. GENTS BIERFESTIVAL
The Ghent Beer Festival – organised by the Gentse Biervereniging (Ghent Beer Association) – takes place in the tree-lined garden at the back of the VIP School on Martelaarslaan. It's an extremely relaxed festival which offers plenty of options for both casual beer drinker and full-out beer geek. Every year they put a 'guest' country in the spotlight. Last year, it was the Netherlands. This year, it was the United States of America. In 2015 they offered their most extensive beer list ever with 160 different beers. And numbers are growing. In 2014, 850 people attended. Last year, that rose to 1,350 people. That figure is likely to grow in 2016, especially if the weather is good.
Date: Saturday 20 August 2016
Location: VIP-school, Martelaarslaan 13-15, 9000 Ghent
Festival Website: http://www.gentsbierfestival.be
Read More: Cooking, Ticking & Singing at the Gents Bierfestival
17. DE BIERWEEKEND
The Lambikstoempers Beerweekend takes place in the Bezoekerscentrum 'De Lambiek', the Lambic Visitor Centre in Beersel. Not only do they already have an incredible selection of lambic beers at their year-round bar, but they've got staff here who understand the brewing heritage of the region and know their stuff on spontaneous fermentation. There's a good mix of local lambic lovers and international beer geeks in attendance, enjoying the sun on the terrace in front of the bar area or checking out the exhibits in the open museum section of the Visitor Centre at the back. Around 520 people come to the festival over the weekend.
Date: 26 – 28 August 2016
Location: Bezoekerscentrum 'De Lambiek', Beersel.
Festival Website: http://www.lambikstoempers.be/nl/bierweekend-2016/
Read More: The Lambikstoempers Beerweekend | A Belgian Beer Festival in the Heartland of Lambic Beers
18. NORTH SEA BEER FESTIVAL
If you do like to be beside the seaside, then head for Ostend's Leopoldpark to taste beers at a festival right opposite De Grote Post cultural centre and just a few hundred metres from the beach. There are over 20 Belgian breweries and beer firms showcasing more than 150 beers as well as several chefs from top local restaurants cooking on site. Check out the beer cocktails, live music performances and cheese.
Date: 26 – 28 August 2016
Location: Leopoldpark, Ostend, West Flanders
Festival Website: http://northseabeerfestival.com
19. ARCH'EN BIERES
The town of Grez-Doiceau lights up at the end of August for Arch'en Bières, described by festival organisers as the 'beer tasting festival of Walloon Brabant'. It's now into its 11th year and together with a fairly solid range of pouring breweries, it boasts a unique location in Maison Coullemont, a large house which borders a park and gives the festival a relaxed rural vibe. Last year 1,300 visitors got through 2,250 litres of beer. You can help out again in 2016.
Date: 27 – 28 August 2016
Location: Maison Coullemont, Rue des Moulins 10, 1390 Archennes
Festival Website: http://www.archenbieres.be
20. BELGIAN BEER WEEKEND
The Belgian Beer Weekend is one of the biggest Belgian beer festivals and it takes place against the stunning backdrop of Brussels' historic main square. In 2015, there were close to 50 Belgian breweries serving up around 350 different Belgian beers, so expect something similar in 2016.
Date: 2 – 4 September 2016
Location: Grand Place, Brussels
Festival Website: http://www.belgianbrewers.be/en/
Read More: 7 Great Ways to Maximise your 'Belgian Beer Weekend' Beer Festival Experience
21. VAL DE SAMBRE HOPS FESTIVAL
Hot air balloon flights, hop harvesting competitions and participation in the region's famous 'Le beau vélo de Ravel' cycling trip through the area's most picturesque castles, rivers and forests await. It's organised by Brasserie d'Erquelinnes and features plenty of live music and street entertainment as well. Try a guided tour of the family-owned brewery, hop field and educational garden.
Date: 4 – 6 September 2016
Location: Microbrasserie d'Erquelinnes, Rue de Maubeuge 197, 6560 Erquelinnes
Festival Website: http://www.belgium-tourism.be/informations/events-erquelinnes-hops-festival-in-val-de-sambre/en/E/45011.html
22. DURBUY BEER, BREAD AND CHEESE FESTIVAL
It's all in the title of the festival, really. A celebration of regional beers, breads and cheeses (locally, it's called la Fête de la Bière, du Pain et du Fromage). Durbuy is often used as a platform by visitors to explore the surrounding areas of Barvaux, Bomal and Wéris so prices can get touristy for accommodation and eating. But the city is worth a visit for a pleasant walk through the old town's narrow and winding cobblestone streets and its beautiful 17th century houses. Did we mention there's beer, bread and cheese?
Date: 10 – 11 September 2016
Location: Place aux Foires, Durbuy
Festival Website: http://www.durbuyinfo.be
23. MODESTE BIERFESTIVAL
The Modeste Beer Festival – named as a mark of respect to Modeste Van den Bogaert who lead the De Koninck brewery in Antwerp for more than 50 years – is a relatively new beer festival (2016 will be its 6th edition) organised by the beer club (and not school), the Antwerps biercollege. The festival organisers say that 'Modeste' also means 'modest' and so only small Belgian breweries are invited. Look out for beer and cheese pairings lead by the famous De Tricht cheese shop in the city.
Date: 1 – 2 October 2016
Location: Boomgaardstraat 17BE, 2018 Antwerpen
Festival Website: http://www.modestebierfestival.be/
24. BLES BIERHAPPENING
BLES organises the Bierhappening in Zottegem each year and is one of the oldest of the 45 beer clubs in Flanders – it started 21 years ago in 1993 – and it is the second largest beer club in Belgium. Their festival attracts more than 1,700 visitors and is growing every year. For the 2016 edition, 24 breweries and beer firms are expected to offer over 100 different beers, with half of those on draught and half from the bottle. BLES brew their own beer for the festival each year.
Date: Saturday 15 October 2016
Location: Bevegemse Vijvers, Zwembadstraat, Zottegem
Festival Website: http://www.bles.be
Read More: Brewing for a Beer Festival: How the BLES Beer Club created a beer for the Zottegem Bierhappening
25. THE INTERNATIONAL FESTIVAL OF SMALL BREWERIES
Spearheaded originally by Grégory Verhelst of Brasserie Artisanale de Rulles, this is a festival which has grown in reputation in each of its previous 15 editions. At the heart of its success is the considered line-up of interesting breweries, attracting Flemish stars like De Ranke and De La Senne as well as respected Walloon operations such as De Cazeau and De Blaugies. They've also handpicked some foreign breweries from Italy, Spain, Norway and the UK. Last year AJA Bryggeri Norway, Wapping Brewery and Birrificio Lambrate all came to Brassigaume. Expect an exciting line-up again in 2016.
Date: 15 – 16 October 2016
Location: Brassigaume: Site du Bois des Isles, Rue des Sports 16, 6724 Rulles (Habay, Marbehan)
Festival Website: http://www.brassigaume.be
Keep up to date with news and resources relating to Belgian beer festivals by signing up for our updates (no spam, we promise).
26. POPERINGE BEER FESTIVAL
Last year's Poperinge Beer Festival was their 20th Jubilee Special Edition and it is set to go from strength to strength in 2016. They've changed venue to accommodate growth and are now hosted in the 'Maeke Blyde' event hall. 2015 saw 1,800 visitors travelling Belgium's hop region from different parts of Belgium, France, the UK, the Netherlands, Denmark, Spain, Italy, Bulgaria, Sweden and the USA. Soak up the atmosphere while trying some of the 100 beers on offer and enjoy the hospitality of the Westhoek.
Date: 29 – 30 October 2016
Location: Maeke Blyde, Poperinge
Festival Website: http://www.poperingebierfestival.be/en/home/
Read More: 7 Compelling Reasons not to miss 'Bier- en Hoppefeesten': The Poperinge Beer and Hop Festival (This post is about a different festival in the same town, but it gives some information on Poperinge as a beer destination).
27. FESTIBIÈRE
The fourth edition of Festibière will take place in October 2016 in the city of Gembloux. It's a Belgian beer festival which has been created and organised by the 'Slow Beer Club', a young beer club established in 2013 in the Walloon province of Namur whose goal is to champion small breweries and artisanal beers. There's a mix of micro-breweries and gypsy brewers and guest brewers from other European countries. It's also a family festival with a 'Kids Zone' supervised by local scouts and a range of games, including Halloween DIY and the 'mijole' game, a classic wooden game played in Belgian 'estaminets' or small cafés decades ago.
Date: 29 – 30 October 2016
Location: Foyer Communal de Gembloux, Place Arthur Lacroix, Gembloux
Festival Website: http://www.festibiere.be/
Read More: 'Festibière' Belgian Beer Festival: An Interview with the 'Slow Beer Club'
28. WEEKEND OF BELGIAN BEERS
Organised by De Limburgse Biervrienden (or Limburg beer friends), the festival aims to present 125 lesser-known beers and as many firsts or new beers as they can. It takes place in the Cultuurcentrum in Hasselt and volunteers are on hand to advise during what is their 23rd edition.
Date: 11 – 13 November 2016
Location: Cultuurcentrum, Hasselt
Festival Website: http://www.limburgse-biervrienden.be/bierweekend/editie-2015
29. VINI, BIRRE, RIBELLI
125 French and Italian artisanal vine growers and Belgian brewers will come together for the third edition of 'Vini, Birre, Ribelli' (or 'Wine, Beer, Rebels'). The theme here is a rebellion against the industrial and they put Jean Van Roy of Cantillon front and centre in last year's edition to support that message. 3,000 people are expected to attend at the King Baudouin stadium in Heysel, Brussels. The festival artwork is from the distinctive hand of Jean Goovaerts who creates the visual identity for all of the beers of Brasserie De La Senne. Combining great wine and great beer is not common in Belgium so there's a bravery about this event which should open up fans of one product to the other. As festivals go, it seems like a breath of fresh air.
Date: 26 – 27 November 2016
Location: King Baudouin stadium, Heysel, Brussels
Festival Website: http://www.vinibirreribelli.net/UK/index.html
30. KERSTBIERFESTIVAL
Such is the growing popularity of this festival that the organisers have introduced a ticket system in 2015 to reduce numbers from the usual 3,000 people per weekend to a manageable 1,000 people a day. This means a more comfortable atmosphere in which to enjoy the 170 Belgian Christmas and Winter beers in the Heuvelhal in Essen, but it does also mean you'll have to book your ticket months in advance. The Objective Beer tasters Essen Region (O.B.E.R.) do a great job of collating a beer list which in recent years has returned from novelty and special editions to authentic Christmas and Winter beers. And don't be the odd one out. Wear a santa hat. It's totally unique and a lot of fun.
Date: 17 – 18 December 2016
Location: Heuvelhal, Kapelstraat 7, 2910 Essen
Festival Website: http://www.kerstbierfestival.be/
OTHER USEFUL RESOURCES
If you can't make it to one of these 30 Belgian beer festivals in 2016 but are looking for other beer related activities in Belgium, some of the below resources may be of help.
→ Zythos are the beer consumer's group and publish up-to-date listings of breweries, geuzestekerijen and beer firms in Belgium on a regular basis. Check out their website here: http://www.zythos.be
→ Bièrebel put together a regularly updated and reliable 'Agenda' with listings of beer events going on around Belgium every month: http://www.bierebel.com/agenda-brassicole
→ Visit Flanders have several useful documents for exploring beer culture in Belgium, none more so than the 'Belgian Beer Experiences in Flanders and Brussels' document which lists out the breweries offering guided tours for groups, beer museums, pubs and restaurants, beer events and some interesting facts and figures: http://www.visitflanders.com/en/binaries/belgian_beer_experiences_tcm13-7788.pdf
→ Tourisme Wallonie also update an events list with contact information: http://www.wallonietourisme.be/contenus/beer-agenda/en/224.html#menu
→ If you're looking for the best guide book for beer lovers travelling to Belgium, then pick up a copy of the Good Beer Guide Belgium by Tim Webb and Joe Stange. It's structured for easy use and it's incredibly comprehensive.
→ Belgian Beer and Food Magazine – a glossy 64 page magazine in English – offers the best window into beer culture in Belgium with stories about brewers, suggestions on beer and food pairings and tips on beer tours and city breaks.
BELGIAN BEER FESTIVALS 2016
You've got a busy year ahead.
Keep up to date with news and resources relating to Belgian beer festivals by signing up for our updates (no spam, we promise).
And don't forget to double check the exact details with the organisers of each of the festivals and enjoy those beer festivals in Belgium in 2016.
Feel free to mention other great Belgian beer festivals in 2016 in the comments section below as a resource for others and so that we can check them out too.