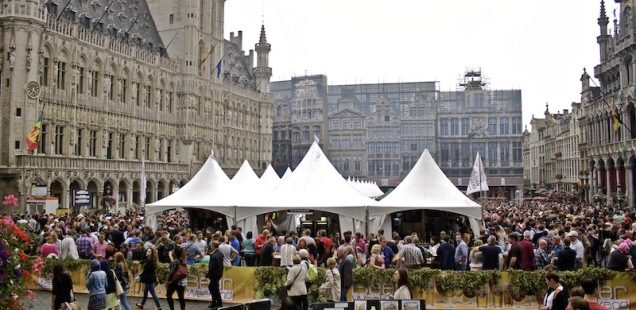 Belgian Beer Weekend | 7 Tips To Maximise Your Experience
So you're thinking about going to the Belgian Beer Weekend in Brussels in 2016?
Why wouldn't you? It's one of the biggest beer festivals in Belgium and it takes place against the backdrop of Brussels' medieval main square.
There are around 40 different Belgian breweries in attendance over the course of the Belgian Beer Weekend with roughly 350 different Belgian beers to try.
BELGIAN BEER WEEKEND
But what if you've never been to a beer festival in Belgium before? What if you don't know anything about Belgian beers? What's the best way to tackle this beer festival?
Here are 7 suggestions to help you get the most out of your 'Belgian Beer Weekend' beer festival experience next year:
1. PICK YOUR TIMES CAREFULLY
Make no mistake about it. This is a busy festival. It's held in Europe's capital and Belgium's busiest city with attendees coming not just from all over Belgium, but from all over the world.
It's completely free to attend. But because there are no tickets, there is no way of securing your place within the barriers of the festival or for the organisers to know how many people will turn up and when. As a result, space is at a premium at certain times of the day.
The festival takes place within a closed-off area in Brussels' Grand Place, the beautiful cobblestoned square located only five-minutes walk from Gare Centrale. While it's a unique venue for a beer festival, it's not a huge space when you take into consideration the numbers attending.
Every year, roughly 80,000 people flock to this event. That's a lot of people.
For large parts of the festival, there are people, sometimes hundreds, queuing. Queuing to get beer. Queuing to get glasses and tokens. Queuing to go to the toilet. Queuing to get back in after having been to the toilet. Sometimes the queuing lasts for 20 minutes. Sometimes for more than an hour.
The festival programme and some common-sense will guide you as to which times might be busiest. The Friday evening and the Saturday from about 2pm onwards are extremely busy; and after 4pm on all three days it is really difficult to move freely among the crowds.
It's fine to turn up at 5pm on the Saturday evening, but just know that you're going to have to spend a lot of time trying to get in and that there will be so many people there that it may be hard to move around, especially with a drink in your hand.
Bear in mind also that the event does not usually carry on very late. It usually closes on Friday at 9.45pm, on Saturday at 8.45pm and on Sunday at 7.45pm. The pay desks close much earlier (on Friday at 8pm, Saturday at 7pm and Sunday at 6pm).
You don't want to turn up and not be able to buy a beer, and you don't want to get kicked out before you've even started.
2. MAKE A PLAN OF ATTACK
There are around 40 different Belgian breweries in attendance over the course of the Belgian Beer Weekend with roughly 350 different Belgian beers to try.
I don't care if you drink like a fish. Unless you're Marty McFly with a time-travelling DeLorean, you're only going to be able to make your way through a fraction of the beers on offer during the weekend. Even if you had a DeLorean there'd be nowhere to park in the middle of Brussels. And you shouldn't be drinking and time-travelling anyway.
In order to maximise the variety of beers you will be able to taste, it's best to make a plan of attack on what you might try.
Study the beer list. It will be available a few weeks before the festival and can be downloaded and printed off or saved on your phone. It's also available to view in the Grand Place at the festival itself. Let this little bit of extra preparation be fun – get you in the mood for the festival.
As a general rule, it's best to make your way from light to dark and from lower alcohol to heavier beers. If you start with an Imperial Oatmeal Stout aged in Whiskey Barrels, there aren't too many places for your palette to go. Ease yourself in with a pils, pale ale, saison, fruit beer or lambic. Save the dark quads for later.
You might also want to take into consideration the IBU (international bitterness unit) count on the beers. If your first beer is a double IPA with over 100 IBU, your taste buds might be so overpowered that you could find it difficult to deal with anything else as the day proceeds.
It's totally your choice when it comes to tasting tactics.
You might want to stick to one particular style for the day to really explore how that type of beer is made and how each of the beers across that style differ.
You might also want to go for only new breweries that have just started, perhaps those that are making their festival debut.
Or perhaps you want to go geographical and explore as many beers as possible from one particular region of Belgium.
The festival operates a system of crowncorks which you purchase up front at pay desks. Each crowncork costs €1 and beers vary in price from 2 tokens to 4 tokens, depending on the beer. Be warned that unused crowncorks will not be refunded. There's a different deposit chip for a tasting glass. It costs €3 and is refunded at the end of your tasting.
You can also buy crowncorks and deposit chips on presale. Usually, this is at a pay desk near the Town Hall between 10am and 5pm on the Thursday before the festival begins.
Planning in this way will also ensure you bring enough cash. How many beers do you intend to try? How long do you intend to stay? How many people will be in your group? Maybe you need to agree an emergency point to meet up if one of your group gets lost and phone communication is down? Are you bringing a bag in case you avail of any merchandise or receive any free stash?
And how are you getting home? Are you staying in a hotel in Brussels or do you need to know the times of the last train to another city? Do you know the whereabouts of the nearest taxi rank or is someone going to pick you up?
This is not to say that you have to plan every single detail of the weekend or that you can't play it all by ear. Going with the flow is absolutely one of the most best things about beer festivals.
But having a rough idea means you will save time and get much more out of the festival.
3. TASTE AND RECORD
Whether you're a beer aficionado or not, you're reading this because you're considering going to a beer festival and have some interest in beer.
What's the point of making your way to the Belgian Beer Weekend and not focusing on the central theme of the festival – beer!
One way to really enhance your enjoyment of the weekend is to really TASTE the beers and to RECORD your experiences.
You want to be able to truly explore each beer you try. You can do this in a small notebook or even on your phone. It's especially advisable if you plan on going along to more than one day of this festival.
Take your time to look at the beer. Is it cloudy or clear and what does that tell you about how the beer might taste? Is the colour of the beer appealing and does it have a large head? Does the beer produce any lacing in the glass?
And how does it smell? Is it sweet or acrid? Are there spices in the nose or is its aroma more fruity?
What about the base taste? Is it sour, sweet or bitter or a combination of these flavours? Is there something interesting about the mouthfeel?
And how is the aftertaste? Does it disappear quickly or do the flavours last for a long time and maybe even change on the finish? Would you drink it again? How would you rate it overall?
By asking yourself these questions and sharing your thoughts with your friends, you can really discover what you like and what you don't like and throw yourself into the spirit of the weekend.
4. DRESS UP OR DRESS DOWN
Belgian Beer Weekend is a festival of pomp and ceremony.
It is organised by Belgian Brewers, a national federation of around 70 Belgian breweries. It's a professional association which aims to inform, support and advise breweries established in Belgium. Together with the Knighthood of the Brewers' Mashstaff, the City of Brussels and the Brussels-Capital Region, they put on a big show.
There are a number of events during the weekend which are invite-only. One such event is the academic session and enthronement ceremony which takes place in the Gothic room of the Town Hall. Another is the solemn inauguration of the beer stands on the Grand Place by each of the brewers, the Grand Master of the Knighthood of the Brewers' Mashstaff, the Mayor and the aldermen of Brussels.
But you'll have plenty of opportunities to get involved in the fun. Saturday generally opens with the historical brewery carts and beer wagons gathering at the 'Fish Market' and parading through the streets of Brussels.
You'll see lots of people dressed up in their brewing fraternity gear and get a chance to witness brass bands blowing their way through the city.
There are also plenty of people dressed up in, let's say, less formal, outfits. Hop scarves, beer festival t-shirts and various brewery hats make for some eye-catching costumes.
The other, more practical, consideration concerning what you wear relates, of course, to the weather. Remember, this beer festival takes place outside and as such is open to the elements.
Coming as it does at the beginning of September, the weather is usually good, so bring your sun cream and sunglasses. However, it can get cold in the evening so jumpers are a good call. And being Belgium, there is always the chance of rain. Bear this in mind when heading out the door.
5. GET FED AND WATERED
More than likely you'll be out at the festival for several hours. You'll be drinking alcohol. You'll be getting hungry.
Food is obviously sustenance – you need to fuel your body for all the energy it takes to talk nonsense about beer. You might even dance a bit in Grand Place.
More importantly, your experience of the Belgian Beer Weekend can be greatly enhanced by food pairings with your beer.
Why not try this by yourself? If you take into consideration the types of beers you might try, you can bring some tasty treats along with you. Whether it's goat's cheese with geuze, spicy sausage with a well-hopped pale ale, or some chocolate with a kriek, you'll be in control.
On the other hand, some of Europe's best restaurants are within touching distance of Grand Place and you can take a break from the festivities to go and try out some of the cuisine. Why not go for a nice meal and have the house beer sommelier, chef or server at a restaurant recommend a food and beer pairing for you to savour.
If you want something quick and easy, you can of course also grab some frietjes or other fast food from the stalls around the square. They're cheap and easy and can also be matched up with various beers.
Don't forget to hydrate yourself. You're going to need to drink plenty of water, both so that you can cleanse your palette in between different beers or after eating food, and so that you can last a full day's tasting. After all, you'll need to be spritely the next day when you get up to start all over again.
6. BE INQUISITIVE
Using the Belgian Beer Weekend to learn about beer is another way to really maximise your beer festival experience.
What the hell is a hop? What makes a beer a certain colour? What's the difference between a lambic and a Trappist?
If you're a total beginner with beer, don't be afraid to ask questions. The brewers are there to talk with you about their beers and they are very happy to engage with varying levels of experience. Ask about the beer style, the ingredients, how the beer is made, the stories behind the name of the beer and the personalities within their brewery.
And it's not just the brewers – ask questions to other festival-goers. A lot of people there will have a strong interest in beer and will be happy to tell you everything they know.
If, on the other hand, you're a beer geek who travels to beer festivals all the time, now is the time to get the answers to those questions you've been looking for. Quiz the brewers on their dry-hopping regime; ask them about their marketing strategies; get them to identify the malt profile of that beer you like. Now is your time.
You've got all of these people in one place.  No question is too silly. Now is the time to ask.
7. GET SOCIAL
With thousands of people attending this festival, another way to really maximise the experience is to interact with other festival-goers.
Beer is social. It's made by brewers for people to enjoy together. After all, everyone at the festival has one thing in common. You're all there to enjoy beer.
Get chatting not only to brewers, but to other people there for the weekend. Many will have travelled from other places and will have interesting stories to tell. Given that you are such an amazing person, they will certainly be interested in yours.
But it's also fun to engage with online social media. Twitter, facebook and instagram are all great ways to see what other people are saying about Belgian Beer Weekend.
They make it easy for you to display that photograph enjoying your first glass; to comment publically on the festival experience of your friends; to show a brewery how much you enjoyed their beers.
Engage with the breweries online. Comment on the posts of other festival-goers. Share that photo of you with your favourite beer.
MORE DETAILS ABOUT THE FESTIVAL
Dates: Friday 2 – Sunday 4 September (inclusive) 2016
Address: Grand Place 10, Brussels, B-1000, Belgium
Website: http://www.belgianbrewers.be
ENJOY
Now you're all set.  It's up to you to make the most out of the festival. Go and taste some great beers and have a great Belgian Beer Weekend.
Do you have any other tips for people going to the Belgian Beer Weekend? Are there any other ways you can suggest for people to get the most out of their beer festival experience?