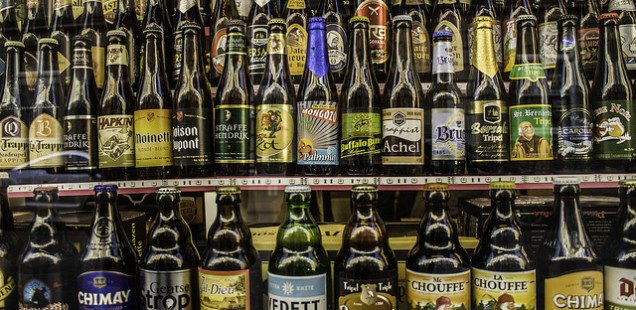 37 Belgian Beers Not to Miss | Recommended by Beer Experts
Belgian beers. What's all the fuss about? After all, Belgium is just slightly bigger in size than Wales with a population no bigger than that of Cuba.
And their beer? How good could it be? Have you seen what's happening in America, Denmark, Germany and the UK?
There's not even that much of it. Belgian beers account for only 1% of all beer produced in the world. There are more breweries in the U.S. state of Oregon than there are in the whole of Belgium. According to the latest figures furnished to me by Zythos, Belgium is home to 195 breweries, 93 beer firms and 5 gueuzeries.
And most of what they do make, they don't even bother to drink themselves, exporting 60% of their beer to other countries.
It's not like they drink a lot of beer. They're only 15th in Europe when it comes to beer consumption per capita.
So what's the big deal?
Well, Belgium has the greatest diversity of original beer styles on the planet. Few would disagree that the country has an unrivaled brewing heritage which is deeply embedded across its towns and villages. And Belgium's newer brewers are exploding onto the scene and showing off their talent by marrying innovation and respect for tradition. There's certainly an argument to be made for it being the best country in the world for beer.
If you'd like to receive free information, resources and projects relating to Belgian beer, then sign-up for updates below (no spam – we promise):
WHICH BELGIAN BEERS?
So which Belgian beers are worth checking out? There are plenty of lists of Belgian beers in magazines compiled by people who know a thing or two about beer and there are lots of online rating sites that rank beers.
But what about real life recommendations? Would you get a different answer if you asked someone who you respected to suggest a Belgian beer to you, regardless of whether it was a macro beer or from a 'craft' brewery; whether it was new on the market or an established brand; whether it was contract or gypsy brewed? Wouldn't that be a list of recommendations worth seeing?
So that's what I did. I contacted a wide range of beer experts – sommeliers and cicerones, brewers and judges, bloggers and journalists – to compile a list of recommendations.
I asked them all one question: "Which one Belgian beer would you recommend people try?"
I asked as varied a list of contributors as possible to ensure the suggestions came from both newcomers and experienced beer people, from both men and women, from both 'craftier' beer geeks and more traditional voices, and from a mix of both international experts and Belgians.
The recommendations below are quite fascinating: a plethora of the usual suspects thrown in with a lot of solid performers and some obscure gems. I believe the list does an excellent job of showcasing the full spectrum of Belgium's incredible brewing culture.
Here's what the experts said (in no particular order). The 37 amazing Belgian beers you should try:
1. RODENBACH GRAND CRU (6% ABV) [BROUWERIJ RODENBACH / PALM]
Photo
by
Christopher Edvartsen
/
CCBY
Chosen by Tim Webb
To understand Rodenbach Grand Cru, discard what you know of beer. Dismiss that it should be blonde, or have a head or not have 'turned'.

This 6% ABV brown ale, aged for two years in massive, pedestalled, oak tuns 200 to a cave, before blending to unmistakable familiarity, goes beyond tart into sour. It sits precariously at pH 3.2 like Sauvignon Blanc, yet draws more of a Cabernet Sauvignon crowd.

Bottled bright to retain the delicate balance of grain and caramel, burn and edge, its uniquely ancient taste resonates across centuries of beer-making, outgunning the dangerous here-and-now of the craft brewer. Sharp.
Tim Webb is a beer writer and publisher. He is co-author with Stephen Beaumont of The World Atlas of Beer and Pocket Beer Book; and with Joe Stange of Good Beer Guide Belgium. Tim is Managing Editor at Cogan & Mater Ltd & www.booksaboutbeer.com.
Find out more about this beer: http://www.rodenbach.be/
2. LOU PEPE GUEUZE (5% ABV) [BRASSERIE CANTILLON]
Brasserie Cantillon
Chosen by Chuck Cook
"Cantillon Lou Pepe Gueuze is the beer that really turned me on to lambics and sour beers. It opened my eyes to how great these brews could be", a friend of mine in his thirties told me about a year ago.

He was right, and was certainly not the first drinker to have an epiphany while drinking this brew. Lou Pepe Gueuze is a blend of two-year old lambics that are often aged in wooden barrels that used to hold French wine the last time they were filled.

The Lou Pepe Gueuze is one of the best of the Brasserie Cantillon range, and should be sought out by any lover of lambic brews or, for lack of a better word, sour beers.

Its soft, mellow tartness and mild horse blanket funk will make you smile and desire another glass. May there be more gueuze left in your bottle when that happens.
Charles D. "Chuck" Cook is a writer and photographer who has travelled to Belgium 29 times since 1994 to explore, experience, and enjoy its incredible beer culture. He has visited over 150 breweries and 350 beer cafes in "The Beer Country." Chuck has written for USA Today, All About Beer Magazine, Belgian Beer & Food Magazine, Celebrator Beer News, and many other publications.
Find out more about this beer: http://www.cantillon.be/
3. ARDENNE SAISON (5.5% ABV) [BRASSERIE DE BASTOGNE]
Chosen by Joe Stange
Historically, saisons were homebrews for a practical purpose. Sometimes they would have been weird in the not-nice way. (In fact, there are some today that are like that.) Other times they would have been beautifully refined. Luckily we have brewers today who know what to do with half-wild yeast, or else do an excellent job of convincing us that they know.

This one is reasonable at 5.5% strength, lively, dry and bitter enough. But the aroma is the thing, dry-hopped and re-fermented with Brettanomyces. I like to close my eyes and puzzle it out. Where does the floral grapefruit end? Where do the musty lemons begin?
Joe Stange is a freelance journalist, co-author of Good Beer Guide Belgium (with Tim Webb), and author of the upcoming Around Brussels in 80 Beers, second edition. He blogs at www.thirstypilgrim.com, and tweets @Thirsty_Pilgrim.
Find out more about this beer: https://brasseriedebastogne.wordpress.com/
4. AVRIL (3.5% ABV) [BRASSERIE DUPONT]
Photo
by
walknboston
/
CCBY
Chosen by Ashley V Routson
Crisp, refreshing and super low in alcohol—one can only presume that Dupont's Avril is the closest thing to the original farmhouse ales, which were typically brewed as a hydration alternative to water for farmhands. Avril is the perfect all-day sipping beer for long, hot summer days.
Known amongst the craft beer world as The Beer Wench, Ashley V Routson is a craft beer evangelist and social media maven on a mission to advance the craft beer industry through education, inspiration, and advocacy. Ashley is a freelance beer writer and soon-to-be published author who has written for or been featured on NPR, DRAFT magazine, Beer Advocate, and Time.com, among others. Ashley has been a featured speaker at the Craft Brewers Conference, The Great American Beer Festival, and the Beer Bloggers Conference.
Find out more about this beer: http://www.brasserie-dupont.com/
5. ST. FEUILLIEN BLONDE (7.5% ABV): [BRASSERIE ST. FEUILLIEN]
Chosen by Randy Mosher
Belgium is awash in blonde ales. Sadly, many of them are rather one-dimensional, lacking depth and mystery. The St. Feuillien Blonde reflects the joyfully understated gastronomy of its Wallonian homeland. With an enchanting, not-quite-earthy yeast character, a whiff of spicy hops and a tightrope balance between crisp and malty, this beer reminds us, at the most basic level what Belgian beers are all about.
Randy Mosher is a writer, creative consultant, designer and educator specialising in beer. Author of five beer-related books including Tasting Beer, he also teaches at the Siebel Institute. He is an active partner in two Chicago-area breweries: 5 Rabbit Cerveceria and Forbidden Root Botanic Beers.
Find out more about this beer: http://www.st-feuillien.com/
If you'd like to hear more from our adventure in taste with Belgian beer, sign-up for free updates below (no spam):
6. BOURGOGNE DES FLANDRES (5% ABV) [TIMMERMANS / JOHN MARTIN]
Chosen by Roger Protz
Wonderfully rich and complex beer, a blend of dark ale and Timmermans' lambic, with an acidic note from the lambic cutting the dark roasted grains and spicy hops of the ale. The beer will be restored to its original home in Bruges in 2015 when a new brewery opens there.
Roger Protz is one of the world's leading beer writers, historians, lecturers and tasters. He is the author of more than 20 books on the subject, including 300 Beers to Try Before You Die, one of the biggest-selling books on the subject. He was named Glenfiddich Drink Writer of the Year in 1997 and 2004 and in 2003 was presented with the first-ever Lifetime Achievement Award from the British Guild of Beer Writers. He has won two Gold and six Silver Tankard Awards from the guild and in 2013 won Gold as Best Writer in Pub and Beer Press. He has won 13 awards from the North American Guild of Beer Writers.
Find out more about this beer: http://www.bourgognedesflandres.be/
7. ZINNEBIR (6% ABV) [BRASSERIE DE LA SENNE]
Photo
by
Les Bières Belges
/
CCBY
Chosen by Luc De Raedemaeker
It was very hard to select my favourite beer among the fantastic Belgian beers. If you choose, you always lose. So my advice is to try as many styles and beers as possible. But anyway, I have to stick to the rules. So I'm going for a Zinnebir from Brasserie De La Senne. The brewer's philosophy is to brew beers with lots of flavours, but with as little alcohol as possible. My kind of beers. Zinnebir has a cloudy orange colour and a great nose of honey, pollen, and lemon zest, and light exotic fruits. The taste is malty, with a fine bitterness and a long aftertaste. Top beer.
Luc De Raedemaeker is the director of the Brussels Beer Challenge, chief editor of Bier Grand Cru and the Beer Link (China) and Doemens Diplom-Biersommelier. He sees it as his mission to give beer the recognition it deserves.
Find out more about this beer: http://brasseriedelasenne.be/
8. GOUDENBAND (8% ABV) [LIEFMANS / MOORTGAT]
Chosen by Sofie Vanrafelghem
Liefmans Goudenband is a classic Flemish sour brown of 8% ABV. The beer is the masterpiece of Rosa Merckx, the first female brewmaster of Belgium. After the second world war she started as a secretary at the Liefmans brewery and worked herself up to the position of brewer. Now ninety years old, she still lives next to the brewery, where she checks the beer at least once a week.

The wort is brewed at Duvel-Moortgat but ferments in open tanks at their historical brew site in Oudenaarde. There, the lactic acid bacteria form the typical sour taste and character during a long maturation of up to 8 months.

It's a complex but balanced beer, the refined sourness countered with some caramel sweetness. In the flavour you also get hints of raisins and red apples. Sour meets sweet at a sublime level.

It's a perfect provision beer that works brilliantly with blue cheese.
Sofie Vanrafelghem is a Zythologist, beer author of 3 beer books, Founder of 'Women & Beer', Beer columnist at De Standaard, International beer sommelier, Editorial staff member of Zythos, Teacher of general beer knowledge at CVO Panta Rhei, Editor at Hopper Magazine and Master beer sommelier at Café Belge (The Ritz-Carlton, Dubai, UAE).
Find out more about this beer: http://www.liefmans.be/en
9. WESTMALLE TRIPEL (9.5% ABV) [TRAPPIST ABBEY OF WESTMALLE]
Photo
by
Visit Flanders
/
CCBY
Chosen by Jef Van Den Steen
In 1934, as they finished their – at that time – new brewery, the Westmalle Abbey launched a 'superbeer', a blond top-fermented beer of 9.5 % ABV which would soon be renamed Westmalle Tripel. However, it wasn't until 1956 that brother Thomas introduced the delicate hoppiness for which this beer is known and equipped it with its complex character.

Classic Belgian beers are very balanced and complex, and Westmalle Tripel is a perfect example of this. In aroma it is fruity (overripe banana) with a fine hop bitterness and soft maltiness fighting for attention.

The flavour is just as complex: the beer has a creamy mouthfeel and delicate sweetness without being sticky as well as being fruity, bitter and orangey with a long, dry and pleasantly bitter aftertaste. Westmalle Tripel is the mother of all tripels – a world classic!
Jef Van Den Steen is one of the most experienced beer connoisseurs in Belgium as well as a brewer at Brouwerij De Glazen Toren. He writes for beer magazines such as De Zytholoog, Bier Passie Magazine and Smaak and has authored books including "Lambi(e)k en Geuze", "Trappist. Het Bier en de Monniken", "Abdijbieren, Geestrijk Erfgoed", "Geuze en Kriek, de Champagne onder de Bieren" and "De Smaak van Bier".
Find out more about this beer: http://www.trappistwestmalle.be/
10. 1894 OAK & HOPS (8% ABV) [BROUWERIJ DE BRABANDERE]
Chosen by Derek Walsh
This beer absolutely blew me away when I first tried it last year. De Brabandere is one of Belgium's largest independent family breweries and a specialist in (22,000 liter) foeder aged and blended beers. 1894's Champagne-like carbonation, dryness and delicate sour-oakiness are truly unique.

By blending 20% aged with fresh beer and using 3 classic European aroma hops (2 grown in Belgium) it remains despite its 38 IBUs very fruity, peppery and flowery. Oak is subdued and the yeasts it contains provide flavours reminiscent of grapefruit, nectarines and pineapple. This beer is living proof that the notion sour and bitter can't be combined is utter nonsense.
Canadian Derek Walsh is a part-time brewery consultant, trainer of beer sommeliers and BJCP/BKG certified international beer judge. He specialises in beer styles, recipe optimalisation and hosting beer & food workshops. He's been at it for more than 25 years and is credited for having introduced the concept of gypsy brewing to western Europe.
Find out more about this beer: http://www.brouwerijdebrabandere.be/
11. KAMELEON TRIPEL (8.5% ABV) [BROUWERIJ DEN HOPPERD]
Chosen by Marc Mertens
This blonde tripel beer is 100% organic, like all the beers of the Den Hopperd brewery. Moderately sweet and bitter, it's almost like there are little bits of fruit in there. This beer is either loved or hated. Some say it's a dangerous beer – when you love it, you don't stop drinking it. My wife loves it so I am always BOB (driving) when she drinks Kameleon Tripel.
Marc Mertens has since 1985 been a member of the Objectieve BierProevers, now Zythos, and he is the current national editor-in-chief for De Zytholoog.
Find out more about this beer: http://users.telenet.be/denhopperd/
If you'd like to hear more from us as we research Belgian beer, then why sign-up for free updates below (we promise there will be no spam):
12. WESTVLETEREN BLONDE (5.8% ABV) [SINT-SIXTUS ABDIJ VAN WESTVLETEREN]
Photo
by
Adams K.
/
CCBY
Chosen by Stan Hieronymus
This beer does not come from an old recipe – it was conceived in 1999 to celebrate the opening of the remodeled 'In de Vrede' café across from the abbey – and it is not the one people buy on the beer black market or travel halfway around the globe to drink in the café.

It is a simple, honest beer, brewed by the monks themselves and made better by the surroundings. It smells and tastes lightly fruity at the outset, the hops providing an earthy, sometimes grassy character, leading to a firm, bitter, dry finish. It seems like a beer that Saint Benedict, who advocated that monks should live by the work of their own hands, would have appreciated.
Stan Hieronymus is author of "Brew Like a Monk" as well as five other books related to beer and brewing, the most recent being "For the Love of Hops: The Practical Guide to Aroma, Bitterness and the Culture of Hops." He's currently at work on the next, "Indigenous Beer: American Grown."
Find out more about this beer: http://sintsixtus.be/
13. CHIMAY TRIPLE (8% ABV) [TRAPPIST ABBEY OF CHIMAY]
Photo
by
Patrick Casabuena
/
CCBY
Chosen by Ben Vinken
Ben Vinken is a Beer Sommelier who started work as a lawyer in the Lamot Brewery, and later carried out sales and marketing functions successfully with Palm Breweries and Interbrew (now AB InBev). Since 1992 he has worked as a journalist and publisher on titles such as Michael Jackson's 'Great Beers of Belgium' and the Bierpassie/Bièrepassion Magazine. He is also a specialist of 'beer brand development' and has developed numerous marketing campaigns for a number of breweries. He writes columns in various newspapers and magazines, has a daily show 'The Beersommelier' and every year in June he organises the 'Beer Passion Weekend' in his hometown of Antwerp.
Find out more about this beer: http://www.chimay.com
14. ORVAL (6.2% ABV) [BRASSERIE D'ORVAL]
Photo
by
Nokton
/
CCBY
Chosen by Adrian Tierney-Jones
Trappist beer is collaboration brewing lifted to another level, a link between the sacred world of the Cistercian monastery and the profane practice of the brewer. And when a glass of Orval is lifted to the lips, I find it difficult not to be profane as I take my first sip, such is the magnificence of this beer. It's deep amber-orange and safe in its chalice-like glass (all the better to toast one's good fortune with), with an earthy, peppery nose underpinned by rich orange peel notes, a creamy, hop-enveloping, orange-skin, earthy mouth-feel with snappy carbonation and flurries of sour and citrusy notes, followed by a bitter spicy finish. This is a beer I could contemplate for all time.
Adrian Tierney-Jones is a journalist and writer specialising in beer, pubs, food and travel and how they all collaborate with each other in making the world a more pleasing place. He is the editor of 1001 Beers to Taste Before You Die and author of several other books including Great British Pubs. He also writes for All About Beer (USA), Beer, Sunday Times Travel Magazine and Weekend Telegraph amongst other. He blogs at http://maltworms.blogspot.co.uk/
Find out more about this beer: http://www.orval.be/
15. AREND TRIPEL (8% ABV) [BROUWERIJ DE RYCK]
Chosen by Jay Brooks
Arend Tripel is the best tripel you've never heard of, brewed by 5th generation brewer Anne De Ryck at her family's farm brewery. The beer is grace itself, soft and subtle with delicate flavors. A silken mouthfeel and tropical fruit aromas with a touch of sourness balanced beautifully with spicy hop character. A local brewer, Brian Hunt, first told me about this beer, and he'd befriended the brewer during a trip to Belgium. I had the pleasure of meeting her, too, last year during a press junket and her entire range of beers is great, but the tripel remains a divine favorite.
Jay Brooks has been writing about beer for 24 years, and currently writes a syndicated newspaper column, "Brooks on Beer", and contributes to most major beer periodicals. He was recently made an honorary 'Knight of the Brewers Mash Staff' by the Belgian Brewers Guild.
Find out more about this beer: http://www.brouwerijderyck.be/
16. WITKAP PATER STIMULO (6% ABV) [BROUWERIJ SLAGHMUYLDER]
Chosen by Espen Smith
This beer is grain yellow and foggy with a rich foam. It smells of citrus, exotic fruits and wet grains with dry hopped undertones. There's a rich and well balanced mouthfeel, with fruity sweetness topped with dry hops spiciness, and green citrus finish.

It's one of my favorite Belgian blonde beers. Due to its more moderate sweetness compared with other Belgian blondes and a kind of infection from wild yeasts, this blonde associates more with lambics and sour beers. This is not such a strange occurrence, given that the brewmaster at Slaghmuylder is Mr. Karel Goddeau, the same guy brewing at De Cam Lambic.
Espen Smith is a Norwegian beer critic, well known in Norway from television, talk radio, newspapers and magazines where he gives his open opinions on the newest trends in food, beer and liquor. When Espen is not interacting with the press he's teaching classes, running tours, writing books regarding trends in the beer industry and consulting on building microbreweries.
Find out more about this beer: http://www.witkap.be
17. HOUBLON CHOUFFE DOBBELEN IPA TRIPEL (9% ABV) [BRASSERIE D'ACHOUFFE / MOORTGAT]
Chosen by Matthew Curtis
The passion among beer lovers for increasingly flavourful beers that are hopped using powerful, aromatic varieties is not restricted to just Britain or the US. Brasserie D'Achouffe's Houblon Chouffe combines the pithy, citrus flavours of an American IPA with the spicy, peppery funk of a Belgian Tripel.

The resulting beer is a riot of grapefruit and redcurrant flavours underpinned by bready malt and a pinch of white pepper in its dry finish. It may sound like a car crash but these flavours are in total harmony, making it one of the best modern interpretations of a classic Belgian style and one that's easy to get hold of too.
Matthew Curtis is a beer writer and speaker based in London and author of beer blog Total Ales. In 2014 he co-authored Craft Beer: The 100 Best Breweries in the World for Future Publishing and is currently working on the follow up Beer & Craft: Britain's Best Bars and Breweries, which will be self-published later this year.
Find out more about this beer: http://www.achouffe.be
18. DE ORVÉLO TRIPEL (7.5% ABV) [HUISBROUWERIJ HALF ZEVEN / DE PROEFBROUWERIJ]
Chosen by Tim Hampson
The Belgians are famed for many things including beer and cycling. The two come together with Orvélo Tripel.

Orvélo was created by three cycling mad friends, who are avid home brewers and wanted to create a beer to sup at the end of a long and energetic ride. And so they crafted their own beer. Made with three grains – barley, wheat and oats – the golden 7.5 per cent ABV beer is served in a large 75cl sharing bottle.

It's a bitter sweet beer, which should persuade even the most ardent couch potato to get on their bike, because at the end of the ride is the promise of this fabulous beer.
Tim Hampson has travelled the world in search of the perfect beer. He is the author of more than 10 books on beer and pubs including World Beer, The Beer Book, 101 Beer Days Out and London's Best Riverside Pubs. His work can be found in What's Brewing. Follow Tim Hampson on Twitter: @beerhero.
Find out more about this beer: http://www.orvelo.be
19. XX BITTER (6.2% ABV) [BROUWERIJ DE RANKE]
Chosen by Paul Walsh
XX Bitter is an early example of how you can use hops to give a beer character, without making it harsh or difficult to drink.

The beer covers a lot of bases. If you're looking for sophistication, there's plenty in here – light lemon and grapefruit and a long dry aftertaste. But if you want to drink a couple with your friends and not think too much about it, it works great too. It's refreshing and highly-quaffable.

Bitter before bitterness was trendy. You get the impression that the guys who made it don't care too much about what's hot, or even about whether their beer sells that much. They're making the beer they'd like to drink themselves.
Belgian Beer and Food publisher and editor-in-chief Paul Walsh is from Ireland, but came to Belgium ten years ago to study philosophy at the historic Leuven university. He was working in another branch of the media when he had the bright idea to start a Belgian beer magazine. He lives in Brussels, whenever he manages to get home.
Find out more about this beer: http://www.deranke.be/
Would you like to hear more about Belgian beers from us as we continue our adventure in taste? Sign-up for free updates below (no spam):
20. DUCHESSE DE BOURGOGNE (6.2% ABV) [BROUWERIJ VERHAEGHE]
Chosen by Dimitri Van Roy
I get great satisfaction when I see people enjoying beer. So, it's a goal of mine to try to find for non-beer drinking friends and strangers I meet, a beer that they will enjoy. Duchesse de Bourgogne has become my go-to beer in this situation. "Are you sure that's a beer?!" is the reaction I get when I bring the bottle to the table.

The label just might be from a bottle of wine. And that same experience comes out of the bottle. This beer is vinous, sweet and sour, with a slight vinegar touch. Months later, people keep coming back to me about that particular beer and, secretly, I hope it eases people into more sour beers like lambics and gueuzes.
Dimitri Van Roy qualified as a Beer Connoisseur from the Syntra school in Brussels and as Cicerone Program Certified Beer Server in 2014. He's a child of the Belgian beer culture but loves to expand his horizons to wherever good beer comes from.
Find out more about this beer: http://www.brouwerijverhaeghe.be/
21. CUVÉE VAN DE KEIZER BLAUW (11% ABV) [BROUWERIJ HET ANKER]
Photo
by
Christer Edvartsen
/
CCBY
If you are searching for the wonderful dark ales of Belgium – apart from the Trappist beers – your path should lead you to the cosy town of Mechelen. Here you will find the Het Anker brewery close to the centre of the town. Every year they make a special brew dedicated to Charles (Karel) Quint (1500-58), German-Roman Emperor. That beer is the Cuvée van de Keizer.

The interpretation of the style made by Het Anker is not even close to the sour beers of ancient times. You will taste a sweet, delicate and very well balanced beer. It is heavy on the palate but smooth and slick and with a wonderful finish. Cuvée van de Keizer is heavy on alcohol: 11 % ABV., 28 % Plato and with a bitterness of 35 IBU. An amazing ale to be enjoyed on every imperial occasion.
Carsten Berthelsen has been an author, broadcaster and professional beer writer for more than 25 years in Denmark. Author of eight books about the world's favourite drink, he frequently arranges beer tastings for companies – more than 100 a year. He judges in international competitions (among them Brussels Beer Challenge and Nordic Beer Challenge) and was awarded for his effort by The Danish Beer Enthusiasts in 2007 and in 2013. In May 2015 H.M. King Philip of Belgium will grant him the distinction Knight of the Order of the Crown (Chevalier de l'Ordre de la Couronne).
Find out more about this beer: http://www.hetanker.be
22. ARABIER (8% ABV) [DE DOLLE BROUWERS]
Photo
by
46137
/
CCBY
Chosen by Jason Perkins
One of my favorite places in the world to drink a beer is De Dolle Brouwers in Esen. It is here that I first fell in love with this beer. Its assertive, yet balanced hop character makes it the perfect thirst quencher anytime of year. The balance of the citrus hop notes with the incredible esters of De Dolle's house yeast is fantastic. If you are in Belgium on a Sunday, you should be sitting in the cafe at the brewery with an Arabier in your hand.
Jason Perkins is the Brewmaster at Allagash Brewing in Portland, Maine where he has worked for over 17 years. Previous to Allagash, he enjoyed brewing opportunities at GrittyMcDuff's and Kettle House Brewery.
Find out more about this beer: http://www.dedollebrouwers.be/
23. SAISON DUPONT (6.5% ABV) [BRASSERIE DUPONT]
Photo
by
Christopher Edvartsen
/
CCBY
Chosen by Alex Barlow
The farmhouse Saison style has been the darling of many a craft brewer but Saison Dupont is considered by many to be the ultimate benchmark. At 6.5% it is an elegant yet complex beer, variously reminding you of every ingredient yet beautifully melded. Wafts of fragrantly floral hops, scented alcohol and a touch of phenolic spice greet you from the first pour. As it warms, the malt brings buttery biscuits while yeast and sugar evoke a candied fruit sweetshop adjoining a bakery. Alcohol warmth offsets a floral dryness that fades to a smooth, gently sweet finish. Another one please!
Alex Barlow's passion for beer started with his first job, cellar-man at his local pub. He's a qualified Master Brewer with 30 years international experience. A consultant, presenter and author of the award winning ALL BEER Guide, Alex is committed to enhancing people's enjoyment of beer: Flavour > Discovery > Choice.
Find out more about this beer: http://www.brasserie-dupont.com/
24. MAEGHT VAN GOTTEM (7% ABV) [BROUWERIJ SINT CANARUS]
Chosen by Yannick de Cocquéau
Maeght van Gottem isn't the most popular beer of Sint Canarus, but definitely the one you can't miss. It's one of the few beers with 'bottle hopping'. Yes, in every bottle you'll find a hop flower giving the beer some extra fresh aromas and subtle bitterness. It's a wonderful beer for the consumer and a damned beer for the brewer. Actually you have to be crazy to make it as the flower is added by hand to every single bottle before bottling. There's some citrus, a nice bitterness and not too much alcohol with a hint of fresh cannabis. The perfect appetizer!
Yannick de Cocquéau is product manager at VISIT FLANDERS for everything related to 'beer tourism' and Belgian beers. Beside that he's a qualified beer sommelier, hobby brewer and active member of Zythos vzw.
Find out more about this beer: www.sintcanarus.be
25. VICARIS GENERAAL (8.8% ABV) BROUWERIJ DILEWYNS
Chosen by Christopher Barnes
A whole new wave of craft brewers have begun to make their mark on the brewing scene in Belgium. While they're not displacing the classic beers of Belgium, they're adding new depth and vivacity to the conversation.

Brouwerij Dilewyns, headed by the Dilewyns sisters Anne-Catherine (brewer) & Claire (business), is certainly making a statement with a new state of the art brewery and an increasing international reputation.

All their beers are based on their excellent triple, including the Generaal. Don't call it a dubbel, Anne-Catherine calls it a dark triple. Rich, roasty, and elegant; the Generaal takes this beer to a dark place with the addition of darker specialty malts to their bright and lovely triple.
Christopher Barnes is an American beer writer, blogger, and brewing industry professional with a passion for travel, Belgium and its beers. You can find his writings at I think about beer or follow him on Facebook or Twitter.
Find out more about this beer: http://vicaris.be/online/
To find out more about our projects with Belgian beers, sign up for free updates from us by leaving your email address below (we won't spam you!):
26. MORT SUBITE OUDE KRIEK (6.5% ABV) [MORT SUBITE / ALKEN-MAES / HEINEKEN]
Chosen by Sophie Atherton
Until I tried Mort Subite Oude Kriek, from De Keersmaeker brewery, I was labouring under the misconception that all kriek was sickly sweet synthetic-tasting faux cherry ick. Nothing could be further from the truth. A 'proper' kriek is made from lambic (the spontaneously fermented beer made only in a specific area of Belgium) to which real cherries are added. Mort Subite is a fantastic example. Tart, dry and fruity it pairs devilishly well with pulled pork or suckling pig.
Sophie Atherton was the first woman in the UK accredited as a Beer Sommelier. A beer drinker for more than 25 years and a journalist for 15 she writes, broadcasts, speaks and trains people in all things beer-related. Find some of her writing at http://afemaleview.net/.
Find out more about this beer: http://www.mort-subite.be/
27. TRIPEL DE GARRE (11.5% ABV) [BROUWERIJ VAN STEENBERGE]
Photo
by
Sam DeLong
/
CCBY
Chosen by Richard Taylor
It's the question we're all asked – 'so what's your favourite beer then?' Answering 'the one you're about to buy me' only gets you so far if you don't have an actual, confirmed number one.

But I do – the house tripel of Staminee de Garre in Bruges, poured with pillowy foam and served on a lace doily with accompanying cubes of creamy 'kaas'.

The wooden barrel, the surrounds, and (in my then-girlfriend, now wife) the company; all were perfect. As was the beer – estery, warming alcohol and mellow, sweet spiciness. The perfect meeting of brewing and context.

It was, and remains, the best beer I have ever tasted. And you can't hold a nation's beer in higher esteem than that.
Richard Taylor is a beer writer and blogger based in Edinburgh, and has been writing about beer since starting the BeerCast website in mid-2007. As well as this, he now works for Brewdog, where he writes everything from magazines to beermats (beermats are harder).
Find out more about this beer: http://www.degarre.be/nl/tripel-van-de-garre
28. OMER TRADITIONAL BLOND (8% ABV) [BROUWERIJ OMER VANDER GHINSTE]
Chosen by Melissa Cole
A family-brewed beer with 120 years of history, Omer is an often overlooked but seriously refreshing beer that drinks well below its weight. To my mind, it balances its 8% alcohol extremely well with a touch of bitterness, a hint of lemony sweetness and a light biscuity note from the French malt that's used. It's not as big a flavour as Duvel, it's not as aromatic as a tripel, but it is an excellent beer to pass the time with friends in Brussels, before getting on the Eurostar, which is when I enjoy it most.
Author of Let Me Tell You About Beer, Melissa Cole is living the beer dream. Not only does she write extensively about the world's favourite drink, she also works with chefs to create beer and food extravaganzas in venues as diverse as Michelin-starred restaurants to local pubs, and is invited to judge at beer competitions from London to Brussels and Amsterdam to America. Melissa was also identified as one of the Most Powerful Women in the Drinks Industry by Channel4 Food and won the acclaim of her industry peers when named Educator of the Year by Imbibe magazine in 2013.
Find out more about this beer: http://www.omer.be/
29. OUDE KRIEK VIELLE (6% ABV) [BROUWERIJ OUD BEERSEL]
Photo
by
adamjackson1984
/
CCBY
Chosen by Russell Erskine
There are only a handful of authentic lambic producers remaining in Belgium. This is reflected in this brewery's beers – the brewery closed in 2003, only to be kept alive by, amongst others, Frank Boon. Today, wort is produced to Oud Beersel specification and the Beersel brewery transfers it to oak and ferments.

This Kriek is very rounded. It is more fruity, tart, marzipan/almond in character than most other Krieks (and higher in ABV). It should appeal to geeks and newbies alike – the sharp acidity tempered by the natural sweetness of the cherries. I think it is the perfect introduction as it is old, new, contract and craft all rolled into one! Added to that, the increased interest in lambic and fruit-lambic is pushing the price of authentic products upward. This beer is a bargain when compared with Cantillon or Drie Fonteinen.
Russell Erskine started as an Assistant Brewer with Brewdog at Fraserburgh in September 2011, having had no previous brewing experience or qualifications. He has worked his way up over subsequent years to his current position as a Senior Brewer in Ellon and will be studying towards IBD Diploma in the coming years. Russell has visited Belgium several times which has cemented his preference for Belgian beers.
Find out more about this beer: http://www.oudbeersel.com/en/
30. VALEIR EXTRA (6.5% ABV) [CONTRERAS]
Chosen by David Le Roy
Meeting a lovely girl and becoming the brewer in her father's brewery – that's the story of Frederik De Vrieze. And so the history of the Contreras brewery in the small village of Gavere took a new turn.

Under the brandname 'Valeir', Frederik created a new range of beers and revitalised the brewery. The Valeir Extra is his flagship beer. It's a hop bomb, but at the same time a balanced golden blonde hoppy beer of 6.5% with a high drinkability. The delicate use of American hops like Amarillo gives it beautiful citrus and grapefruit aromas, and a taste that makes this beer loved by amateur and experienced beer drinkers alike.
David Le Roy is the vice-chairperson of the BLES beer club in Zottegem and a teacher of general beer knowledge at CVO Pantha Rhei in Merelbeke.
Find out more about this beer: http://www.contreras.be/
31. OUDE GUEUZE TILQUIN À L'ANCIENNE (6.4% ABV) [GUEUZERIE TILQUIN]
Chosen by Zak Avery
As someone who came to sour beers quite late in their drinking career, I'm still captivated by the sensation of history and tradition each time you open a bottle. As blenders rather than a brewers, Tilquin purchase worts from Boon, Lindemans, Cantillon and Girardin, and ferment them in their own oak barrels. This allows them to blend and produce what is, for me, a beer that sits perfectly in the "Goldilocks zone" – not too sweet, not too tart, not too wild, it's "juuuust right".

Tilquin Oude Gueuze á l'Ancienne is a blend of traditional techniques and modern sensibility, evident from the first glance at the label to the last slurp from the glass.
Since being named as British Beer Writer of the Year 2008, Zak Avery's writing career has taken an unexpected turn when he jointly purchased the company that had employed him for over a decade, Beer Paradise. Now at the helm of the wholesaler http://www.beerparadise.co.uk/and the online retailer http://www.beerritz.co.uk/, his writing activities are slightly curtailed.
Find out more about this beer: http://www.gueuzerietilquin.be/
32. TROUBADOUR MAGMA (9% ABV) [BROUWERIJ THE MUSKETEERS / DE PROEFBROUWERIJ]
Photo
by
Bernt Rostad
/
CCBY
Chosen by John Duffy
The term "Belgian IPA" gets thrown around a lot these days but there aren't many brewers who manage to make this cross-pollination of brewing traditions work in the drinkers' favour. Magma is a massive exception, displaying all the mouth-watering juicy new-world fruit of a modern IPA with the warmth and nuance of classic Belgian strong ale. Bold yet accessible; strong without being heavy: a real beer for all seasons. Savour it but don't cellar it.
John Duffy lives in Dublin and has been writing his blog about beer, The Beer Nut, since 2005.
Find out more about this beer: http://www.troubadourbieren.be/en
If you'd like to receive free information, resources and news about Belgian beers, sign up for updates below (no spam):
33. ROCHEFORT TRAPPISTES 10 (11.3% ABV) [TRAPPIST ABBEY OF ROCHEFORT]
Photo
by
nagzi
/
CCBY
Chosen by Chris Hall
Some beers change over time, others before your very eyes. The monks of the Abbaye St. Remy near Rochefort only make three beers, with Rochefort 10 being the ultimate expression. Its rich, deep brown colour and multi-faceted aroma evoking rich red wine, bonfire toffee, almond and smoke are mysteries waiting to be solved by those who can wait.

The reason I love this majestic Trappist beer is because it rewards patient drinkers, and once warmed a little, its raisiny, toasty body reveals decadent, rum-like flavours of leather, cocoa, fig, vanilla and gentle spice. It's a real masterpiece of brewing.
Chris Hall is a London-based member of the British Guild of Beer Writers and is the co-author of 'Craft Beer: 365 Best Beers in The World' and 'Craft Beer: 100 Best Breweries in the World'. He is currently working on 'Beer & Craft: Britain's Best Bars and Breweries', out later this year.
Find out more about this beer: http://www.abbaye-rochefort.be
34. TARAS BOULBA (4.5% ABV) [BRASSERIE DE LA SENNE]
Chosen by Kevin Desmet
Taras Boulba by the 'Brusseleirs' of De La Senne has, together with their Zinnebir, become a symbol of a new brewing scene that walks a different path. 'Bitter is better' they say themselves and I'm not objecting to that.

With its aromatic hoppy nose, wheat accents and crisp, refreshing taste it not only smells and tastes good, but it also looks good: in the bottle thanks to the fabulous emblematic artwork and in your glass because of that big, white creamy head over a pale, golden and hazy beer.

The beer ends on a bitter note and that's actually a good thing; it prepares your tastebuds for another sip or another Taras Boulba. With its lowish ABV of 4.5% you won't say no to another one. Perfect, isn't it?
Kevin Desmet, a 30 something lover of Belgian beers. He turns his love for beer into words on his blog Belgianbeergeek.be. Married and father of 2, he has a soft spot for bitter beers, sour beers and pitch-black, thick stouts. Throw that last one in a barrel for a year or two and you'll make him very happy. He has yet to refuse a beer.
Find out more about this beer: http://brasseriedelasenne.be/
35. IRIS (5% ABV) [BRASSERIE CANTILLON]
Brasserie Cantillon
Chosen by Lorenzo Dabove
Iris (named after the flower, symbol of Brussels) is the only non-lambic beer brewed by Cantillon because only barley malt is used as opposed to the usual lambic grain bill of at least 30% unmalted wheat. It was brewed first in 1988 to celebrate the 20th anniversary of the Brussels Gueuze Museum.

Jean-Pierre Van Roy missed Spéciale Aerts, the beer he used to drink in Brussels cafés with his friends when he was young. That's why he decided to reproduce it in his own way, through spontaneous fermentation adding 50% of fresh hops in dry-hopping. It is a complex brew with a unique taste.
Lorenzo Dabove, aka Kuaska, is an Italian professional beer taster, beer writer and judge in major international beer competitions. Father of the emerging Italian Craft Beer Renaissance, he is called 'The Prince of Pajottenland' for his hard fighting work to promote and support traditional lambic & gueuze.
Find out more about this beer: http://www.cantillon.be/
36. DUVEL (8.5% ABV) [DUVEL MOORTGAT]
Photo
by
Tom
/
CCBY
Chosen by Boak and Bailey
Combining the lightness and effervescence of a Pilsner with the complexity and sheer alcoholic oomph of a Tripel, Duvel is a beer of which we never tire.

It is slightly peppery, sometimes (but not always) has a subtle whiff of banana, with a sherbet fizz. It is proof that industrial process doesn't always lead to blandness – read Stan Hieronymus's marvellous 'Brew Like a Monk' for an evocative and detailed description of its precision engineering.
Boak and Bailey are beer bloggers and authors of the book, Brew Britannia. They were awarded the title of Beer Writers of the Year from the British Guild of Beer Writers in 2014.
Find out more about this beer: http://www.duvel.com/
37. SURFINE SAISON (6.5% ABV) [BRASSERIE DUBUISSON]
Chosen by Erik Verdonck
The Surfine brand, having been created in 1933, is older even than the brewery's iconic Bush Amber. Surfine (the name means 'extra fine'), pays homage to a well-known bubbly beverage and was born as an amber-coloured spéciale belge-style beer that was marketed until the 1950s. 2014 saw the rebirth of this brand as a saison, or seasonal beer, typical in the Hainault (Henegouwen) region.

This beer is produced using three varieties of malt and three strains of Belgian hops. Surfine owes its lovely balance to the alchemy of its ingredients. Remarkably, the Surfine is subject to three fermentation stages, using a different yeast each time. The third and final fermentation stage uses wild yeasts that convert the remaining sugars into carbon dioxide, giving the beer its dry character. This is a fine example of innovation out of tradition, typical in family breweries such as Dubuisson.
Erik Verdonck is content manager for www.beertourism.com and managing partner of The Belgian Beer Company. He is an experienced writer in travel, beer and gastronomy. Erik has been a freelance editor, writer and photographer for years. He has published a brewery guide with 150 Belgian breweries ('Bij de brouwer') and a book on food pairing with beer ('Bordje bier') amongst others. He has collaborated with numerous Belgian magazines. His main focus is story telling with Belgian beers.
Find out more about this beer: http://www.dubuisson.com/
HAVE YOUR SAY
Which Belgian beers would you recommend people try? Are there any you think should be added to this list? Leave your suggestion in the comments below with your reason as to why you think it should be included.