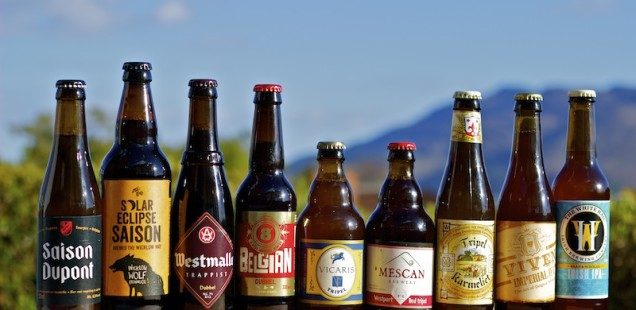 Belgian Style Tasting in Ireland | Irish Belgian Style Beers
2015 marked the fourteenth consecutive year of a gathering of friends from school during which we travelled to a far-flung part of Ireland to celebrate our friendship through the medium of beer.
Whereas last year we embarked on a more general exploration of Belgian beers, Ireland nudged its way into the frame this time by offering several bottles which facilitated a new theme: Irish breweries producing Belgian style beers.
As the beer scene in Ireland grows, so too does it continue to mature. Having progressed through a re-engagement of traditional Irish styles (red ales and stouts), there has been a warm embrace of the use of new world hops in beers with accentuated levels of bitterness and a plethora of American-style IPAs. More recently, we are seeing Irish breweries having a go at a range of other foreign styles, from German Weißbier and British Brown Ale to imaginative interpretations of the Czech Pilsner.
And of late, Irish breweries have also been turning to Belgium and Belgian style beers.
BELGIAN STYLE IN IRELAND
With this in mind, I thought it might be fun to taste Belgian style beers from Ireland alongside their Belgian counterparts – both with a view to exploring the characteristics of the style with my friends and to find out how these Irish beers stand up against those beers that might have inspired them.
1. THE SAISON
Saison Dupont (6.5% ABV ) v Wicklow Wolf Solar Eclipse Saison (6.5% ABV)
The Saison 'style' is one that raises a few eyebrows in Belgium if not in other parts of the world where drinkers seem to be able to define it with tremendous ease.
Many beer people in Belgium tell me defiantly that it's not really a style and that its designation lies in the historical circumstances of its production i.e. a beer which evolved both as a way to keep the farm workers on site during the winter so they would be ready to work the fields in the summer and one which was brewed as a thirst-quencher to reward these workers for their labour in 'season'.
To see the logic in this argument you only have to look at the ridiculously vague 'guidelines', widely open to interpretation, which have been established by the Saison producers themselves and the huge variations in appearance, aroma and taste (as well as levels of bitterness) between beers such as Silly Saison and St. Feuillien Saison.
There is definitely something to this Belgian style, however. No matter the differences: the clean finish of Dupont versus the funky nose of Fantome; the bright golden sparkle of Glazen Toren D'Erpe-Mere versus the hazy orange glow of Voisin; they all have one thing in common: highly-attenuating, characterful yeast strains which make this Belgian style of Saison fruity, spicy and dry.
Wicklow Wolf's Solar Eclipse Saison was a one-off beer brewed especially for the Alltech beer festival in Dublin at the end of February 2015 which coincided with the run up to the solar eclipse on 20 March. There's an interesting malt profile here with munich and rye to darken it beyond the Dupont standard as a kind of tongue-in-cheek eclipse reference to the moon partially blocking the sun.
The group were agreed that both beers were fruity – Wicklow Wolf with what seemed like banana and Dupont with a more citrus note – and that they both did share an element of spice, perhaps not just from the yeast but maybe also from the hop selection. However, the carbonation profile, body and dryness of the Belgian beer were much more pronounced than the Solar Eclipse and the long lasting bitterness and champagne like quality of Dupont left the group singing its praises as effectively what it has become – the modern definition of the style.
But sure, what's a saison anyway?
2. THE DUBBEL
Westmalle Dubbel (7% ABV) v Eight Degrees Dubbel (7.2% ABV)
Outside of Belgium there's often some confusion as to what exactly a 'dubbel' is. Some believe it refers to there being twice as much malt in the grain bill than that of a standard beer. Others say it's because it is 'double fermented'. Both assumptions are incorrect.
To understand the naming convention, you have to go back in time. Brewers throughout Belgium's long brewing history – many of whom were Trappist monks – would produce a variety of beers of different strengths for different purposes. So that the pub owners would be clear on which beers were which, the barrels sent out were marked with one, two or three crosses to denote raw materials and strength. What was the middle version of these beers evolved into the dubbel.
Largely because of the brewing trends started at the Trappist Abbey of Westmalle in the first part of the 20th Century, dubbels soon became dark beers of around 7% ABV and tripels were generally brewed as golden beers of around 9% ABV. Soon, a 'quadrupel' emerged as a bigger and more intense version.
The Eight Degrees Dubbel, a seasonal Belgian style beer from last year brewed as part of the 'Very Imperial Winter', certainly does what it is supposed to do. It's a rich malt-forward beer with a full body and charming booziness. Cam Wallace and Scott Baigent from Australia and New Zealand – together with some brilliant brewers (including Mike Magee) – are known in the Irish beer scene as innovators who push the boat out while striving for quality (think of their 'Amber Ella' and 'Full Irish').
Alongside the Westmalle, it played out a little sweeter and perhaps a little less intense in raisin and spice, with the monks also delivering a more accentuated roastiness than their Antipodean counterparts. Both beers would pair up well with red meat stews or sipped alongside some fresh creamy cheeses.
3. THE TRIPEL
Vicaris Tripel (8.5% ABV) / Tripel Karmeliet (8.5% ABV) v Mescan Red Tripel (8% ABV)
If tripels were traditionally the beers produced by Belgian Abbeys which used the most raw materials with the most alcohol and costing the most money, today their signature is a yeast profile which is both estery (very often bananas) and phenolic (cloves, spicy) with the use of sweet paler malts (and sometimes Belgian candi sugar) to mask a very present bitterness and the optional addition of various spices and herbs. Tripels are big, flavoursome and complex.
Because we're exploring tripels, we're going to need three of them. The two Belgians – Karmeliet and Vicaris – come from two quite different breweries; Karmeliet is one of the products brewed at Bosteels (who also brew 'Kwak' and the champagne beer 'Deus'), a tripel served in an elegant tulip glass decorated with a French lily motif. Vicaris, on the other hand, is very much a family concern, being brewed by the Dilewyns sisters, Anne-Cathérine and Claire, in their small but state-of-the-art brewery.
As part of the beer world we now live in, there is a new wave of innovative breweries in Belgium and elsewhere challenging the accepted convention that Belgian tripels should be golden. Black tripels have emerged (think of 'Novice' from Brouwerij Malheur), as well as tripels which are more aggressively hopped than usual (the wonderful 'Guldenberg' from Brouwerij De Ranke is a good example).
The Irish Belgian style tripel in the line-up from Mescan Brewery, nestled on the slopes of Croagh Patrick, does a great job of mixing it up in this regard by using some caramel malts in the grain bill to produce a red tripel. It's not surprising that Mescan have chosen to brew a Belgian style beer. After all, one of them is a real-life Belgian.
Cillian O'Móráin, originally from Dublin but who settled in Westport 15 years ago met Bart Adons (from Genk in Belgium) while working in the UK as vets. Before that Bart spent 13 years in Kenya, Malawi, and Somalia working as a vet. When we asked him why he decided to come to Ireland, he told us that "the most similar place to Africa I could find in the world was the west of Ireland." Even though he's Belgian, it turns out he's got a full blown Mayo accent and all the wit of a Westport local.
According to the group, the Karmeliet drank cleaner, brighter, fresher and crisper than the other beers, while the Vicaris was judged to have more body, perhaps to be a little more interesting in mouthfeel and more complex in flavour and aftertaste. In the face of the paler malts, Mescan's red character certainly shone through, a slight sticky toffee sweetness with a dried fruit yeast profile, excellent carbonation and a full and pleasant mouthfeel.
4. THE INDIA PALE ALE
Viven Imperial IPA (8% ABV) v White Hag Bran & Sceolan Irish IPA (7.2% ABV)
India Pale Ale is of course not a style native to Belgium. It's far from being a Belgian style. In fact, fruity aromatic hops and more than average bitterness levels are often met with disdain among conservative beer lovers in Belgium who see aggressive hopping equating to a lack of balance. It's worth pointing out, however, that there has been great work carried out by breweries such as Struise, Alvinne and Dochter Van de Korenaar in bringing hops to the forefront of discussion in Belgium.
In Ireland, on the other hand, it seems that almost every small new brewery has developed an IPA as one of the first weapons in their arsenal. This was always going to be the case with the White Hag and their American brewmaster Joe Kearns, who apprenticed with the Hoppin' Frog brewery in Akron, Ohio and lead the team at Main Street Grille and Brewing Company in Garrettsville before moving to Ireland to start White Hag.
"If you want to brew Guinness or Heineken, go and work for Guinness or Heineken," Joe once said to me on a visit to his brewery in Ballymote. "If you're a craft brewer, you might as well put some watermelon in there. People should grow balls and brew beer." White Hag are at pains to call their India Pale Ale an Irish IPA and following their trend for marketing with Irish mythology, they've named this 'Bran & Sceolan' after the two Wolfhounds of the famous Irish warrior Fionn Mac Cumhaill.
If Joe and White Hag are about big beers and shaking things up, then Brouwerij van Viven are a good match. From Sijsele in West Flanders, Viven are a husband and wife team who have been working towards securing their own brewery for the last number of years while contract brewing at De Proefbrouwerij. Aside from the Imperial IPA, Tony Traen and his wife, Krystle, also produce a porter, something unusual but very welcome for a brewery in Belgium.
Given the similarities in their attitudes to beer, it's perhaps not so surprising that the IPAs from the White Hag and Viven were perhaps the two beers closest to each other in taste profile of all the other beers tasted on the night. They both showcase big tropical fruit hop and piney resinous aromas, with chewy toffee malt bodies which give way to a smooth but present bitterness and dangerous drinkability.
MORE BELGIAN, PLEASE…
There are several other beers which I could have chosen for a Belgian style tasting, notably the Sheepstealer Saison from Black Donkey Brewing, the Dr. Rudi Belgian Ale from the Brown Paper Bag Project, the Belgian wheat beer, Wit Woo from Rascal's Brewing Co or the Dubbel from White Gypsy.
I'm just waiting on an Irish brewery to buy a coolship.