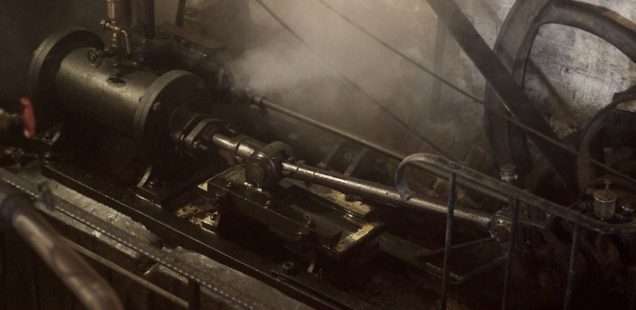 Brasserie à Vapeur | Belgium's Last Steam Powered Brewery
On 25 August 1990, 36 year old Anne-Marie Lemaire – or 'Sittelle' as she was known locally – was killed inside a small brewery in Pipaix in the south of Belgium. According to reports from the court which dealt with the incident, a huge burning cloud of black dust and steam was suddenly released from the coal furnace nozzles of a boiler inside Brasserie à Vapeur, causing serious burns of which she died later that day.
Sittelle's husband, Jean Louis Dits, was brewing on the day of the accident. He poured water on his wife and called the emergency services to arrange a helicopter. "I never thought the steam generator could explode," he said. "The technician who checked it each year always told us there was no danger." He lost 15 kgs in the fortnight after the incident due to stress. One of his daughters would later leave the village, never to return.
BRASSERIE À VAPEUR
Jean Louis decided to continue brewing after that accident with the antique equipment: a slide valve Watt steam-powered engine which generates twelve-horse power. Brasserie à Vapeur is Belgium's last steam driven brewery. "We have to continue," says Jean Louis. "There are car accidents involving people all the time. And yet people still drive to the graveyard."
On the last Saturday of the month, Brasserie à Vapeur opens to the public and Jean Louis puts on his medieval apron to mash-in and explain the archaic engineering system to curious visitors and supportive locals. During the brew day there is a large banquet in the adjacent farmhouse courtyard which includes bread baked next door on a wood fired oven, slow cooked ham and all the ale you can drink.
THE BANQUET
A diverse group gather in this Pipaix courtyard to enjoy the Vapeur meal on the last Saturday of July 2016.
An American couple resembling Silicone Valley creatives stumble around nervously and finally claim a spot sitting on top of a rusty old car part.
A crowd of 30 young French people celebrating a birthday guzzle down blonde 'En Folie' (8% ABV) and brown 'Cochonne' (9% ABV) and play traditional games which involve throwing metal coin-like pieces into holes on a wooden board.
A small group of Italian tourists inspect the environment with as much confusion as intrigue and chat excitedly about what has been served in their glass.
A bell rings and everyone is beckoned inside the farmhouse so Jean Louis can explain the provenance of everything that they will eat.
His new wife, Vinciane – who he met while giving a lecture about beer after the death of Sittelle – helps with the description of the food which is spread across a wooden table just inside the door.
"The smoked salmon comes from Iceland," says Jean Louis. "It's organic but we work with it ourselves, taking the fillets off, putting them in sea salt and spices for 24 hours and smoking it with local wood for 24 hours."
Between the local Pâté and pickled onions and gherkins are potatoes which have been cooked in Vapeur beer as well as artisanal mustard and butter from village friends. "Mostly all the foods are organic," says Jean Louis. "And we buy most of them directly from the producer here locally." Jean Louis' daughter Adeline – who studied brewing and engineering – moves between the brewhouse, the bar area and the kitchen, helping her dad and Vinciane entertain.
"Start with the soup," says Jean Louis. "It's made from cauliflowers, courgettes and onions all grown here in Pipaix." To go with it, there's home-made bread baked fresh next door. "Half of the water we used to bake the bread has been replaced by our beer. We've been making bread here for friends since 1975."
The main course consists of a slow-cooked joint of ham which has been boiled in Cochonne, a dark ale of 9% ABV. It's followed by a spread of 22 different cheeses, all of them Belgian, one made with beer. The dessert is a treacle-esque sugar bomb tart.
JEAN LOUIS
Jean Louis worked in education before he was a brewer at Brasserie à Vapeur. "I stopped as a history teacher in 2015," he says. "I was 65 years old and too old to continue. But I was fond of it." At the beginning of his teaching career, he set up a farm with Sittelle where friends could come to help protect nature, organise excursions and learn about crafts such as pottery and weaving.
Beers accompanied the activities and an interest in specialty offerings from interesting breweries prompted a transition to small-scale beer retail. The beers he was buying for the farm activities included Saison de Pipaix, a traditional Hainaut beer he discovered at a nearby brewery called Brasserie Cuvelier-Biset.
The brewery at Pipaix has existed in some form or other since 1785 and the steam powered engine dates back to 1895 when the master brewer at that time had it commissioned and installed in what was then Brasserie Cuvelier.
Gaston Biset took over the brewery in 1926 from the Cuveliers, coming with qualifications from the 'Institute of Fermentation' in Brussels and a keen eye for industrial modernization. He introduced aluminium and copper where once there was wood but kept the steam engine at the heart of the brewery. He changed the cooling system so that the risk of infection was minimized. He developed commercial relationships with local taverns and was able to weather the Second World War by smuggling beer and perfume to the Germans while at the same time hiding members of the resistance in the brewery.
A year before he died, Gaston Biset sold the brewery to Jean Louis, who mashed in for the first time in October 1984. "The saison recipe actually comes from 1785," says Jean Louis. "The last brewer, Gaston Biset, was still alive when I arrived. He gave me a little black book with all the information. There were also people who had worked at the brewery who were still alive that I could ask. And Gaston's son helped me too. I also read a lot of books."
SAISON DE PIPAIX
The Brasserie à Vapeur beers aren't without criticism. From the keg at the brewery farmhouse itself, they can be under-carbonated and heavy on yeast bite, and from the bottle, there have been accusations of over-spicing and misplaced acidity. "The earthy thumb-print comes from a spice cocktail that includes medicinal lichen," write Tim Webb and Joe Stange in their brilliant 'Good Beer Guide Belgium' (2014). "For some this epitomizes a traditional farmhouse approach to brewing, while others say those days passed for a reason."
It's easy to imagine the Saison de Pipaix being close to what might have been brewed here in Hainaut when the style was in its infancy and its marmalade maltiness, fruity yeast profile and drying spicy edge are not without their charms. "The beer is deliciously spiced," says Jean Louis. "It contains ginger, pepper, lichen, sweet orange peels, curacao and badian. It has an intended sharp sour final note."
"Our most popular beer is our blonde, the Folie," says Jean Louis. "But our best beer is the Saison de Pipaix. We use two types of barley malt. Until 1962 all the barley would have been malted at the brewery but there's a problem to always have the same malt." His hops come from a nearby hop farm in Comines-Warneton. "We use hops only from hop farmer, Luc Lagache," says Jean Louis. "We like to use ingredients from the Hainaut region as much as possible."
The label for Saison de Pipaix contrasts starkly with the cartoon-esque representations of sexualized pigs which appear on their other beers. The Belgian national colours of red, yellow and black are deployed and the traditional logo of the brewery recovered from old documents plays a central role. It's the same old brewery logo that appears on the gravestone of the family who owned the brewery before Gaston Biset. That gravestone is now displayed in the farmyard.
LETTERS
Sittelle left a handwritten letter by way of a will. Copies of the original can be found at the farmhouse itself to this day. In the letter, she wrote that she wanted her friends to get together for a small ceremony with home-made beers and cheese and bread baked on a wood fire as well as fruit and vegetables from her gardens. "Why not make a good onion soup with some grated cheese as I could make it?" she suggests. Jean Louis, Vinciane and Adeline are carrying out that very wish every month.
Vapeur is a place where the past isn't forgotten, whether that's the unique engineering of Belgium's oldest steam powered brewery or the stories of the families who have maintained it. It's a place where visitors laugh and talk and enjoy passionately made food and beer. It's a place where people celebrate together. It's a place where life goes on.