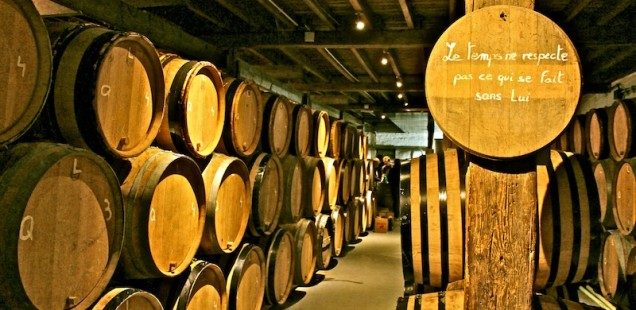 Quintessence at Cantillon | 3 Reasons Not To Miss It
The 2016 edition of Quintessence takes place at Cantillon Brewery in Brussels on Thursday 5 May 2016.
We look back at the event from Thursday 1 May 2014 and give you 3 reasons not to miss it.
QUINTESSENCE AT CANTILLON BREWERY
Quintessence does not, unfortunately, take place every year. Generally it takes place every two years and sometimes less frequently. Essentially, it is an open day at Cantillon where the public are invited on a tasting tour of the brewery on foot to try their special beers and to learn about the collaborations on which the brewery has been working.
Apart from having the opportunity to mingle and drink with droves of lambic lovers from around the world, here are 3 reasons why Quintessence was such a special event:
1. IT TAKES PLACE IN CANTILLON: THE GEUZE MUSEUM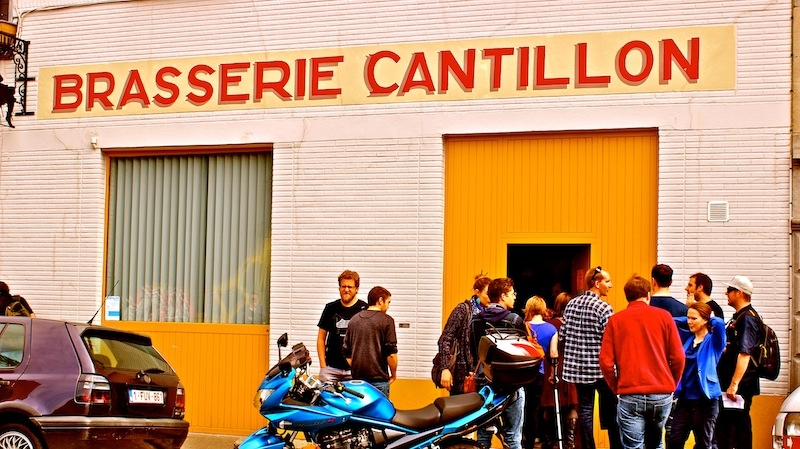 The venue in which Quintessence takes place is the beautiful old Cantillon family brewery which has been operating on the unassuming Rue Gheude in the Anderlecht district of Brussels since the beginning of the last century.
The brewery runs 'the Brussels museum of the Geuze' offering visitors the opportunity to learn about the traditional process of spontaneous fermentation and to experience the unique taste profile of their lambic and geuze beers.
Walking through the working brewery during Quintessence – something which visitors are permitted to do alone during regular tours – is certainly akin to walking through a museum. Much of the machinery is original and would not look out of place in an old war film. The ceiling in the large attic area which contains the koelschip is connected by impressive wooden beams and the various floors are adorned with hundreds of oak casks in which the beers are matured.
Quintessence is an all-ticket event and the 2014 edition was sold-out long before 1 May. The doors of the brewery are opened at 10am but arrivals were staggered so a maximum of 60 people were admitted every half hour with the final group being granted admission at 6pm. In total, attendees were able to taste 25 beers over the course of their visit.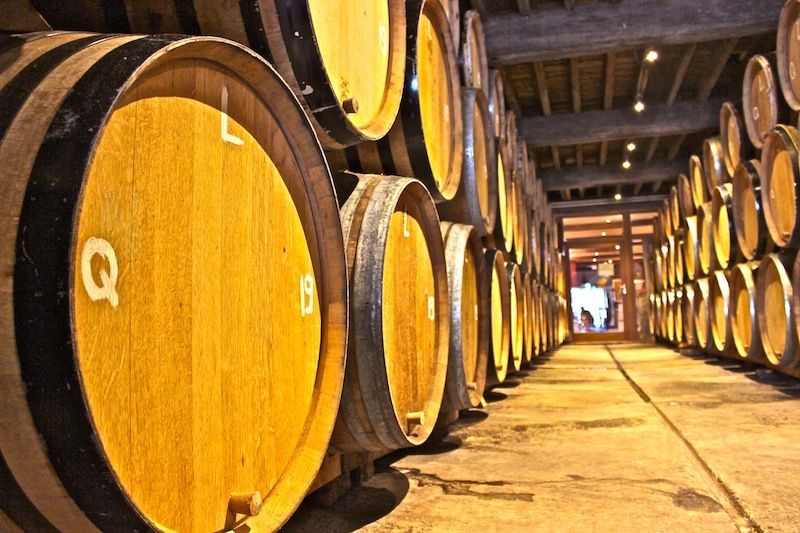 Cantillon beers are brewed with 2/3 malted barley and 1/3 unmalted wheat and then spontaneously fermented in an open koelschip before being aged in oak casks for several years depending on the batch. These beers are often refermented in the bottle for up to a year.
Because of their exposure to wild yeasts and bacteria native to the Payottenland and Senne Valley, lambics have a dry, vinous, cidery flavour, with a sour base taste. Half of the brewery's production is geuze, a blend of lambics of different ages which results in a more carbonated product and which is sometimes referred to as 'Brussels Champagne'.
2. THE WILD FRIENDSHIP BLEND

As with many memorable occasions, it is the people at its epi-centre that make it so special.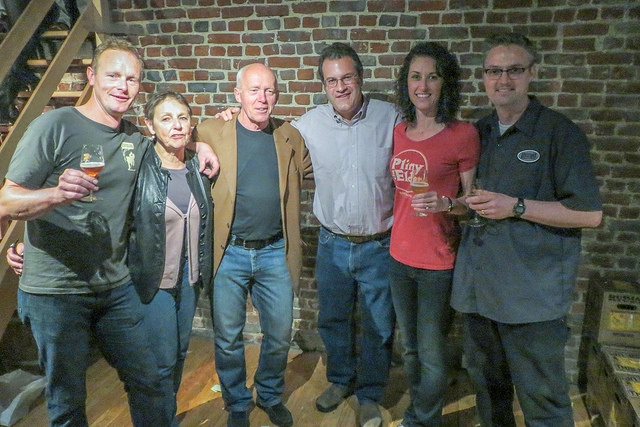 Jean Van Roy became the fourth-generation owner-brewer in the Van Roy-Cantillon family when, in 2011, he took over the reigns of the brewery from his father, Jean-Pierre Van Roy. Jean-Pierre married Claude Cantillon and was son-in-law to Marcel Cantillon. Marcel offered Jean-Pierre the ultimatum, 'either you take over or I close the brewery'. The brewery sits on the same spot today as it did when it was opened by Paul Cantillon (Jean's great grandfather) and is one of only a handful of working breweries in Brussels (which include Brasserie de la Senne, En Stoemelings and Brussels Beer Project).
The people from the two contributing breweries at the event came from across the Atlantic ocean and from opposite ends of the United States: Rob Tod and Jason Perkins from Allagash Brewing Company in Portland, Maine; and Vinnie & Natalie Cilurzo from Russian River Brewing Company in Santa Rosa, California. Both Allagash and Russian River are famous in their homeland for producing high-quality Belgian style beers (among others) and both have developed a relationship with Cantillon over the years based on a mutual respect for each other and a spirit of learning, collaboration and friendship.
And it was this friendship – and their common passion for the traditional process of spontaneous fermentation – that resulted in a new and very special beer being produced specifically for the Quintessence event: The Wild Friendship Blend or in French, the Assemblage De L'amitié.
Assemblage De L'amitié is a blend of spontaneously fermented beers from each of the three breweries in equal proportions: 1/3 Russian River (Sonambic), 1/3 Allagash (Coolship), and 1/3 Cantillon (Lambic), each of which is of a circa 2010 vintage. It's orangey golden with a sweet, vinous nose of fruits, flowers and funk, dry citrus notes in taste with a lively, fresh mouthfeel.
The honour of administering the Wild Friendship Blend at Quintessence fell to Lorenzo 'Kuaska' Dabove a.k.a. the Prince of the Payottenland, one of the foremost Italian experts on Belgian beer.
"The beer was blended in Cantillon in December 2013", says Lorenzo. "Each of the three spontaneously fermented beers has differing characteristics. The American koelschips being made from steel result in a different base beer to those produced in Cantillon's copper koelschip."
"I think Russian River has come out as a little more dominant than the others," says Lorenzo. "But there's a soft lemony aroma from the Cantillon. The finished blend is a complex and well balanced marriage of all three."
Kegs filled with base Cantillon lambic had been sent to America so that a similar blend can be carried out at Allagash in June 2014.
The concept of this beer is worth noting: a blend of three special brews – Sonambic, Coolship and Lambic – by three collaborating specialists – Russian River, Allagash and Cantillon – from different parts of the world – California, Maine and Belgium. And it was a blend to be poured specifically for Quintessence where all visitors had the opportunity to try it at their own pace. The Wild Friendship Blend will not go on commercial sale.
3. FOOD PAIRING HEAVEN

Many of the beers at Quintessence were accompanied by local culinary delicacies including geuze-ripened cheese, smoked mackerel rillettes, pecan tart, pottekeis (a fancy and very 'Brussels' mixed cheese bread snack) and pâté prepared with kriek.
For those wondering about the beers, there were 25 magnificent brews on offer for tasting throughout the day (5 from Allagash, 5 from Russian River and 14 from Cantillon as well as the Wild Friendship Blend) listed here for your perusal:
Allagash: Allagash White; Allagash Curieux; Allagash Midnight Brett; Allagash Resurgam; Allagash Coolship Red.
Russian River: Pliny the Elder; Shadow of a Doubt; Sanctification; Supplication; Beatification.
Cantillon: Lambic 2013; Grand Cru Bruocsella 2010; Gueuze 2013; Gueuze 2002; Kriek; Lou Pepe Kriek 2011; Rosé de Gambrinus; Fou'foune; Vigneronne; Saint-Lamvinus; Iris; Cuvée Saint-Gilloise; Zwanze 2012 (Rhubarbe); Lambic de Haute Densité.
A highlight on the food pairing front was the tangy and crumbly goats cheese paired with the Cantillon Geuze 2002 (5% a.b.v.).
With Russian River Beautification (5% a.b.v.), delicately cooked salmon was offered. The rich, soft flavours of the salmon complimented the freshness of the beer.
Allagash paired dry sausage with their Midnight Brett (7.3% a.b.v.), a brown ale fermented using wheat and rye with their house strain of Brettanomyces in stainless steel tanks. The mild roasted character and tart fruitiness stood up well to the spiciness of the red meat.