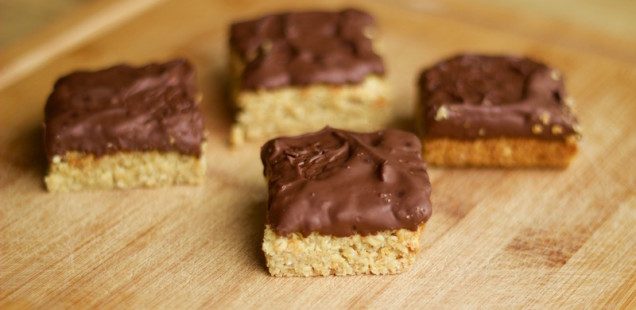 5-Step Chocolate Covered Flapjack Recipe | How to Make Flapjacks With A Chocolate Coating
Moving house is hard work.
You have to lift boxes. You have to throw stuff out. And you have to do it quickly.
My brother is currently moving house. I wanted to make it easier for him by preparing something he could snack on during tea breaks; something that would ease the stress of throwing out all of those keepsakes; something that would provide plenty of energy for all that box lifting.
The humble flapjack fit the bill, jazzed up with a generous coating of chocolate and served alongside a cup of Irish breakfast tea.
Flapjacks are sometimes also referred to as muesli bars, cereal bars or in the U.S. as granola bars. They are sweet tray-baked oat bars made from rolled oats, butter, brown sugar and golden syrup. There are versions using maple syrup and some which include extra ingredients (dried fruit, nuts, cherries etc.) but we've stuck to a simple version for smothering in chocolate.
Below we've shown you how to make flapjacks in 5 simple steps and how to turn that flapjack into a chocolate covered flapjack. The flapjacks themselves are really easy to make. A small number of basic ingredients are required and the preparation takes only 10 minutes. Adding chocolate is easy too. You can make them at any time of the day. Or any time you move house.
CHOCOLATE COVERED FLAPJACK RECIPE
INGREDIENTS
Makes 16 flapjacks:
→ Oats (for porridge): 200g
→ Butter: 150g
→ Sugar: 75g
→ Golden syrup: 3 tablespoons (60g)
→ Pinch of salt
→ Chocolate: dark, milk or white, 150g
STEP 1: BLEND THE BASE INGREDIENTS
Start by lining a baking tray with greaseproof paper. Preheat the oven to 180°C.
Measure out the butter, sugar and golden syrup and let them melt together on a low heat. Stir with a spoon so the sugar doesn't stick to the bottom of the pan. Add a pinch of salt. The liquid doesn't have to be really hot. Just make sure the ingredients are blended.
STEP 2: ADD THE OATS (AND ANYTHING ELSE)
Add the oats and stir until they are completely covered with the mixture of butter and sugar. If you want to play with ingredients, now is the time to add extras (for example nuts and dried fruit), but flapjacks are really tasty plain.
STEP 3: POUR INTO TRAY AND BAKE
Pour the mix into the baking tray and press down with the back of a spoon in all corners of the tray. You want a really smooth surface. Put the tray in the oven and bake for 10 -15 minutes or until golden and brown on the edges (10 minutes may be enough if you have a powerful oven).
STEP 4: COOL AND CUT
Take the tray out of the oven and let it cool for ten minutes. Then carefully mark out 16 pieces using the edge of a knife. Let it sit until completely cooled before you cut through your marked out areas into pieces with a knife.
STEP 5: MELT THE CHOCOLATE AND DIP
Melt some chocolate and dip the flapjacks in the chocolate until one side is covered. Then turn them around and put them on a tray to dry.
ENJOY YOUR CHOCOLATE COVERED FLAPJACK
Enjoy with a cup of tea as a treat during your coffee break at work. Or when moving house. You'll need the energy.