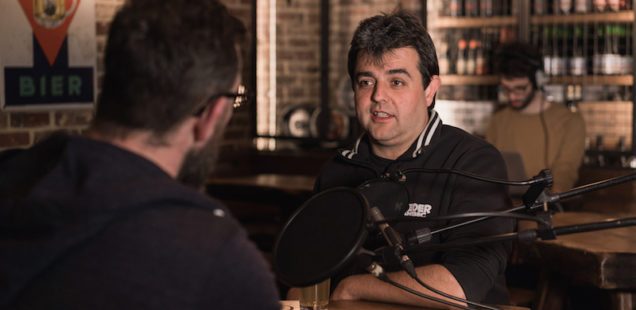 EP007 | Jean Hummler of Moeder Lambic | The Belgian Smaak Podcast
This year, Brussels beer café, Moeder Lambic celebrates ten years under its current ownership by hosting 10 special events with invited breweries over 10 months. Cantillon, Tilquin, De Ranke, De La Senne, 't Verzet. The list of breweries involved demonstrate the high regard in which the bar is held and the circles in which its employees run.
Largely due to its curated beer selection and its commitment to quality service and dispense, the original cafe in Saint Gilles and the city centre spin-off in Fontainas have become destinations for beer lovers not only in Brussels but from all over Belgium and the rest of the world.
My guest this evening is one of the owners of Moeder Lambic, Jean Hummler.
Originally from France, Hummler is a warrior for independence and a champion of small producers and natural products.
For him, the people who make a beer and what he describes as the soul behind it are just as important as the liquid in the glass.
In the interview, we talk about Brussels; its messiness, its energy, and the changes it has undergone since Hummler moved to Belgium.
We also talk about the challenges the bar has faced and how Hummler views various groups within the Belgian beer world, from HORAL to the Trappists and from the Belgian Family Brewers to gypsies and contractors.
Hummler has rubbed up against what he calls the industry on more than one occasion and he admits himself that he loves 'the fight'. Some may think that he's too uncompromising, too hard-line, perhaps too unfair. No-one, however, can deny that he believes passionately in what he is saying.
And whether you agree with him or not, it's impossible not to be completely engaged.
Sit back, listen and enjoy Jean Hummler of Moeder Lambic.
Podcast: Play in new window | Download
Subscribe to the Belgian Smaak podcast: Apple Podcasts | Android | RSS