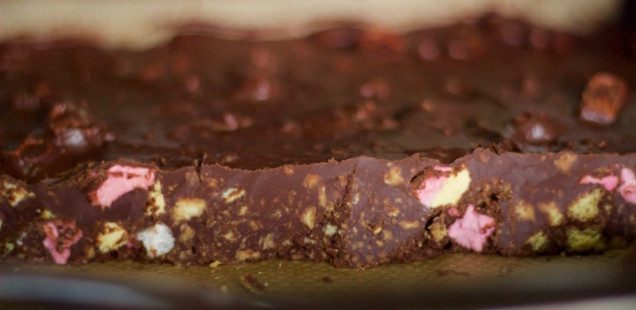 Hof Ten Dormaal Brew Special 'Rocky Farm' Beer for #SMAAKDOWN16
"Let's use biscuit malt in the grain bill, add marshmallows to the mash, put roasted cocoa beans into the boil and bottle with a homemade chocolate extract," says brewer Jef Janssens of Hof Ten Dormaal in Tildonk. "I have no idea how that's going to turn out but it might be fun."
We're brewing a collaboration beer with Hof Ten Dormaal,  the inspiration for which is Elisa's recipe for 'Rocky Road' chocolate tray bake. It will be poured at the #SMAAKDOWN16 event taking place on Friday 5 February 2016 at Het Huis Van Alijn in Ghent to celebrate the second birthday of Belgian Smaak. You can buy tickets here:
BREW DAY AT HOF TEN DORMAAL
The brew day starts at 6am under the darkness of an unusually warm November morning in Tildonk with the addition of malted grain and marshmallows. "Let's hope the marshmallows melt," says Jef. "Otherwise we're going to have problems with lautering."
Because the Janssens have animals (pigs and cattle) as well as crops (hops and barley), the 'Rocky Road' beer – what we're calling a Belgian Dark Dessert Ale (6% ABV) – will go by the name of 'Rocky Farm'.
It turns out the marshmallows do dissolve in the mash, contributing starches to be converted and sugars to boost our gravity, and after we shovel out the spent grain from the lauter tun, Jef takes it to the feeding trough for the farm's pigs on his mini fork-lift truck. The wire framework which covers their hop field whips around gently in the wind, its load lightened by the recent harvest.
FAMILY BREWING
Jef's father, André went on a trip to the United States and came back with the system on which they have been brewing since March 2009. Jef's older brother, Dries worked in the brewery at the start but is now mostly engaged with farm work. He stops in to taste the 'Rocky Road' we have brought along. Jef's sister, Lisa carries out administrative work for the brewery. Sometimes Jef's young nephews help out. There are twelve people living on the farm but there always seem to be a lot more than that around.
'Rocky Farm' might seem like an esoteric beer to brew, but Hof Ten Dormaal are a brewery who are unafraid to try new things. A chalkboard on the wall lists out the beers available for public tastings each Saturday. There are beers made in collaboration with De Leite and Stillwater Artisanal. There are beers made from the bitter vegetable, chicory – a local specialty in Belgium – which is grown on this farm. There are beers aged in a variety of used oak barrels, from calvados to grappe. Some of these beers work. Others are chalked down as 'experiments'.
"Beers don't have to be drinkable," Jef says. "They just have to be interesting. People believe we are still the best beer country, which is in my opinion not true at all. Americans make awesome beers. Italians make awesome beers. All over the world the beer market is exploding and we're still clinging on to tradition."
MYSTERY ALPHA & COCOA BEANS
The November sun has finally come up and we're boiling the wort with a hop addition of Magnum which is grown on the Hof Ten Dormaal farm for bittering and a late addition of Hersbrucker for aroma. "Because we take the Magnum directly from our hop farm, we have no idea how much alpha acids are in there," he says. "There's a little bit of mystery in this beer."
Jef also roasts cocoa beans which he has ordered from Indonesia through the famous Belgian chocolatier, Patrick Aubrion. When he pulls the beans out of the oven, he covers them with a towel and smashes them open with a hammer. We throw them into the kettle towards the end of the boil.
THE INFERNO
The fact that we're brewing here at all is not unimportant. On 6 January of this year, a fire completely destroyed the roof of the Hof Ten Dormaal brewery. The entire bottling line, conditioning rooms and most of the stock were burnt to the ground. "My brother-in-law who lives on the farm with my sister and their two kids was getting up early to go to his work in Brussels and he noticed it," says Jef. "I heard some rubble falling but I was still asleep and didn't know what was going on."
"It was caused by a chimney fire from the climate chamber in the brewery," he says. "We were lucky no one was injured and that there was no damage in our living quarters."
Hof Ten Dormaal tried to salvage what was left of the stock. "Inferno was basically a mega-blend of all the beer we could recover from the damaged bottles," says Jef. "It was all different types of beer; sour beers; peated beers; barrel-aged beers; so we didn't know what it would come out like," he says. "Thankfully, it came out really well."
Part of the roof of the brewery at Hof Ten Dormaal is still exposed today. Another part is covered by a temporary tarpaulin. "When we started brewing after the fire, it was like getting to know the system again," he says. "You have to get to know your water supply again. We had to rethink everything."
ROCKY FARM RESILIENCE
Despite all of this, Hof Ten Dormaal went on to create a new beer festival this year – the Leuven Innovation Beer Festival – at which breweries such as Goose Island, New Belgium and Tiny Rebel poured their beers. They also embarked on a series of collaboration brews: a smoked imperial stout with De Molen called 'Vallen & Opstaan' (literally 'Falling & Getting up') and a red IPA with Dochter Van De Korenaar called simply 'L'Amitié' ('Friendship').
'Rocky Farm' is the latest in this series of experiments. It will be bottle conditioned with a homemade chocolate extract using graanjenever and poured for the first time at #SMAAKDOWN16 in Ghent. Not only will it be paired with a piece of 'Rocky Road' chocolate tray bake, but it will be served with a marshmallow dropped into your glass.
You can buy tickets for #SMAAKDOWN16 here: