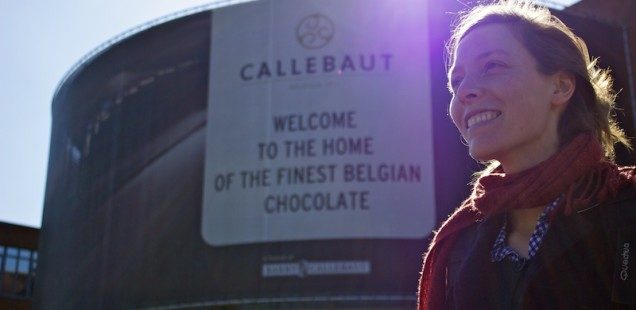 10 Facts about Barry Callebaut | World's Largest Chocolate Factory
Today we're touring the largest chocolate factory in the world, Barry Callebaut in Wieze, Belgium.
Our guide around the factory is Isabelle Prooth who has worked at Barry Callebaut for 25 years. "I'm a job hopper," she says. "I've done nearly every job you can do here."
Barry Callebaut is the result of a merger in 1996 of the Belgian chocolate producer Callebaut and the French company Cacao Barry. While the Barry Callebaut group is a global operation with its headquarters in Zurich, it is here, in the small Belgian village of Wieze where more chocolate is produced than anywhere else in the world – and where the gourmet brand Callebaut still produces all its 'Finest Belgian Chocolates'.
10 FACTS ABOUT BARRY CALLEBAUT CHOCOLATES
Touring the factory, chocolate academy and office buildings with Isabelle, we learn the following curious facts:
1. THEY PRODUCE 1,000 TONNES OF CHOCOLATE EVERY SINGLE DAY
"Based on production figures, we are the biggest chocolate factory in the world," Isabelle says. "We produce 1,000 tonnes of chocolate every day and give or take a few days, 350,000 tonnes of chocolate a year."
There is evidence of these incredible figures in the high levels of activity we see on our tour, from production and distribution through to sales, HR and marketing. Thirty to forty trucks come and go from the factory every day, each one of them containing liquid chocolate for a range of clients, including the large multinational brands such as Guylian, Leonidas and Neuhaus.
In a separate production and with different recipes, Callebaut's 'Finest Belgian Chocolate' is made for gourmet customers – small artisanal chocolatiers, pastry chefs and bakers such as Bart Van Cauwenberghe of De Zwarte Vos and Pol Deschepper of Ter Groene Poorte – in 5kg blocks or in callets.
The creation of 'Callets' in 1988 was a key moment for Barry Callebaut in gaining the trust and reputation they now enjoy with smaller chocolatiers. Callets – small round chocolate coins – are much easier to work with when dosing, melting and tempering than the bigger blocks of chocolate which were used before. They have revolutionised the way artisanal chocolatiers work.
2. THEY USED TO BE A BREWERY (IT IS BELGIUM, AFTER ALL)
The Callebaut family are an entrepreneurial lot. Before chocolate became their thing, various members of the family had success in the industries of dairy, milling, malting, chicken farming and lemonade production.
It was Octaaf Callebaut who started 'Chocolaterie Callebaut' in 1911 and who went on to develop their famous chocolate bars. But he did so in a factory which was once his grandfather's brewery.
Eugène Callebaut started the family brewery in 1838 at a time when Wieze would have had four or five other breweries. Then, it was called 'Brouwerij De Ploeg' but because of the emergence of French as the dominant language in the newly established state of Belgium, it was often referred to as "Brasserie La Charrue".
"I'm not sure what type of beer they produced," says Isabelle. "But when the brewery closed down so that the chocolate factory could be established, we sold the recipes for the beer to Alken Maes." Could those beers be in production in Belgium now? "No", says Isabelle. "Those recipes haven't been used since and remain in a safe somewhere in the offices of Alken Maes."
3. THEY HAVE THEIR OWN PUBLIC BUS STOP
Barry Callebaut is so rooted and plays such an important role in the village where they are based that they have their own bus stop – named simply 'Wieze Callebaut'.
We arrive by public transport and as we ask directions and receive guidance from locals and the friendly bus driver at Dendermonde, we are struck by just how much a part of the fabric of the village Callebaut seem to be.
It's not only the physical presence of their huge site that we notice. Barry Callebaut play an integral role in the village and its surroundings as employer and have done so since they first started making chocolate in 1911.
This huge operation involves over 900 employees: about 350 white-collar and 550 blue-collar workers who work on shifts around the clock. Every single minute of every single day, someone is working on the site. It's 24 hours a day chocolate.
That's a lot of people who need to take the bus there.
4. THEY HAVE A SEPARATE PRODUCTION LINE FOR KOSHER CHOCOLATE
We see that there are separate production lines for different types of chocolate. Creating such different chocolate products on such a huge scale means that it makes sense to divide these into dedicated lines.
We come across one particular line which Isabelle refers to as the 'Kosher' line. Here, chocolate is produced to conform to the regulations of Jewish dietary law. "A Rabbi comes in to check it," says Isabelle. "There's a demand for Kosher chocolate on this separate production line so we're happy to do this."
5. CONSUMERS CAN'T BUY CALLEBAUT CHOCOLATE BARS IN SHOPS ANYMORE
Barry Callebaut are now strictly a business to business operation meaning that you won't find their chocolate bars on the retail shelves.
This wasn't always the case. Up until relatively recently, Barry Callebaut were responsible for the 'Jacques' brand which could be found in all the major supermarkets in Belgium and beyond.
Because they are such a well-known brand and because they traditionally sold directly to the public, chocolate lovers in Belgium are often surprised that they can't buy Callebaut chocolate in shops anymore.
"People ask me that question all the time," says Isabelle. "I have to explain almost every day now to people that we only make chocolate for businesses."
The main reason Barry Callebaut came off the consumer market is that they were competing directly with all of their customers. Their chocolate bars were stacked on shelves against those of all the Belgian chocolate companies to whom they supply chocolate.
You can, however, still buy their Callets – those small drops of chocolate that they supply to small artisanal chocolatiers – at some Belgian retailers, although not all of their types of chocolate are available.
6. THEY HAVE JUST OPENED A BRAND SPANKING NEW CHOCOLATE ACADEMY
While Callebaut have had chocolate teaching and training colleges in Belgium since 1988 (and now have 16 training centres across the world), they opened their new flagship Chocolate Academy centre in Wieze in 2014. It is nothing short of stunning.
High ceiling kitchen workspaces used as chocolateries, bakeries and pastry labs with beautiful artwork and crafted tiles form the centre piece of a building which also houses a chocolate bar and library, a chocolate tasting ritual room where sensory specialists guide guests through a varied world of flavours and a 'Chocotorium' 100 seat theatre for lectures from chocolate experts.
But it's not just the physical building that impresses. The experience and creativity of their teachers is extraordinary and their courses touch on every aspect of chocolate making, from the 'Start to Chocolate' and 'Planning and panning' courses delivered by Callebaut Chef Alexandre Bourdeaux respectively to the 'High-end dessert design' course of Jurgen Koes and 'It's showtime!' with François Galtier.
7. THEY HAVE STARTED GROWING COCOA BEANS IN BELGIUM
Callebaut have embarked on a new small-scale project in which they intend to grow cocoa beans in Belgium. At the Academy they have established a 'Plantation' – a tiny reproduction of a tropical forest – with cocoa plants growing under banana trees and other flora you might find in their natural habitat.
The 'Plantation' serves to show customers how and in which conditions cocoa trees grow. They do, of course, hope to harvest some cocoa pods there, but the amount would be so small that it would result in only a few bags of Callets. In reality, it will act as an educational resource to show chocolate professionals how cocoa grows in its natural environment first hand.
Callebaut source their cocoa from West Africa, where the beans produce chocolate with a lot of body and structure. They also conduct research on beans from Asia, which produce a more bitter chocolate, and from South America, which produce more fruity and spicy chocolate flavours.
8. THEY'RE FAMOUS FOR ROASTING THE WHOLE BEAN
One regard in which Barry Callebaut in Wieze set themselves apart from other chocolate factories is that they roast the whole cocoa bean (as opposed to nib roasting).
Many other chocolate producers will roast just the cocoa kernels rather than the whole bean – in a process known as nib roasting – largely because they believe a lot of the expensive and rich cocoa butter is absorbed into the cocoa bean husk and becomes unrecoverable.
Whole bean roasting involves roasting the whole bean, husks and all. While there are significant losses in cocoa butter – thus raising the manufacturing costs – the husk is allowed to stay and helps keep many of the flavourful aromatic oils from evaporating.
Whole bean roasting therefore allows the preservation of all the flavours and aromatic oils within the cocoa husk and fully releases them in the chocolate. This type of roasting facilitates the production of couverture chocolate which gourmet and culinary professionals prefer to use because of its workability and specific taste.
We taste the beans with Isabelle at the very start of this process, just after they've been roasted. It tastes extremely bitter, with a crumbly texture which bears no resemblance to the Callebaut chocolate that we know. "It tastes like wood," Isabelle says, biting into a bean. "Wait until you see what it tastes like later in the process."
9. THEY HAVE A SERIOUS LINE-UP OF AMBASSADORS
One glance at the list of members of the Callebaut Ambassador Club demonstrates how prestigious the brand of chocolate is. Their strong reputation for quality has attracted the talent of some of Belgium's (and the world's) best chocolatiers.
The Ambassador Club was established in 2002 to support the development of new products, packaging, recipes and professional training events as well as to promote the Callebaut brand in Belgium and internationally.
Where it gets interesting is the World Chocolate Masters. This is an annual event devised by Callebaut, Carma and Cacao Barry together which was established at the same time as their Ambassador Club. It's one of the few international competitions in the world solely dedicated to the art of chocolate making.
10. THEY FOCUS ON SUSTAINABILITY AND QUALITY
"Sustainability is a major focus for Callebaut right now," Isabelle tells us.
The Barry Callebaut group set up a number of sustainability programmes in 2005 and the gourmet brand, Callebaut launched a programme in 2012 that they call 'Growing Great Chocolate' which is aimed at making cocoa cultivation a sustainable source of income for West African farmers and having a positive impact on farmer livelihoods. They switched cocoa on all of their Finest Belgian Chocolates to support sustainable cocoa cultivation.
'Growing Great Chocolate' made Callebaut the first gourmet chocolate brand to support cocoa farmers and cooperatives growing cocoa beans sustainably with its whole core range of chocolates.
Their sustainability procedures go hand-in-hand with their quality processes. There are no corners cut in this factory. Callebaut were the first chocolate manufacturer in the world and the first food manufacturer in Belgium to obtain the ISO-9002 certificate, essentially a high-level certification for a constant care for quality.
Sustainability and quality. Good reason to continue using Callebaut in my chocolate creations.