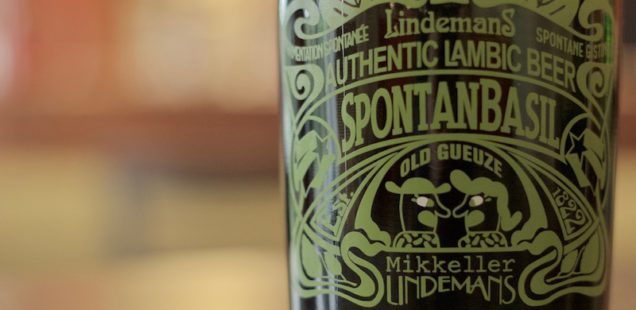 Turning Over A New Leaf | Lindemans Spontanbasil
Over the last few decades, Lindemans brewery – the biggest independent lambic brewery in the world – have built their reputation on fruit beers.
Their Framboise Raspberry Lambic is the biggest selling lambic in the U.S. and they export 55% of what they produce to 40 countries around the world.
Consumer attitudes are shifting however and as more mature markets seek out products which marry history and innovation, Lindemans find themselves focussing once again on authentic oude geuze, a product which makes up only 2% of their current output.
"We're old but that doesn't mean we have to stay traditional," says Managing Director at the brewery, Dirk Lindemans, whose family has been brewing lambic in the village of Vlezenbeek since 1822. "The future is oude geuze and not fruit lambic."
In May of last year Lindemans launched a special oude geuze of 6% ABV produced in collaboration with Mikkeller, a Danish beer company known for its 'phantom brewing' ethos of collaborating with other breweries to produce experimental one-off recipes.
Spontanbasil combines the process of spontaneous fermentation with an ingredient Lindemans claim has never before been used commercially in beer: Basil.
"The first time we made Spontanbasil, it sold out after 2 days," says Dirk. "The intention was to brew it only once. But the success was so high that we had to make more batches."
Last month, Spontanbasil won a Gold Medal in the 'Flavoured beer: Herb & Spice' category of the Brussels Beer Challenge 2016. They also won the International Revelation Gold Medal, the top award of the competition which involves a 3-day-tasting panel of 80 international experts. Lindemans won the top award in each of the four categories of beers they produce.
"We are absolutely over the moon with this appreciation," says Geert Lindemans, General Manager of the brewery and Dirk's cousin. "It is truly a great reward for all our work, mixing the rich tradition of complex, authentic lambic beers with innovation."
The Spontanbasil project started when Mikkel Borg Bjergsø, former teacher and founder of Mikkeller, came to Belgium. "Mikkel visited the brewery two years ago," says Dirk. "It was a dream of his to brew lambic style beer. He has a lot of his beers brewed at De Proef Brouwerij in Lochristi, including a sour beer, but we're a real lambic brewery so we could offer him added value."
In return, the collaboration offered Lindemans access to a more niche market. "It definitely introduced us to the world of the beer geeks," he says. "For us the time was right to do something new. We had just gone through an expansion in the brewery so we had capacity. We were focussing on product development and wanted to do something innovative."
Spontanbasil is a blend of one-to-three year old lambic fermented on oak to which fresh whole basil leaves are added. "It's a tea-bag system," says Dirk. "The basil goes in for one day. We bottle immediately afterwards. The timing of this maceration is important. It's like tea. If it's too strong, it's not good. If it's too weak, there's not enough flavour."
Lindemans had already been experimenting with different flavours and ingredients for a new oude geuze so the project took off quickly once the partnership was established. "We had some ideas about herbs," says Dirk. "We had tried things with sage, but it was too resinous. Mikkel is a creative guy. We discussed the basil with him and he thought it was a great idea. It's never been done before."
Basil is a member of the mint family with a sweet, earthy aroma and a long history of medicinal and culinary applications. Depending on how it is deployed in beer, it can present with anything from aniseed notes to characteristics reminiscent of lemon or cinnamon.
For Spontanbasil, 180 kgs of fresh basil leaves are added to one batch of 40 hectolitres of beer. "One kilometre from here we have a cultivator of herbs so we get our basil from a local source," says Dirk. "It's an interesting beer because with time, the geuze becomes more fine and the basil becomes a little more pronounced."
At the official launch of Spontanbasil at Lindemans brewery last year, Vincent Floorizoone – who is head chef at the Grand Cabaret restaurant in Nieuwpoort and a pioneer in cooking with beer – prepared a range of dishes to pair with the new beer. Think pasta with pesto, tomatoes and goats cheese or rich creamy soups.
"Sour beer is perfect for food pairing," says Dirk. "Sometimes it's not always easy for people with lambic. It has a complex taste. But it's great for cooking. Bitterness is not so easy to cook with, but sour definitely is."
"It's a little bit my baby," says Geert. "You either like it or you don't but I'm really proud of it. It's the first time basil has ever been used in a beer. Other herbs have been used in wines and by amateur beer blenders, but basil is a real innovation for us."
"Working with Mikkeler was different," he continues. "At blendings and tastings, he wanted to go full throttle but we were always a little bit more reluctant. It works really well. The acids of the lambic take out so many aromas of the basil leaf."
Lindemans have since added another member to their 'Botanical lambics' family. In November of last year, they released BlossomGueuze, a variant of Spontanbasil produced with 2 to 3 year old lambic aged in wood and blended with 12 month old lambic and elderflower. They've even got another one in the pipeline. But they won't tell us anything about it.
*a version of this article originally appeared in Belgian Beer and Food Magazine.*