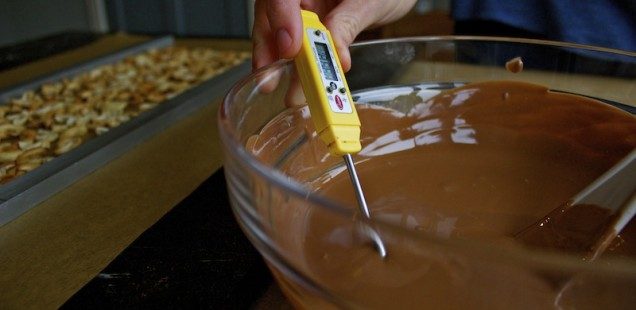 Making Chocolate at Home | 5 Simple Tips
Making chocolate at home is exciting.
You get to make all the decisions about how your chocolate creations will turn out and you can watch on with enormous satisfaction as your family and friends enjoy what you have made in front of you.
I've learnt many lessons during the last two years of chocolate classes and experiments, and I've compiled what I feel are some of my most helpful posts into a useful resource for those passionate about making chocolate at home.
If you'd like to keep up-to-date with our Belgian chocolate adventures and learn more about making chocolate at home, sign up for our free updates below.
MAKING CHOCOLATE AT HOME
Here are 5 simple tips to help you maximise your creativity and offer inspiration for making chocolate at home.
1. TRY TO UNDERSTAND CHOCOLATE
You've been a fan of chocolate for a long time and you have a lot of experience in eating it.
But do you know what it is? Where does it come from and how is it made? Do you know the possibilities available to you in working with chocolate?
I tried to answer these questions in a post exploring the different types of chocolate – from light to dark – as we look at the varying qualities and tastes of chocolate:
2. GROW YOUR TOOLBOX
Now that you're motivated to start making chocolate at home, what kind of tools do you need? Is there special equipment that you can't do without? Are there instruments which will make it easier for you?
Using examples and photographs, I examined my own chocolate toolbox and I highlight the five most important tools I own to help me make Belgian pralines.
Most of the tools are equally essential for making truffles, moelleux, slabs and other chocolate creations and will be an invaluable set of tools for anyone making chocolate at home:
Want more information on making chocolate at home as we continue to write about it? Join our adventure and sign-up for updates (great resources and no spam – we promise).
3. MOULD YOUR CHOCOLATE
The things you can do with moulds when making chocolate at home are incredible.
You can make traditional products such as Easter eggs or butterflies or shapes as abstract and diverse as chess pieces, skulls, musical instruments and naked women.
I studied some facts about chocolate moulds that would be helpful to anyone making chocolate at home. I also visited Chocolate World in Antwerp to explore the chocolate moulds they make and to learn more about how they help design your chocolate:
4. DON'T BE AFRAID TO EXPERIMENT AND MAKE MISTAKES
We all put ourselves under pressure. And no-one wants to mess up a recipe or chocolate creation.
But the beauty of artisanal and homemade chocolate is that you have license to mess up as much as you want. There's no-one looking over your shoulder to complain about what you're doing. You're not going to bankrupt a business if something goes wrong.
In fact, you should make mistakes.
Just as long as you learn from them.
I wrote the post below about experimental pralines – have a look to see what you think worked and what didn't. Or check out our most popular Belgian chocolate recipes to see if there's anything you would like to try out for the first time:
5. OPEN YOUR TASTE BUDS AND SEEK INSPIRATION
No chocolate maker started out making chocolates at home without tasting other people's chocolates.
In order to learn about chocolate making techniques and discover the types of things you really want to do with chocolate, you should look to others in the industry to see what it is they are doing that inspires you.
I go to lots of chocolate shops to try out different things and get ideas about ingredients and recipes.
Below are two posts about visits to two very different, but equally inspiring, chocolate shops: Yuzu Chocolate Shop in Ghent, a highly regarded chocolate boutique which is famous for its minimalism, focus on authentic, original and seasonal Japanese ingredients and innovative tastes; and Chocolaterie Van Hoorebeke, who produce more classic Belgian chocolate products which are absolutely delicious:
Sign-up for more updates on Belgian chocolate and making chocolate at home (totally for free and with no spam – we promise).