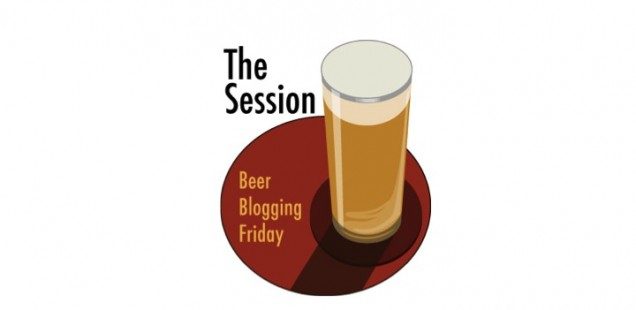 My First Belgian | What Everyone Said (Round-Up: The Session #91)
"The Session, a.k.a. Beer Blogging Friday, is an opportunity once a month for beer bloggers from around the world to get together and write from their own unique perspective on a single topic. Each month, a different beer blogger hosts the Session, chooses a topic and creates a round-up listing all of the participants, along with a short pithy critique of each entry".
Twenty-five beer bloggers from 6 different countries and 3 different continents stepped up to the plate to take part in Session #91 during which we asked about memorable experiences with Belgian beer.
It was especially great to see a large number of new bloggers make their Session debut. The second highest represented nation among the blogging participants (after the U.S.) was Ireland.
MY FIRST BELGIAN? I'LL HAVE TO LOOK AT RATEBEER
Understandably, many bloggers couldn't remember back to their first Belgian beer and some recalled with what seemed to be some embarrassment that their first Belgian had probably been Stella Artois. Not so Nate Southwood of Booze, Beats and Bites who revealed the story of getting drunk at age 12 on the AB Inbev lager: "My first Belgian beer was obviously Stella Artois. I'm not going to hide from that. Some people say that it doesn't count, but of course it bloody does."
The only reason that I can recall my first experience so vividly was that it came not so long ago and the Westmalle Tripel I enjoyed then had a big impact on me.
To deal with this lapse in memory, some turned to Ratebeer to check their historical postings. Steven Lamond of Beers I've Known, for example, attacked this task with great gusto. "I'll have to dredge through the ancient (3years old) ratebeer reviews to settle on my first rated Belgian… De struisse Pannepot. Not a bad first rate eh?!"
Sean Inman of Beer Search Party who wrote about French Prairie Blanche from Golden Valley, seemed to be the only blogger to celebrate Belgian wheat beers. "Whereas a Belgian Strong ale may be too heavy on the palate or a Belgian IPA may be tilted too far towards yeast in one direction or hops to the other. The simpler Wit along with the Belgian single seem to always work, if I can generalize."
BREW LIKE A MONK
Monks predictably featured heavily in this Session and Stan Hieronymus of Appellation Beer, the blogger who first kicked off the Sessions in March 2007, retold a story from his excellent book, 'Brew Like a Monk,' in which he visited Achel and met Brother Benedict: "He ordered we have another, then headed off again. Both Beirens and I ordered the Achel 5, a blonde beer of 5.3% abv, and compared it to the 5% abv Westmalle Extra. When Brother Benedict returned, he looked at our blonde beers, working on a scowl. He took a sip of one. "Water," he said, once again laughing."
Roger from Bottled Rogers Beers opted to write not about drinking monk's beer, but to brew something similar, and he set out the recipe for his beer 'Clawed', a "shadowy homage to the beer legends." Writing more generally, Roger refers to the "intangible quality" of Belgian beers which remain difficult to convey: "Certainly there's the spice, the earthiness, the venerable moth-eaten pall of long storage; but there's also the tastual juxtaposition of this libation. It's a beer, but it's not a beer. These Belgian creations are never what you expect. That sense of discovery, experimentation and surprise."
Boak and Bailey gave an entertaining analysis of their experience with the Abbey beer, Leffe Blond, describing the differing perspectives of their Leffe tastings in 1992 and then again more recently. "It no longer tastes all that exotic — not because it's been 'dumbed down' but because a lot of beer has flowed over our palates since 2002. What once read as luscious now seems like the stickiness of barley sugar sweets, or as if a tot of orange squash has been added to the glass. It feels, all in all, hurried, tacky, and plasticky."
I enjoyed reading Jeremy Short's first encounter with the Trappist beer, Rochefort 10, on his blog Pintwell. He compares the impact of the experience on him to "Moses parting the Red Sea, the Apollo Moon Landings, the building of the Great Wall of China" and even "the first time humans created fire". Describing the richness and complexity of the big Belgian quad he concludes by making a final comparison between this beer and "Botticelli's Venus."
It appears from reading the contributions that the monks at the Notre-Dame de Scourmont Abbey in Chimay have a lot to answer for. Their various beer are named by quite a few bloggers as beers they tried early and love to this day. Tom Aguero of Queen City Drinks recalls the time a waiter in Brussels brought a bottle of "Chimay Grande Réserve (aka the blue label)" to his table: "All 4 of us immediately fell in love with the beer and by the end of the dinner we'd drank 4 or 5 bottles. I remember being wowed by the deep complexities of spices and dark fruits. I had thought beer was water with a hint of grain or corn. My brain was flabbergasted that beer could actually taste like… anything!"
Aidan Sweeney, one of Ireland's certified Beer Sommeliers recounts on Brews International that his first real Belgian beer experience was a Chimay Rouge: "The barman told me the importance of decanting it into a glass, the right glass of course. This glass was a chalice. It was so different to Dublin where people were still getting excited over consuming Miller from bottles as the height of early Celtic Tiger sophistication." He notes that 'dubbels' are "much overlooked" next to their 'Tripel' counterparts: "I like using both in beer tastings because it can open people's eyes to two styles, and the dubbel I tend to use over others is what has become my longstanding companion, Chimay Rouge."
A TRIP TO BELGIUM
As is to be expected, many of the experiences with Belgian beer came in the midst of a trip to the country itself.
Alan McLeod of A Good Beer Blog tells the story of a trip to Belgium in 1986 which involved no small measure of "machine gun toting black leather coated paramilitary officers" and of his accumulation of a Jupiler coaster in a quiet Brussels bar. "I kept the coaster and put it in an IKEA frame when I got home. Been in that glass for 28 years. Sits in the stash room now on a shelf. Next to the Guinness one."
The romantic adventures to European cities of Simon Broderick from Simon Says have taken him all the way from Athlone to Prague to Belgium and all the way from Stella Artois to Kwak: "I remember that Kwak really stood out, coming as it does, in an unusual glass."
Nick of Lautering.net also mentioned Kwak as a memorable beer from a trip to Brussels. On the look out for a beer he hadn't tried before, it was the first one to reach out to him. "The beer card was clearly arranged. Most of the beers I knew theoretically. A friend of mine held a lecture about spontanous fermentation at the VLB, Berlin. So there wasn't anything new, expect the Kwak – which I had never heared of. So I ordered it."
IS THIS BEER? IT'S SOUR!
Another common theme in the posts was that of sour beers from Belgium.
Brett Domue of Our Tasty Travels describes the moment he first tasted a Rodenbach Grand Cru. "When that first sip hit my tongue, I had no clue what I was in for! The sour hit my tongue like a hammer, and at first I thought it was a bottle gone bad. This can't be beer, can it? I asked, and yes, this is what the beer was supposed to taste like, so I decided I would keep drinking and see why it had made the top-50 list. By the end of the glass, I was in love."
The question of the aging of sour beers was addressed by Franz D. Hofer of Tempest in a Tankard, whose contribution was essentially a letter of advice to a student in the depths of their final dissertation on the subject of whether they should risk an aged Bacchus at discount in the local bottle shop or play it safe with a six pack of bud. Franz admits that it took some time for him "to appreciate these beers and their potential for aging" and outlined in great detail the considerations relating to the aging process of these sour beers. His final advice to the confused student: "Buy those Bacchus sours. Taste one now, and lay one down. If you have the extra cash, get the Duchesse and a Petrus and do a tasting with all three."
Connor Murphy of Beer Battered writes about his battle with lambic. He starts with the challenge itself. "I couldn't understand the face-crumpling sourness, the rough, coarse earthiness or the tight, prickly champagne fizz." The reader is then brought through a descriptive account of his experience with lambic towards his 'eureka' moment. "The flavours are, at times, jarring and challenging, yet equally intriguing, invigorating and satisfying. Like free jazz for the tastebuds."
Jon Abernathy of Brew Site makes the interesting point that "of the various foreign influences that have impacted American beer, the most significant have come from Belgium, whether in the direct emulation of styles or in the melding of Belgian characteristics with other existing styles (Belgian IPA comes immediately to mind)." His final words, however, go to a sour beer of international reknown: "But when it comes back down to Lindemans, that's a tough beer to beat. I know, purists will object that it's not a proper lambic because it's infused with fruit syrups and is more akin to soda pop than lambic… or something. Ignore that; it's a Belgian beer brewed by a Belgian company and you'll be hard-pressed to find another fruit beer as well received by the general drinking public as Framboise."
A DEVIL OF A BEER
The devil has as much of a stake in Belgian brewing culture as the holy brothers and the Belgian Strong Golden, Ale, Duvel, was the focus for several bloggers.
Reuben Gray of Tale of the Ale acknowledged its worthiness for inclusion in the Session but questioned its fame. "Do I like it? Sure, it's a great beer. I still don't quite get why it's on such a high pedestal? Maybe because it's hard to make such a big beer as refreshing as a pilsner, dry as a chardonnay and as effervescent as champagne."
Matt Curtis of Total Ales compared his first attempt at Duvel at age seventeen (at which time he admits to "not understanding it") with a more recent tasting at a café in Bruges. "I'd learned how to taste beer now and so the experience was completely different. Delicate effervescence dancing on the tongue unlocking hints of sweetness and a light, almost bread like body that mingled with berry fruit flavoured yeast esters. Duvel is the champagne of beers, it is one of the best beers on the planet."
BELGIAN? IT'S NO BIG DEAL
Oliver Gray of Literature and Libation respects Belgian beer but finds it is not for him. "I'm still likely to brace myself before taking a sip of saison, clench my jaw when quaffing a quad. I appreciate the artistry and heritage of many Belgian breweries, but something in the bready unmistakable yeast character of Belgian beer is antithetical to what my taste buds want." He continues by offering a considered assurance that it's ok not to like Belgian beer: "It's OK to not like a certain style of beer. It's OK to not like super hoppy, high ABV imperial IPAs. It's OK if you find the salty sour of a gose a bit too much for your particular preferences. It's OK to say, "I have tried this, and it is not for me." If nothing else, his post necessitates a visit for the unfiltered photograph depicting childhood in 1980s England.
Similarly, Chris Slaten of Draft Mag reflects on the fact that at one point he had a "total lack of interest in thinking about beer as a thing with a history, a culture and an entire web of styles." For this reason he doesn't put much stock on his first encounters with Belgian beer. "My first Belgian pours weren't life-changing events. There was no "aha!" moment. But, they clearly left an impression, and planted the seed for more adventurous drinking in the future."
Glen from Beer is Your Friend feels that focusing on just one area of "the stupidly enormous world of beer feels limiting to me". Our goal for the session was certainly not to suggest that Belgian beers are better than other beers simply because they are Belgian but rather to celebrate the ways, if any, that Belgium has impacted on people as a brewing nation. Glen's equal opportunities approach to enjoying beer is one worth repeating: "I'm just a fan of beer. I don't care where it comes from, who makes it, what it is."
Some, however, had a change of heart. Alan McCormick of Growler Fills remembered his first: "I hated it. Couldn't handle the flavors which were most decidedly different from those I commonly enjoyed." But after years of trying, he eventually came round. "It was long after I started enjoying IPAs that my taste buds clicked and I began to enjoy the spicy and fruity flavors imparted by traditional Belgian yeasts." He concludes that the process is a "journey". 
STOP WITH THE 'BELGIAN'!
A number of bloggers addressed the issue of the term 'Belgian' as a descriptor for a style of beer and there was numerous reference to the thought-provoking post previously written by Stephen Beaumont of Blogging About World of Beer, in which he bemoans the inconsistent and incorrect use of the terms 'Belgian' and 'Belgian-style'.
Recounting his enjoyment of Brother Thelonious from North Coast Brewing Derrick Peterman of Ramblings of a Beer Runner ponders how it is that only Belgium and no other country has "transferred its nationality to any American beer inspired by its brewering traditions?" Referencing the Beaumont post, Derrick also asks "is it too much to ask ourselves why this happened rather than go around slapping peoples wrists whenever they declare something "Belgian" even when it actually isn't from Belgium?"
The Beer Nut begins with his first taste of lambic on a visit to Belgo in the 1980s (a chain of gastropubs mentioned by a number of Irish and English bloggers) before delivering a summary of why he believes Belgium is still exciting as a beer nation: "The consistent quality of many long-established brewers sits next to the amazing living fossil guezeries and a host of new-wave upstarts, influenced by foreign styles and doing their own thing as well." He also references the Beaumont post and concludes that: "We still use "Belgian" as a specific descriptor for beer. We should probably stop."
THE TERM 'BELGIAN-STYLE?
Beaumont is of course, correct when he says that "Belgian beer is beer that is brewed and fermented in Belgium. Period." And he is correct that the term 'Belgian-style' is often misused.
Dan of Community Beer Works embraces the term 'Belgian-style' beers at Ommegang in Cooperstown, his consumption of their 'Scythe & Sickle' seemingly just as enjoyable as the actual Belgians he tries (including Lindeman's Cuvée Brut and Duchesse De Bourgogne). Dan enjoyed his trip to Ommegang and finds value in linking the Ommegang beers to Belgium: "My first Belgian did not come from Ommegang, no. But many of them have, and many more will in the future."
MY FIRST BELGIAN
I would like to extend a huge thank-you to all the bloggers who took part in this Session. I enjoyed reading each of the posts and trawling through the various blogs.
It is clear to me that beers from Belgium, beers produced in a style first espoused in Belgium and beers inspired by the brewing traditions of Belgium have all added a great deal to the world of beer and to the personal experiences of beer drinkers. That is worthy of acknowledgement and celebration.
I announced this Session with a quote from Michael Jackson who, it could be argued, first brought Belgian beer to the attention of the rest of the world and it seems only appropriate that I finish with a quote from the Beer Hunter himself.
No other country has native beers as diverse, individualistic, even idiosyncratic. Some are so unlike conventional beers as to shock the wary consumer.

Michael Jackson, Great Beers of Belgium.
Your host for the next session is Jeremy Short of Pintwell. The topic of Session #92 is 'I made this' and will revolve around homebrewing and how homebrewing impacts your relationship with beer.