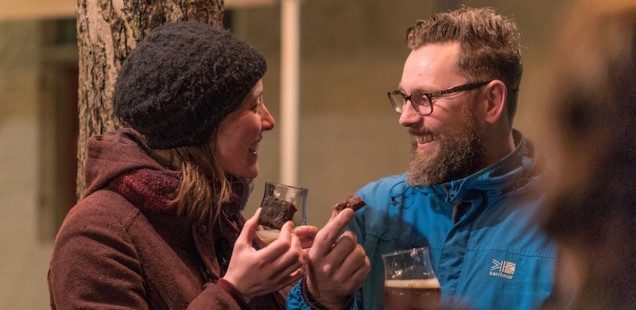 #SMAAKDOWN16 Festival | 2nd Birthday of Belgian Smaak
Just over two years ago – on 9 February 2014 – we published our first post on Belgian Smaak. Since then, we've enjoyed nominations at national blog awards in Ireland and Belgium, an engaged and growing readership and personal accolades for our writing and storytelling.
The most satisfying things for us have been the chance to create these stories together and the opportunity to learn more about the world of beer and chocolate in Belgium.
To mark this milestone and bring it from online screen to real life, we threw a party two weeks ago today at Het Huis Van Alijn in Ghent.
We teamed up with three Belgian breweries to pour some really interesting beers and Elisa presented three special treats: an intense double chocolate brownie; a dark chocolate rocky road; and a delicate praliné-centred flaked chocolate truffle.
The beer line-up included a dark ale brewed especially for the evening by Brouwerij Hof Ten Dormaal in collaboration with Belgian Smaak using the ingredients of a marshmallow, biscuit and chocolate dessert (Rocky Farm); and a stout brewed especially for the evening by Brouwerij Maenhout in collaboration with Belgian Smaak with oyster shells from Ireland (Such a Pittem).
One of the most satisfying anecdotal pieces of feedback we received related to the diversity of Belgian breweries pouring at the event. Each had its own distinct personality which served to complement the others: the family heritage and classic style of Brouwerij De Ryck; the experimental farmhouse character of Brouwerij Hof Ten Dormaal; and the creative technical and engineering nous of Brouwerij Maenhout. We are extremely grateful to the breweries for supporting us and we hugely enjoyed working with Jef, Miek, Thijs & Birgit.
The venue for the evening was the beautiful courtyard of Het Huis Van Alijn in the historic centre of Ghent. Guests had the opportunity to tour the museum and see their new exhibition about the famous '6daagse' cycle race. "Throughout the history of the '6daagse' there was always a lot of music, food and a lot of drinking beer," says Els Veraverbeke, Curator at Het Huis Van Alijn. "That makes this venue a perfect one for a Belgian beer and chocolate event and we were very excited to have it here."
Laurent De Maertelaer of Het Huis Van Alijn held the whole thing together from conception to delivery. His patience, his people skills and his understanding of what we were trying to do meant we couldn't have done it without him.
It wouldn't have happened without the help of our amazing families either. The Depyperes travelled in from West Flanders and a crew of Irish made the trip to Belgium. Owen flew in from New York. Together they put up lights, made a pretty basic glass washing facility look state-of-the-art and welcomed guests warmly as they arrived.
Sophie Callewaert and Jelle Demonie danced around with cameras, capturing the evening for us in image. Paul Walsh of Belgian Beer and Food Magazine helped create a beautiful programme which guided guests through the 9 beers and 3 chocolates on offer. Beer geeks from BLES and the Gentse Biervereniging made sure we got through the beer and kindly supplied the glassware. Friends from brewing school mixed with beer media and other brewers. Visit Flanders cemented their ongoing and much valued support.
We'd like to extend a big thanks to everyone who has joined us on this adventure in the last two years, from the breweries and chocolatiers we've visited to the writers, photographers and media who have helped us out. We'd especially like to thank our readers and everyone who has subscribed to receive our stories in their inbox.
We've got plans for 2016 here at Belgian Smaak. There will be a podcast. We're sourcing more contributors for writing and photography. Unique collaborative projects are in the pipeline. There's plenty to keep us occupied until we turn 3. Perhaps that will warrant a bigger party.
#SMAAKDOWN16 | SECOND BIRTHDAY OF BELGIAN SMAAK
Some photos of the evening courtesy of Sophie Callewaert of Zebra Tales:
BEER LIST
Here is the beer list from the evening:
BROUWERIJ HOF TEN DORMAAL | Tildonk, Flemish Brabant
The Hof Ten Dormaal brewery is a farm brewery operated by the Janssens family. At the beginning of 2015, a fire completely destroyed the roof of the brewery. The entire bottling line, conditioning rooms and most of the stock were burnt to the ground. Not only did they recover to start brewing again, but they hosted a new festival in Leuven based on the theme of innovation and brewed a series of collaboration beers with breweries in a range of different countries.
ROCKY FARM | Belgian Dark Dessert Ale | 7.2% ABV | A collaboration brew with 'Belgian Smaak' especially for this event, Rocky Farm is a dark beer inspired by the delicious combination of biscuit, chocolate and marshmallow which has made the homely 'Rocky Road' tray-bake so famous. When we serve this beer at the event, we'll be pouring it into your glass, dropping a marshmallow into the beer and pairing it with a generous portion of 'Rocky Road' tray-bake.
ZURE VAN TILDONK | Sour/Wild Ale | 6% ABV | This dry blonde sour beer is fermented with a combination of a house strain and wild yeasts living around the farm, and is aged on barrels for a year before being blended to taste. It's fruity, soft and complex.
SAISON | Belgian Saison | 5.5% ABV | An old school version of the original farm worker's beer, this dry, fruity and lightly sour Saison is brewed with only grain and hops grown on the brewery farm.
BROUWERIJ MAENHOUT| Pittem, West Flanders
Thijs Maenhout started out by making beer at home before going along to brewing classes with some of the team from Brouwerij Alvinne. He developed beers commercially at a small system in Meulebeke and before long, demand had increased so much that he was forced to upscale. Thijs and his wife Birgit Derammelaere moved operations to Pittem in 2015 where they have increased capacity eight-fold.
SUCH A PITTEM | Oyster Stout | 8% ABV | Brewed in collaboration with Belgian Smaak especially for this event, 'Such a Pittem' bemoans the lack of true roasty stouts in Belgium: it's such a pity. It's gone through a dry-shelling with oysters from Carlingford Lough in Co. Louth, Ireland.
HOPPA HONTAS | India Pale Ale | 6.5% ABV | This blonde beer is all about the hops. The 2015 version pouring at this event is brewed with Amarillo and includes a dry hopping, all of which delivers tropical fruit aromas and a pleasant long-lasting back-of-the-throat bitterness to quench anybody's thirst.
FERRE | Abt / Quadrupel | 10% ABV | A big bold malt-forward amber-brown beer named after local Pittem folk hero Ferdinand Verbiest, Ferre has got loads of yeast-driven fruit and spice and more than just a hint of booze.
BROUWERIJ DE RYCK | Herzele, East Flanders
Brouwerij De Ryck is a family brewery in Herzele which has been brewing beer for more than 125 years. Brewer An De Ryck represents the fourth generation of brewers and her children, Miek and Bram take on the responsibility of being the fifth generation of the family to work in the brewery.
STEENUILKE | Belgian Ale with Herbs & Spices | 6.5% ABV | Brewed in collaboration with the Regional Landscape of the Flemish Ardennes (RLVA) to raise awareness for a local endangered owl species, this ale uses three different herbs from the Steenuilke's indigenous region to deliver unique bitter and herbal characteristics.
SPÉCIAL DE RYCK | Spéciale Belge Ale | 5.5% ABV | One of the only 7 original Spécial Belges left, this classic amber-coloured beer uses its caramel malt profile to balance out a pronounced hop bitterness.
GOUDEN AREND | Belgian Tripel | 9% ABV | Brewed as a special beer for the 125th anniversary of the brewery, the Gouden Arend marries the characteristics of a classic Belgian Tripel with a subtle citric hop aroma and flavour.
CHOCOLATE LIST
We love making people happy with chocolate treats and the ones we served at #SMAAKDOWN16 were a combination of our most popular recipes as well as those which we paired with the special line-up of beers.
BELGIAN SMAAK ROCKY ROAD | Crunchy, soft and sweet, this combination of biscuit, marshmallow and chocolate provides a decadent treat which was paired with the ROCKY FARM beer.
BELGIAN SMAAK CHOCOLATE BROWNIE | Rich, creamy and intensely chocolatey, this brownie was perfectly matched for the roasted and dark malt flavours of the SUCH A PITTEM beer
BELGIAN SMAAK CHOCOLATE TRUFFLE | The term 'truffle' derives from the Latin word tuber meaning 'lump'. These tasty lumps of chocolate have a centre of butter and chocolate praliné which is then coated in chocolate flakes, played off the herbal characteristics of the STEENUILKE beer.