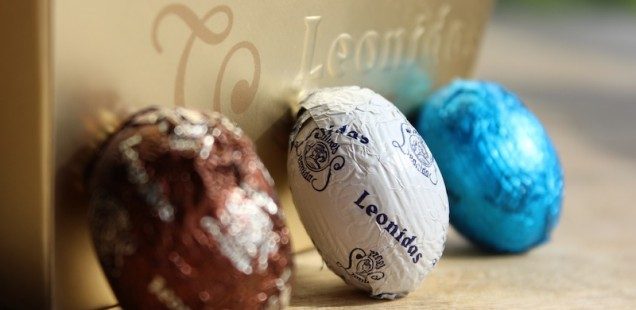 White, Milk And Dark Chocolate | What's the Difference?
I make things with white, milk and dark chocolate. But I also buy white, milk and dark chocolate. And sometimes I even receive gifts of chocolates of these various types from family members and friends.
Recently, a box of chocolates made its way into our apartment (due to the thoughtfulness and generosity of my mother).
This particular box was a wrapped assortment of Leonidas Fresh Belgian Chocolates, inside of which was a wrapped plain assortment of white, milk and dark chocolates. Leonidas are a Belgian chocolate company started in 1913 by a Greek-Cypriot confectioner (Leonidas Kestekides) in Ghent, where we live. The company has been passed down through the generations with 350 shops in Belgium alone and 2,500 stores in 50 countries around the world.
WHITE, MILK AND DARK CHOCOLATE: MY EVOLUTION OF TASTE
Such was the kindness behind the gift and so delicious were the chocolates, that I was prompted to explore the differences between white, milk and dark chocolate through my own personal chocolate journey:
WHITE CHOCOLATE

Two things need to be stated up front about white chocolate. The first is that white chocolate always has and probably always will remind me of my childhood. The second is that white chocolate isn't chocolate. Bear with me while I elaborate on both.
Whereas milk and dark chocolate are produced from various proportions of the non-fat part of the cocoa bean, white chocolate contains no cocoa solids whatsoever. Instead, white chocolate is made from cocoa butter, a pale yellow edible vegetable fat which has a cocoa aroma and flavour. Because cocoa butter doesn't taste good on its own, milk, sugar and sometimes vanilla are added to deliver a sweet and creamy product. If it's more white and less ivory in colour, beware of supplemental vegetable oils and fats or perhaps artificial colour additives having been thrown into the mix.
As a kid, I didn't know that it wasn't actually chocolate. And I didn't care. It was sweet and delicious and fun. To this day, I cherish memories of being sent on chocolate hunts during family gatherings, on a search for Easter eggs, or to find little chocolate figurines of Sinterklaas. And it was always the white chocolate over which we fought, because it was intensely sweet and had a mesmerizing beautiful lightness in its colour.
My taste has changed, of course, and using white chocolate to make other chocolate products is a little more challenging than using milk and dark chocolate given that its main ingredients are fats which melt at different temperatures and there is a subsequent risk of the chocolate becoming lumpy.
But having said all of this, I can't help but be thrown back to those wonderful family chocolate hunts whenever I eat white chocolate today as its sweet creaminess works its magic in my mouth.
MILK CHOCOLATE

Like a lot of people, I became a teenager. My perspective on life changed. And so did my perspective on chocolate.
Milk chocolate afforded me a more sophisticated alternative to white chocolate. It was still sweet and creamy, but I felt more like an adult when I chose it from the shop shelves and let it caress my lips.
Milk chocolate does what it says on the tin. It is a solid chocolate made with milk (in the form of either milk powder, liquid milk or condensed milk) and unlike white chocolate, milk chocolate is made with cocoa solids.
There are various governmental requirements throughout the world as to the proportion of ingredients which are to be used but generally at least 10% should be chocolate liquor, at least 12% should be milk solids, and at least 25% should be cocoa solids (although there are exceptions for lower cocoa solid content where it can be traded as 'family milk chocolate'). Cocoa butter, vanilla, milk fats and lecithin are also often used.
It was the Germans who developed a milk chocolate drink in the mid 1800s and the Swiss who engineered the first milk chocolate solid towards the end of the same century using condensed milk. We Belgians have certainly taken it to heart since then.
For me, milk chocolate is hanging out with friends at the park after long cycles and going away for camping weekends with the 'Chiro' (the youth group of which I was a member for years). Now milk chocolate is a fun and delicious ingredient in my armoury when I'm making creamy milk chocolates in the apartment!
Keep up to date with all of our chocolate recipes and projects by signing up for our free updates (no spam)!
DARK CHOCOLATE

My evolution in taste with chocolate became complete with dark chocolate in my early twenties.
I got to a place on my palette where chocolate didn't have to be so sweet or playful and offered pleasure and comfort. For me, dark chocolate was classy. It gave me an opportunity to take myself more seriously. And it made me feel like I was really treating myself.
The difference between dark chocolate and milk chocolate is that it does not have any milk solids added. Dark chocolate will generally have a higher percentage of cocoa solids and can range from 30% to 80% in cocoa solid make-up. Because of this, it is fuller in real chocolate taste and results in a drier, more chalky texture. Perhaps the most pronounced difference in taste is the deeper bitterness of dark chocolate which tickles the palette in aftertaste.
Much too has been made of the health benefits of dark chocolate. It is argued that dark chocolate is nutritious in fibre and minerals; that it is a powerful source of antioxidants; and that it may improve blood flow and lower blood pressure. Surely, this is an added bonus to the wonderful taste that it delivers.
In my mind, dark chocolate is for nibbling with a cup of Irish breakfast tea when guests pop around for a catch-up chat on a Sunday afternoon. It's for indulging on with a glass of wine in the bath on a Friday night. And it's for pouring over a decadent dessert on special occasions.
IS WHITE, MILK OR DARK CHOCOLATE YOUR FAVOURITE?

Obviously, these are just my subjective opinions on the different types of chocolate. These days, it depends on my mood as to which chocolate I want to try and my choice is shaped by memories of eating chocolate throughout my life and the emotions they trigger.
Which is your favourite chocolate? Do you prefer white, milk or dark? And have you enjoyed a similar evolution in taste?