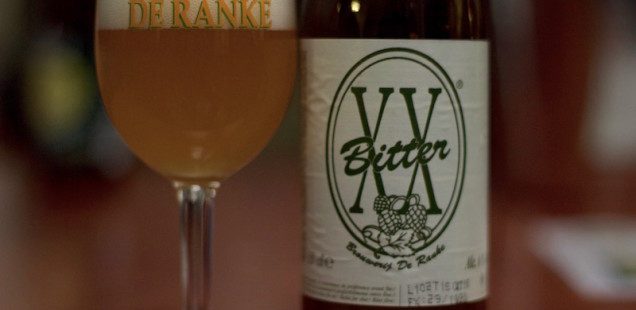 XX Bitter from Brouwerij De Ranke | The Most Bitter Beer in Belgium
In the 1990s, small breweries in Belgium were being bought up by industrial brewing conglomerates and the market was dominated by sweet mass-produced beers.
Enter the XX Bitter, a pale ale of 6.2% ABV from Brouwerij De Ranke. It would become known, for a time at least, as the most bitter beer in Belgium.
THE RISE OF DE RANKE
"I started home brewing at the end of the 1970s," says Nino Bacelle, Head Brewer at Brouwerij De Ranke. "I wasn't very successful then so I followed courses at a brewery school in the 1980s."
Nino's father was a beer distributor and the family owned a small lemonade factory. By 1994, Nino was brewing beer commercially at Deca Services, a brewing facility in West Flanders which De Struise Brouwers use to this day. "l learned to work on old equipment," says Nino. "It was there that I found out I was making better beer than some of the bigger industrial brewers."
Nino attributes the quality of De Ranke's beers to three rules. "Firstly, we use whole hops," he says. "Not extract or pellets. Secondly, we never filter our beers. And thirdly, we never pasteurise our beers."
Nino met Guido Devos and they started Brouwerij De Ranke in 1996. Guido ran a beer tasting club at the time and together, they decided to brew a test batch of beer that used a lot of hops. "That was the first test for XX Bitter," says Nino. "We put it on a festival in Kortrijk for the first time in 1996 and a lot of the brewers there told us we wouldn't be able to sell it because it was too bitter."
A NEW HOME
In 2004, they built their own brewery. "In effect, the current De Ranke brewery is a copy of the old fashioned brewery we had been working on at Deca," says Nino. "We have computer controls now but we do everything the traditional way. We use direct fire. We referment in the bottle from zero pressure. We work with whole hops."
The brewery's location is a good example of the quirky reality of Belgium's geography. "I live in Wevelgem and Guido lives in Zwevegem," says Nino. "So we both live in Flanders but the brewery is a few kilometers away in French speaking Wallonia, just across the language border. It's located in Dottignies but the official headquarters of De Ranke are at my home address so I suppose we are a Flemish brewery."
This new De Ranke brewery has been an important breeding ground for other highly regarded Belgian breweries.
Yvan De Baets worked part-time at the brewery between 2004 and 2006 before setting up Brasserie De La Senne with Bernard Leboucq. Yvan and Bernard gypsy brewed at De Ranke between 2006 and 2009 but De La Senne now have their own brewing facility in the Molenbeek area of Brussels. Alex Lippens and Koen Van Lancker of Brouwers Verzet also gypsy brew at Brouwerij De Ranke. They've just bought their own system which is set to arrive in the first half of 2016.
XX BITTER PALE ALE
De Ranke's XX Bitter is still regarded as a trend setter for hop forward brewing in Belgium. It may not be the most bitter beer in Belgium anymore, but it showcases hops in a way that many breweries are reluctant (or perhaps unable) to do and it demonstrates a balance in its flavours.
So what is it? Some refer to it as a golden ale. Ratings websites list it as an India Pale Ale. Belgians generally don't give much notice to style nomenclatures anyway, but how would the brewer of the beer describe XX Bitter?
"It's a bitter pale ale," says Nino. "When we first made XX Bitter, the IPA trend hadn't started yet. We didn't even know what it was. Technically it probably fits into what an IPA is, but we never had this in mind."
HOPPING REGIME
XX Bitter is hopped with two varieties of European hops which give the beer both a grassy, earthy quality and an IBU level of 65. "We use Brewers Gold for bittering," says Nino. "And Hallertau Mittelfreuh for aroma. All of our hops are grown in a nearby forest farm here in Wallonia. We only use hops grown in Belgium. We have more control that way. We don't dry hop and we only use single additions of each. By using only hop flowers, we ensure the hop oils are never oxidised so we never get any harsh bitterness in our beers."
De Ranke brew the 'grandmother's way', adding hot water to achieve target mashing temperatures. Their kettles have a capacity of 4,000 litres. The other specifications of the XX Bitter are relatively simple: 100% pilsner malt from Belgium and a dry Fermentis yeast pitched directly into the fermenter.
THE YEAST
But the yeast profile of this beer wasn't always so straightforward.
"In the years we were brewing XX Bitter between 1994 and 1998, we were using Rodenbach yeast," says Nino. "Because of that, the beer developed some sourness after about 6 months. There were Brettanomyces characteristics and some lactic acid bacteria characteristics. But when Palm Breweries bought Rodenbach, they stopped allowing the yeast to be used by smaller breweries. That's when we changed to a Fermentis dry yeast."
Today De Ranke attenuate with that dry yeast to extremely high levels. "Our beers ferment out completely," says Nino. "We condition at higher temperatures than a lot of breweries, mostly at 15°C. We also allow for 4 weeks of conditioning after primary fermentation which is longer than a lot of other breweries. This gives us a really dry beer."
THE LINE-UP
There's also an XXX Bitter, a beer made at the request of an American beer festival. "They wanted us to make a dry hopped version of the XX Bitter," says Nino. "But instead we added 50% more hops. If we use 10g of hops per litre for the XX Bitter, we use 15g of hops per litre for the XXX Bitter."
The trilogy of the Guldenberg (their 8% ABV / 40 IBU interpretation of a Belgian tripel), the Saison de Dottiginies (a dry well-hopped beer of 5.5% ABV in a style typical for the region) and the Hop Harvest (an ale of 6% ABV brewed in the week of the hop harvest) showcases De Ranke's skills in brewing with hops.
But they are far from being a one-trick pony. Their Noir de Dottignies (9% ABV) is brewed with seven different malts and the amber-coloured Père Noël (7% ABV) is not your typical Christmas ale.
And then there's the sour, dry and complex Cuvée De Ranke (7% ABV), a blend of barrel-aged beer, fresh top-fermented beer and lambic from Girardin.
Using a similar process they use cherries to produce a Kriek De Ranke (7% ABV). But why choose lambic from Girardin? "We think they make the best one year old lambic," says Nino. "I'm not talking about Geuze here. Just unblended base lambic. For us, some lambics are too one-dimensional. But we really like the lambic from Girardin."
XX BITTER BY NATURE
XX Bitter remains one of their most popular beers. They brew 5,000HL of beer a year at De Ranke and 1,500HL of that is XX Bitter. 50% of their beer is exported outside Belgium, mostly to Italy and the US, but also to Japan, India, the Netherlands, the UK, Sweden, Denmark, France and Austria.
How did it get its name?
"I liked the names of the English beers," says Nino. "They were called Bitter. Special Bitter. Extra Special Bitter. But they weren't very bitter. I wanted the name to be a bit like that. And I wanted it to say that this was a bitter beer."