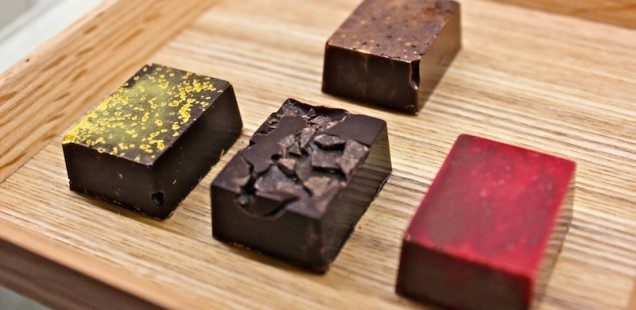 5 Unique Chocolates | Yuzu Chocolate Shop in Ghent
A 'Yuzu' is a citrus fruit which grows on tall trees in Japan. It is sweeter than a lemon but not as sweet as an orange and it is a big deal in the Eastern Asian culinary world being a fruit of vibrant hues which offers colour to Japanese dishes in the winter.
NICOLAS VANAISE
And Yuzu is also a chocolate shop in Ghent – Yuzu Chocolates – the brainchild of Nicolas Vanaise who has followed quite an unorthodox path to becoming a chocolatier.
Having enjoyed a fascination with Asian culture (and particularly Japanese culture) for as long as he can remember, Nicolas started out as an archaeologist, studying at the University of Ghent, before travelling to the Middle East to take part in archaeological digs.
COMBINING PASSIONS
Upon his return, he had an experience with confectionery that changed his life and brought his three greatest passions together – archaeology, Japanese culture and chocolate. He named the project 'Yuzu' and began travelling back and forth to Japan to learn more about their culinary culture with a view to opening his own Yuzu chocolate shop.
Yuzu opened in September 2003 and has become one of the most highly regarded chocolate boutiques in the country. The shop has become famous for its minimalism, its focus on authentic, original and seasonal ingredients with deference to Japanese and Middle Eastern culinary culture as well as its quality of chocolate and its innovative tastes.
Yuzu customers include chocolate-loving Gentenaars and international tourists who have heard about Yuzu chocolates and have sought out the shop. "I love that many of my customers are younger people," says Nicolas. "It's great that my creations are reaching out to a different generation of chocolate lovers."
EXPERIENCE INSPIRED
His regular early trips to Japan introduced him to the Yuzu. He borrowed its colour for his Yuzu chocolate packaging rather than the traditional browns used in other Belgian chocolate shops and he used its unusual tart flavour to echo the surprising nature of his own chocolates. "The Yuzu is a symbol of Japan," says Nicolas. "I was eager to draw a parallel between the country's culinary culture and my own creations."
The shop also reflects his background in archaeology. He likes to work with his hands and in that regard, carefully digging for treasures over long periods of time was excellent preparation for working with chocolate. We could see in the stories behind the chocolates that there were throwbacks to his digging days.
THE CHOCOLATES
Nicolas has created over 200 different creations and Yuzu chocolate sells 30 of these at any given time. The selection is always freshened up to reflect the season (e.g. nuts in autumn) and the new ideas that he comes across.
He uses single origin chocolate from South and Central American cocoa beans. "I like intense chocolate flavours," he says. "My milk chocolate has a very high 43% cocoa content and my dark chocolate is of 70% cocoa content and above. But there are difficulties in finding a subtle balance between the deep chocolate flavours and the other flavours."
All of the Yuzu chocolates are made in the same shape as part of Yuzu's minimalistic style and for this reason Nicolas places great importance on differentiating each chocolate with their own colours, textures and stories. These are not chocolates to eat five, six, seven at a time. Rather, these are chocolates to savour, sitting in an armchair with a cup of good coffee or a fine whiskey.
YUZU CHOCOLATE TASTING: 5 UNIQUE CHOCOLATES

We had the pleasure of tasting five of Yuzu's current chocolate creations.
1. GARIGUE – CARAMEL WITH SALT AND THYME
Being the first of the Yuzu chocolates we tasted, the flavours blew us away. Yes, you can taste the caramel. Yes, you can taste the salt. And yes, you can taste the thyme. They're all intertwined with a wonderful chocolate flavour from the 43% cocoa content in the milk chocolate. We didn't want to taste the second chocolate for fear of disturbing the flavours of the Garigue.
2. ISPAHAN – ROSES AND RASPBERRIES
This chocolate evokes feelings of a faraway place, the ruby red colours and subtle taste of rosewater conjuring up images of the bazaars and bridges and bathhouses and mosques of the Iranian city for which this chocolate is named.
3. ANDROMEDA – TONKA BEAN AND BLACK TRUFFLE
This one looks like something from another galaxy with its intricate chocolate flakes carefully moulded together like a piece of space art. The Tonka bean is an ingredient which has been banned in many countries, a black and wrinkled pea from the Fabaceae family was used as a vanilla substitute, as a perfume, and in tobacco. The Andromeda can be described as an adult chocolate, with an intense chocolate flavour which lasts in our mouths for what seems like light years.
4. HAVANA – WHISKEY AND CUBAN TOBACCO
When you see whiskey associated with a chocolate, you expect an explosion of alcohol and peat. But the hints of whiskey and tobacco are more gentle breeze on a Cuban porch than cheap booze flowing from a chocolate. This was one of the first chocolates to be created by Nicolas and one of the chocolates of which he is most proud.
5. SANA'A – COFFEE, CINNAMON, CARDAMOM AND INCENSE
It's a good job we tasted this one last. Sana'a is the capital of Yemen and to use Nicolas' own words: "It's a stopper". So intense are the flavours and so big and complex is the aftertaste that it's not really possible to enjoy another chocolate after eating this one. The bitterness of the chocolate and coffee is balanced with the spices of the cinnamon and cardamom and the incense delivers an almost spiritual motif to the end product.
If you like chocolate and you want a new experience, add a little Japanese colour to your life by treating yourself to a Yuzu chocolate.