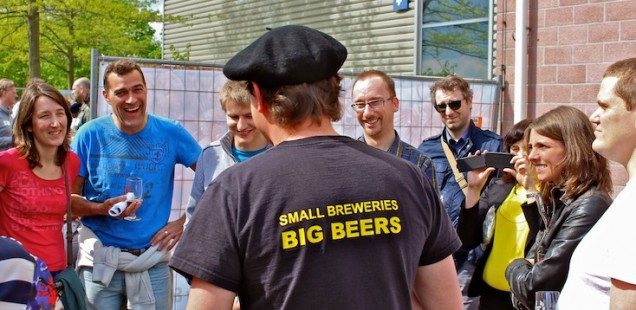 Zythos Beer Festival in Leuven, Belgium | Three things you need to know
Zythos Beer Festival took place this year in Leuven over the weekend of 26-27 April 2014. It's an opportunity to talk to the brewers, to soak up the atmosphere of a large beer festival and of course, to taste some beers.
If you're considering going along next year, here are three things to bear in mind about Zythos Beer Festival:
1. IT'S 10 YEARS OLD

The 2014 edition of Zythos beer festival was the tenth. Since its inception, it has grown from strength to strength. It began as a modest gathering of brewers and beer lovers in Sint-Niklaas on the weekend of 6-7 March 2004 and is now a beast of a festival and a true celebration of Belgian beer culture.
The masterminds behind the rise and rise of this festival are Zythos, a Belgian confederation born in 2003 to unite beer enthusiasts after the disappearance in 2002 of the 'Objectieve Bierproevers' (Objective beer tasters). Today, Zythos acts as an umbrella organisation for local and regional beer consumers' associations.
Zythos is the ancient Greek word for 'beer', and the organisation strives now above all else for beer education and to promote the interests of beer consumers. What better way to do that than to stage your own beer festival?
Each year, the festival adopts a different colour for its posters, glasses and t-shirts. They chose black in 2011 to mark the final year that the festival would be held in St. Niklaas and then wine red in 2012 as the colour of the city of Leuven to celebrate their move there for the first time. The colour of this year's festival was dark blue.
2. IT'S MASSIVE

A bigger beer festival in Belgium you won't find. This is true both in terms of the numbers attending – there were 16,000 people in attendance this year (11,000 on the Saturday and 5,000 on the Sunday) – and in terms of the amount of brewers, beer companies and different types of beer available to festivalgoers.
It is hard not to be impressed by the organisation of Zythos beer festival. The experience of the Zythos team together with the beer culture (and beer tourism) has ensured no stone is left unturned.
The Brabanthal in Leuven is a huge hall with facilities very appropriate for such a festival. It is located only 15 minutes from the centre of Leuven. Once inside, it's easy to navigate. They've even put on a fully staffed in-out lane flow system to make sure festivalgoers can negotiate the toilet trip without hassle and they've kept the hall a smoke-free zone to better allow for the tasting of beers.
The organisers have also nailed it on the transport front. Not only is the Brabanthal equipped with ample parking space which is fully staffed by the festival, but the city of Leuven collaborated to run regular and completely free shuttle buses from the train station to the Brabanthal. Getting in to and out of the venue with the other beer lovers is as much a part of the festival as wandering among the stalls inside.
The collaboration with the city extends to beer tasting workshops and tours in Leuven as well as local breweries opening their doors for special visits and nearby restaurants putting beer at the centre of their menus for the weekend.
When you drink, you get hungry. And with so many people staying at the event venue for large parts of Saturday and Sunday, Zythos ensures there is a food section where people can pop out for a kebab, burger, pasta dish, baguette or a portion of Belgian frietjes.
Zythos also set up a stand in the very centre of the hall where people can drop in to speak with one of the 'beer advisers', a fantastic initiative for both beer geeks and the uninitiated.
All the information for the day is compiled together in their festival programme, including details of every single beer on offer, information on each brewery as well as a listing of all the beers by style. There is also some background reading on Zythos itself, a map of the hall in case you get lost and a section for taking notes.
3. THERE'S A LOT OF BEER

Obvious for a beer festival, right? But it needs to be said.
Sure, the numbers are seriously impressive – 100 different Belgian breweries offering the option to taste 500 different beers in one place – but what should also be noted is the significance that this festival carries in terms of allowing brewers to offer experimental brews, to launch new beers and to communicate face to face the stories of how they have created their classics.
And in turn, it is an important opportunity for drinkers of Belgian beer to speak to brewers about their favourite beers (or even some new ones).
The system is easy. You buy a 15cl tasting glass, and a handful of tokens. Every beer sets you back one token (each of which costs you €1.40). You can pick up a starter pack of tasting glass with 5 tokens for €10. You can top up your tokens as the day unfolds and as your thirst dictates.
The diversity of beers on offer gives you the chance to explore beers based on themes. For example, you can choose to taste oak aged beers, whether that's Foederbier from Rodenbach; an oak aged beer from the Dochter van de Korenaar brewery: La Renaissance Oak Aged, a barrel aged IPA of 7% ABV; or some of the beers from the unique farm brewery, Hof Ten Dormaal such as the Barrel Aged Grappa Donker, which is essentially a dark beer of 12% ABV aged in grappa casks form Italy for two months; and the Barrel Aged Octomore Blond, also of 12% ABV with a strong peaty aroma after two months in whiskey casks.
ZYTHOS BEER FESTIVAL
See you at the next one?