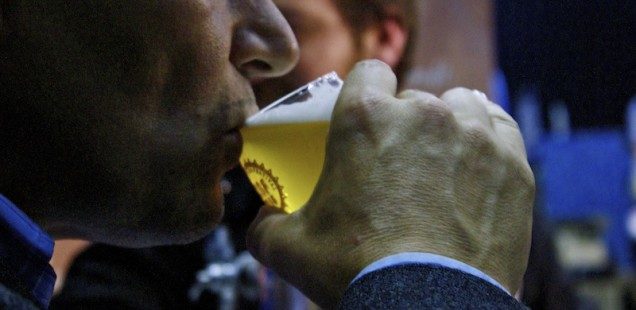 Zythos Beer Festival | 12 Diverse Opinions (Audio Interviews)
The 11th edition of the Zythos beer festival which took place over the weekend of 25-26 April presented some interesting developments in the world of Belgian beer since the 2014 installment.
There has been a welcome move from 15cl to 10cl tasting glasses so that you can now dabble in smaller samples of more beers (a bigger challenge for those pouring certain beer styles). The logistical management of the festival continues to improve with the layout changing so that 'problem corners' have been eliminated. Despite more foot-fall, they've managed to ease the flow of human traffic.
Obvious from a walk around was that the controversy around breweries and 'beer firms' rages on in Belgium and below you'll find several interesting discussions not only with the organisers about their take on the fact that more breweries than ever were in attendance, but with brewers on both sides of the fence: those who believe contract brewing is a viable way for passionate people to start up their own brewery; and those who see it as a group of commercially astute marketeers whose customers are being duped by their desire only to turn a buck from beer.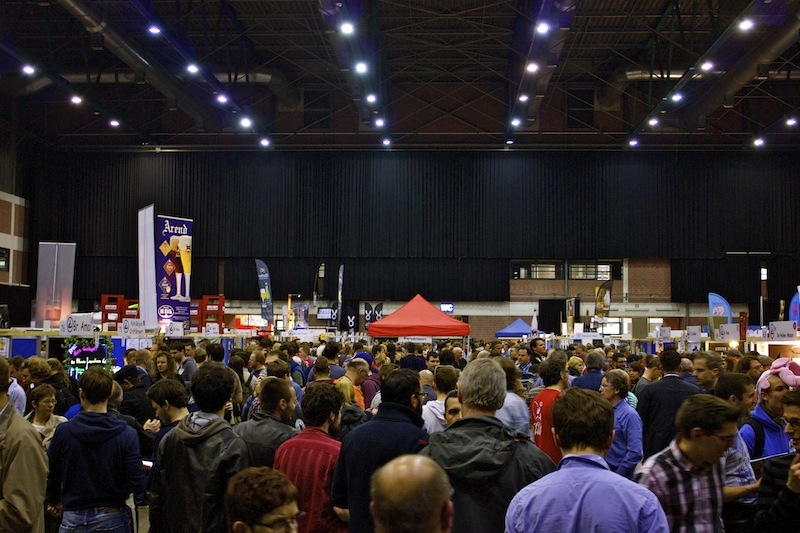 The importance of the Zythos festival to all breweries in Belgium and particularly to the smaller ones cannot be underestimated, especially with regard to the opportunity it affords them to market their products face-to-face with consumers as well as developing relationships with importers. It's also one of the few occasions when brewers can celebrate their passion for beer side by side with colleagues and meet friends from other breweries.
The numbers attending this festival increase by 10% year on year and even on the Saturday evening when the crowds are at their densest, the Zythos coordinators – all of whom are volunteers – bring things together so smoothly that it's clear they've been doing this for years.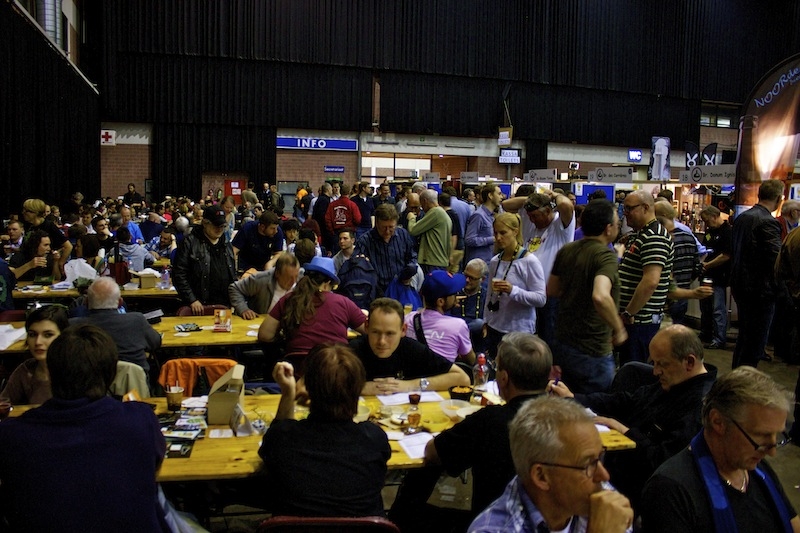 But what do the key people involved really make of the festival themselves? How important is it to breweries and how well does everyone feel Zythos does in running it? What breweries do people look forward to visiting and how do they see the festival improving or changing in coming years?
I spoke to 12 key people at the festival – including the President of Zythos, a variety of types of Belgian breweries in attendance, a government representative from Visit Flanders and a member of the beer media in Belgium. Here are their thoughts:
1. GLENN CASTELEIN (BROUWERIJ ALVINNE)
Glenn Castelein is one of the owners and brewers of Brouwerij Alvinne who have been based in Moen in West Flanders since 2011. They are considered to be one of the most exciting breweries in the country and engage in a range of experimental, innovative and collaborative brewing projects both in Belgium and internationally. Glenn tells us about how Alvinne's relationship with Zythos has changed over the years and why they decided to make a return to the festival after some years of absence.
2. RONALD MENGERINK (BROUWERIJ DE DOCHTER VAN DE KORENAAR)
Brouwerij De Dochter Van De Korenaar (or 'Daughter of the Ear of Corn ', a medieval reference to beer) was founded by Dutch couple Ronald and Monique Mengerink in 2007. Since then, they have won a number of awards at beer festivals across Europe and continue to produce beers which stand out in Belgium. Ronald talks to us about why the festival is so important for his brewery.
3. PAUL WALSH (BELGIAN BEER AND FOOD MAGAZINE)
Publisher and editor-in-chief Paul Walsh is from Ireland, but came to Belgium ten years ago to study philosophy at the historic Leuven university. He was working in another branch of the media when he had the bright idea to start a Belgian beer magazine. He lives in Brussels, whenever he manages to get home. Paul talks to us about how the Zythos festival has bookmarked key achievements for his team since starting the magazine three years ago.
4. LUC VERMEERSCH (BROUWERIJ DE LEITE)
In 2008 Luc Vermeersch was a homebrewer who decided to join two friends in opening a brewery. Those two friends were Etienne Van Poucke and Paul Vanneste, both of whom had followed a brewing course at Brouwerij Alvinne. Notable from conversations at the festival is how much respect the younger generation of Belgian brewers have for Luc. He talks to us about why he attends the festival.
5. YANNICK DE COCQUÉAU (VISIT FLANDERS)
Yannick De Cocquéau is the Product Manager at Visit Flanders for everything to do with beer and discusses the relationship between Zythos and the city of Leuven, their 'Place for Beer' initiative and the differences in motivations between smaller and bigger breweries.
6. MARK DE NEEF (BROUWERIJ DE GLAZEN TOREN)
Jef Van Den Steen and Dirk De Pauw were already brewing together in 2004 when Mark de Neef came on board as the third partner in Brouwerij De Glazen Toren – a small, traditional and very well-respected brewery not far from Aalst. Mark talks to us about 'beer firms', why this is the only festival in Belgium at which Brouwerij Glazen Toren pour their beers, the Zythos project in Italy and how long it takes to wrap individual wrappers around their bottles by hand.
7. MIEK VAN MELKEBEKE (BROUWERIJ DE RYCK)
Miek Van Melkebeke introduces herself as the fifth generation of a family which runs Brouwerij De Ryck. Her brother (in the background) also works at the brewery and her mother, Ann De Ryck – who is the granddaughter of the founder – is the head brewer. Miek talks about how she has seen the festival grow and which beers she is interested in tasting.
8. JAN RUMES (PRESIDENT OF ZYTHOS)
The current President of Zythos, Jan Rumes, is a member of the 'Tussen Pot en Pint' beer club in Sint-Niklaas, one of the 45 member consumer groups in Belgium which Zythos supports and coordinates. This festival is one of their most important achievements each year and Jan talks to us about how it has changed over the last few years, their main challenges in its organisation and how some of the multinational industrial breweries fit in to the scene.
9. BART DEVILLÉ (BROUWERIJ DEN HERBERG)
Starting as a small brewpub in 2007, Brouwerij Den Herberg has continued to grow and garner attention from beer lovers across Belgium. Owner and brewer Bart Devillé talks to us about why he comes to Zythos and mentions how some of his beers are performing.
10. PHILIPPE MINNE (BRASSERIE DE BASTOGNE)
Producers of the La Troufette range and now the Bastogne Pale Ale, Ardennes Saison and Ardennes Stout, Brasserie De Bastogne are one of the breweries which have been suggested to us as 'one to watch'. Even though he prefers not to speak for too long in English, head brewer Philippe Minne is charismatic and open and talks about some of the other breweries at the festival he really likes.
11. BARBARA PRATZ (BROUWERIJ EUTROPIUS)
Barbara Pratz and Wouter Vermeersch acquired this existing brewery last year and are already on a mission to expand the brewhouse and increase production. The name is down to Eutropius being the patron saint of Heule where the brewery is based. Barbara talks to us about the various nationalities that make an appearance at their stall during the festival.
12. GEERT TOYE (BROUWERIJ TOYE)
Geert Toye welded his own brewery together from parts scattered across Europe and then gave his beer a great name – Goedendag – a weapon used by the people of Kortrijk (where the brewery is based) to kill the French; and it's also the Flemish way of saying 'good day'. Geert talks to us about the brewers he admires at the festival.